City Summaries
STOCKHOLM, SWEDEN
The technical part of the visit to Stockholm included:
Swedish National Road Administration (SNRA)

Trafik Stockholm

SOS Alarm

Gothenburg Traffic and Public Transport Authority
Swedish National Road Administration (SNRA)
Originally, the SNRA was located in Stockholm for 140 years until it moved 200 km away to help stimulate employment away from Stockholm. Eighty percent of the population in Sweden lives in the south.
The SNRA has five major tasks:
Road management of state roads.

Construction and maintenance, as a separate profit center (in full competition with private enterprises).

Official services-providing and supporting the legal framework for the road network (licensing, etc.).

Sectoral responsibility-cooperating with and coordinating the work of relevant parties and promoting developments in the road transport system (ITS is part of this task).

Contracted works-carrying out road planning and design, construction, operation, and maintenance as contracted by the SNRA and others.
ITS plays a major role in network operations. The focus is on traffic information in winter conditions. Congestion is not the major focus. Traffic information is the backbone of the ITS. Road weather data are provided every half hour at 700 stations. The data include dew point, air temperature, precipitation amount, wind conditions, and road surface temperature. The system also provides support for winter maintenance. SNRA is responsible for supplying information for the Internet and other contractors. There are 670 weather stations.
Other ITS programs are the Common Traffic Information System, which works toward a common platform to integrate the data services; and OPTIS, which is a program to provide an optimized traffic information system in cooperation with automakers and the private sector. The SNRA is also involved with EU projects, including Prometheus and DRIVE 123. The general experience has been that implementation is more difficult than the research and development effort. There is a national plan for ITS, and the Swedes are now establishing links with authorities for traffic information. The intelligent car and road system will be a public-private initiative with SAAB and Volvo.
The SNRA operates on both federal and state levels in seven regions. The next level of government is the municipalities. Transit is organized on the county level (in 20 counties).
SNRA's Stockholm Region
Each region has its own programs because of the need to cooperate with the cities. The population in Stockholm grows by 20,000 people per year (1 percent growth annually). Road traffic, however, is increasing at a rate of 3 to 4 percent per year, adding to the current congestion problems. It is estimated that rush-hour traffic will increase by 25 percent by 2010.
Most of the commuting is into the city center. Forty-five percent of all jobs in the region are in central Stockholm. The roads with the highest traffic volume are Essingeleden (average daily traffic [ADT] 130,000) and the Central Bridge (ADT 120,000). During the rush hour, public transportation accounts for 70 to 75 percent of all trips. During the off-peak hours, public transportation accounts for about 50 percent of trips. Growth in traffic in Stockholm is growing faster than in the rest of the country. Traffic in the city center has remained stable because of increased use of public transportation and bicycles.
Another reason to deploy ITS was the "Southern Link (ring road)." A tunnel was the only option. The cost was $700,000,000 for a 5-km tunnel. The state paid 75 percent and Stockholm paid 25 percent. The tunnel is connected to the street system. Because of the need for more comprehensive and advanced systems to manage traffic and incidents and the objective of uniting information about all the roads in the area, a new TMC was built. It is a joint project between the SNRA and the City of Stockholm called Trafik Stockholm. Once it is fully operational, the plan is to connect other municipalities to Trafik Stockholm.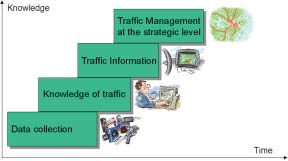 Figure 41. Using ITS is a learning process.
ITS improves as a function of knowledge and time. Traveler information is considered an essential component to enable efficient traffic management.
Traffic operations require coordination among all players. An agreement was developed among SNRA, the City of Stockholm, and transport agencies that strives for optimal use of the whole transportation system. A traveler's journey should be seamless. The plan is to provide multimodal information for "smart" journeys that includes pretrip information as well as information en route. The SNRA is currently trying to find some service providers to customize information.
The SNRA website can be visited at www.trafiken.nu. The website receives about 1,000 hits per day. The aim is to describe traffic in greater Stockholm with still pictures on different modes and to present conditions for multimodal travel. It provides information on traffic disruptions; traffic advisories (CCTV, travel times, etc.); travel planning (right now, later); and in the future, information on smart travel (best route, combined modes of transport). Information is currently available on roadworks and construction; traffic disruptions for commuter cars, buses, subway; rush-hour traffic; road surface conditions; ferry information; park-and-ride information; LOS (colored segments); and soon, normal and actual travel times.
The road assistance and emergency team (like the U.S. highway patrol) has cameras on the response vehicle and works with the police, city, and the SNRA. This is the first step toward emergency coordination, and more teams will be deployed for the tunnel.
The SNRA's approach to new systems is to study what has been done elsewhere and then to adapt it for Sweden. For example, the technical systems such as intelligent traffic adaptive signals and the motorway control system are from the Netherlands, whereas the real-time-based traffic models and VMS are based on European standards.
Data collection means include inductive loops, video, microwave, infrared, and Sweden is also looking at using GPS data, mobile telephones, Bluetooth, and others. Microwave is in use on the motorways and south tunnel.
Further research is under way to use real-time monitoring to conduct origin-destination estimates and then to do assignments of the traffic and again feed that into the traffic control algorithm. The researchers are using "slow" and "fast" cycles. The fast cycle uses more information, and each cycle takes 1 or 2 minutes to calculate journey times. The Swedes have not tested the control mechanism yet, which is based on the systems developed for Turin (an on-line model). SNRA is also looking at the British off-line model, Contram, to analyze scenarios for incidents.
SNRA is investigating using a probe system in Stockholm. Public transport vehicles will be used as probes for test purposes (currently around 5,000 vehicles). The probes send information to a communication operator server (Mobitex PMD 8000), and quite good results have been achieved. The project will be expanded to include probes in commercial vehicles and taxis. The information will also be sent to the communication operator server, and then to the SNRA probe server, which will send information to the SNRA traffic database. There is a filtering mechanism between what is sent and what the SNRA receives (speed, directions, coordinates, time, flag for type of vehicle, because of high occupancy lanes for buses). There is no need for a high rate of penetration-less than 5 percent of all traffic will be sufficient for accuracy.
Trafik Stockholm
Trafik Stockholm is the brand new joint TMC between the SNRA and the City of Stockholm. Three operators are on duty on weekdays and two on weekends and at nighttime. They work 6½-hour shifts on weekdays and 12 hours on weekends. The center has been operational since November 1, 2001. There are 20 people working in the TMC: 15 operators, 2 information technology (IT) administrators, and 3 management personnel. There is an emergency response room in the TMC to feed information to the media. The training room and lounge/kitchen is also used by other groups. Consultants have space for system development.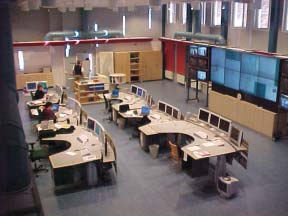 Figure 42. Trafik Stockholm.
Operators communicate with roadside assistance dispatch and monitor the cameras and detectors. They have road assistance cars as well as motorcycles to maneuver easily through congestion, and they provide gasoline to stranded motorists. Staff are from both SNRA and the city. During rush hours, the patrols go 20 km in each direction out of the city.
The signal system is still in the City of Stockholm, but will eventually be in the TMC as soon as all communications are in place. The operators receive 2 months of training and further on-the-job training and have to work for at least a year with another operator before they are permitted to work alone on a shift.
The website at www.trafiken.nu is based on information in the database computer system and was designed by the SNRA and the city to provide automated information. A consultant created and operates the site.
The system will help to increase mobility, increase traffic capacity, reduce the number of accidents, and reduce environmental impacts. Areas of activity include traffic monitoring, data collection and processing, traffic information, traffic management and control, management of road assistance, and surveillance of technical systems.
The traffic monitoring and data collection is performed in partnership with the police, SOS Alarm, rescue services, public transport, commercial traffic operators, radio stations (traffic advisories), City of Stockholm, and the SNRA. The system uses surveillance cameras, road weather information system, sophisticated signal systems, and motorway control systems. All data are processed at the TMC and are coordinated, quality-assured, and adapted to different target groups. Data are then sent to traffic advisory radio and the VMS. There is no sharing of camera images.
The road assistance team is on call to help out with minor breakdowns and thereby reduce the number of traffic disruptions. The team is run jointly by the SNRA, police, and the city. The vehicles are fully equipped and also have GPS monitoring and cameras on board.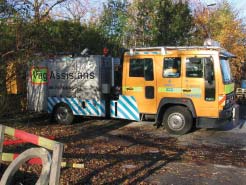 Figure 43. Road assistance vehicle, Stockholm.
The project funding per year is 20,000,000 Swedish kronas or about $2 million. Seventy-five percent is provided by the SNRA and 25 percent by the city. A Trafik Stockholm Board runs the operation and consists of three SNRA personnel and three city members.
Strategy for Maintaining Traffic Information and Quality Requirements for the National Database
The national traffic information system/database (TRISS) includes road weather, accidents, roadworks, local bearing capacity reductions, and other obstacles, and can be accessed at www.vv.se (go to Laget pa Vagarna). This database serves the road conditions website and telephone service.
An evaluation study is done every 3 years. In a recent interview of 3,000 road users, they stated that road weather was of most interest. Radio was considered the most important media for information. About 30 percent had cancelled a journey and 45 percent had chosen another route because of traffic information received. In Stockholm, 91 percent of road users use their radios, and 58 percent choose the radio channel with the best traffic information.
The SNRA has developed data quality definitions and documented them. The definitions include data specifications, including quality declarations for the short term and long term. Examples of the data quality requirements are:
For roadworks information:


90 percent must be registered when roadwork is started (contractors must have a plan and must contact TMC with changes).

Must be updated within 2 hours after a change.

Valuation and restrictions are described.


For weather information:


Must be updated in 30 minutes after a change.


Accessibility of systems for national traffic information:

The SNRA has a business model for its ATIS services that includes some exceptions, such as:
Provide the basic national services such as the website and telephone services. If, however, external actors do it better, SNRA may then stop doing its own.
For products and services implemented for safety or environmental purposes, and where there are no external actors interested, the SNRA will do it (for example, RDS-TMC).
Cab companies and logging trucks could save money by having the information. Therefore, fleet management systems should have this information.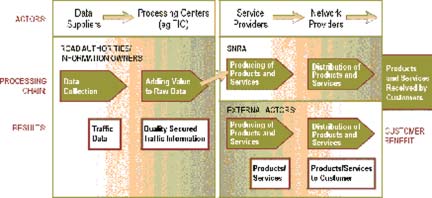 Figure 44. Interface for supply of traffic information, Sweden.
Technology for Exchanging Data (DATEX)
The SNRA has adopted DATEX as the data exchange standard. DATEX was developed by the CEN (European Committee for Standardization) 278 committee. There is a memorandum of understanding (MOU) among 11 European countries to use DATEX according to these standards (including some private companies).
A demonstration project was done at the bridge between Sweden and Denmark.
DATEX was used to transfer data to TRISS and also via another DATEX node via an integrated services digital network line to Denmark.
There is an organization behind the MOU that is very active. User forums are held for all players in DATEX. The Trident Project (EU) will demonstrate how DATEX can be used in the future.
RDS-TMC Services
RDS-TMC provides up-to-the-minute information about accidents, roadworks, and congestion. The information is provided in the user's own language. The service is free and available throughout Europe. Many types of receivers are available on the market. More information is available at www.tmcforum.com and www.vv.se/tmc.
The navigation system with RDS-TMC allows drivers to:
Know where they are.

Get notice of road ahead.

Learn about incidents that might affect them.

Determine alternate routes.

Calculate a new route (coming next year).

Download information.
SNRA registers the information and is responsible for the RDS-TMC message coding. Eighty-five percent of Gothenberg TMC messages are dynamic. Providing map updates once per year is difficult.
DAB is considered a short-term solution. It has a large bandwidth and is a broadcasting one-way protocol.
Current trends in Sweden are that the customers want information everywhere all the time through PDAs, auto PCs, etc. In Sweden, GSM will soon have 100 percent coverage, WAP is growing fast, and all phones will have it in 3 years. PDA sales are booming. RDS-TMC will be an option for navigation systems in automobiles. Manufacturers want to have intimate consumer relations, and the intelligent car will allow all manufacturers to have their own services. The touring clubs are also very active.
SOS Alarm
SOS Alarm is a "company" that was set up and funded by the Swedish government (50 percent), Swedish Association of Local Authorities (fire service, 25 percent), and the Swedish Federation of County Councils (ambulance service, 25 percent). About half of the center's business is public service (fire, rescue, and ambulance) while the remaining 50 percent is for commercial services (commercial/residential alarms, fire alarms, telephone messaging services, technical alarms).
The centers received 16 million alarm calls in 2000. Many calls are not for emergencies (it includes both "112" calls and automatic alarms), and 50 to 55 percent of the callers should not have dialed "112." SOS Alarm has run marketing campaigns to reduce the number of nonemergency calls, but the effort has not been successful. The most common offenders are men in the 25- to 35-year-old age bracket with cell phones who call the number by accident. The center thinks Sweden has a higher percentage of "junk" calls than anywhere else in Europe.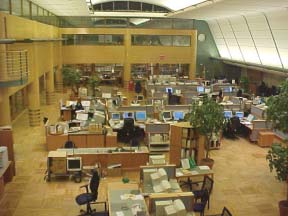 Figure 45. SOS Alarm center, Stockholm.
SOS Alarm had a big problem with the media calling while the center was dealing with big incidents. To eliminate this problem, it created a service that sends incident information to a server that can then send the information (for a fee) via phone, pager, email, etc. This information also is forwarded to the SNRA. No private information is included in the message. The message is delayed to allow the emergency responders to get a head start on the media.
Since 1995, SOS Alarm has had business contracts with 280 of the 289 authorities in Sweden and about 20 county councils.
It is voluntary for the local fire service providers to join SOS Alarm. Each year, 9 or 10 fire service providers do not join. This situation can cause a delay in response time because all "112" calls are answered at the SOS Alarm centers and the calls must then be transferred to these "independent" centers. It is estimated that it costs these local authorities 10 times more to run their own center than it would for them to contract with SOS Alarm.
The Swedish government is responsible for the "112" emergency phone number, introduced in 1996, which is free to the caller. Sweden has 20 SOS Alarm centers, most of which are small and could be consolidated into about 10. The centers alert all fire calls, alert and dispatch all ambulance calls, and transfer calls to many others (i.e., police). Seventy percent of the "112" calls are for police. There are no other three-digit numbers in Sweden; directory assistance in Sweden is "118-118." In most of Europe, it is "118." Fifty percent of the calls are wireless. Sweden has the same issue as in the United States regarding location information for a cellular call-only the tower or cell the call is coming from is known. The Swedes see this as a big problem and are moving toward a solution. DAB is considered a short-term solution; it has a large bandwidth and is a broadcasting one-way protocol.
The total annual budget of SOS Alarm is 500 million kronas or about US$50 million. SOS Alarm also provides the following services:
Remote control system monitoring and detection

Visual surveillance-primarily CCTV

Personal alarm-a portable emergency alarm

Medical information-the centers have doctors and nurses on staff
SOS Alarm includes the following subsidiaries:
SOS Flygambulans AB (flying ambulance)

Youcall Sverige AB (call center, answering service)

SOS Security (consulting company)
Call length differs depending on the type of call, i.e., a "112" versus a nonemergency call. The maximum answering time is 8 seconds (by contract), and the typical length of a call is 1 to 1.5 minutes for ambulance, up to 2 minutes for a fire, and the rest are transferred to police, sea rescue, etc. "112" calls transferred to police are typically answered within 20 seconds, but it can take minutes to transfer. This transfer time is a problem for SOS Alarm operators because they must stay on the line until the transfer is complete. SOS Alarm wants to further automate some of its systems.
The centers also believe that they need to improve the public education effort on how and when to use "112." The landline calls transferred to the police have the location information, but the police do not use it. The centers have a twin recording system and they save each call for 2 months. The police can use the recordings.
If one call center is busy, then a "112" call can be forwarded to one of five other call centers in the Stockholm area. All call centers are linked. The system uses digital maps and GPS to identify the closest response unit to a call and also helps the unit navigate if necessary.
Operators are tested on their ability to handle simultaneous tasks and stress (women are typically better). Then operators go to SOS Alarm school for 1 month of training on technical equipment, medical training, organizational training to know who all of the players are and how they work together, psychological training, and interviewing skills. That month of training is followed up by 80 hours of training annually. Operators must pass a theoretical and practical test every year to keep their certification. It costs 350,000 kronas or US$35,000 to fully train an operator. Centers compete with each other to attract qualified operators.
The centers require four full-time staff to constantly update the client/profile database (cell phone numbers change, etc.). The CCTVs are IP-based. SOS Alarm is planning to purchase a new computer system over the next 2 years for 200 million kronas or US$20 million.
GoTIC, Gothenburg
In 1990, the Gothenburg Traffic and Public Transport Authority was founded to place all aspects relating to mobility under one authority. This was "extremely lucky" and efficient.
The Gothenburg real-time information system, which began on two light rail transit (LRT) lines in 1984, covers:
Light rail-the system is expanding quickly and now has 200 LRT vehicles

Buses

No subway
LRT has had signal priority for 30 years, whereas buses have had signal priority for 15 years. Parking information is also integrated into the system. Two information kiosks with TV (liquid crystal display) screens display approximately 100 scrolling signs in shelters. The Internet site is available in four languages. The loop detectors are "intelligent" and are used as location devices. Buses outside the city are using GPS because there are no loops or traffic signals. Mobitex is the method used for sending data from the loops to the central and area computer systems.
Gothenburg has performed extensive passenger information-related research. The research allowed for the development of a product based on passenger information needs and requirements and not technical requirements. The primary lesson learned from the research is that public transport passengers worry about their journey all the time. Research shows that the "passenger regards information about disturbances (service disruptions) even more important than minute-by-minute (countdown) information." Research shows that, "after 3 minutes a passenger waiting for a bus that is not coming expects more information and begins to consider alternatives to fulfill their journey."
GoTIC is the Gothenburg Transport Information Center and it is an international demonstration project. The premise is to learn how multiple entities can band together to produce quality transport information. Another purpose is to find out if passenger needs and data requirements are being met.
Scientific research produced in 1993 established passenger information needs and requirements on the basis of 2 years' worth of investigation, research, and passenger observation. The research also determined that access to real-time information relieves passenger doubts substantially. Therefore, the purpose of providing passenger information is to reduce the level of uncertainty for the rider.
In Gothenburg, the passenger information is sent to:
Shelter displays

Kiosks and public centers (on monitors)

Stop posts (LED displays)

Inside vehicles (LED on buses and LRT)

PCs (Internet)

Phones, pagers, SMS, and WAP
It is important to provide travel information, and not just traffic information, to customers and to recognize that transit is different. All such information comes from the Traffic Info Center, which creates messages about disturbances.
Real-time information is provided at transfer points, such as:
Kiosk-like, three-sided stands with LCD monitors-some screens have maps indicating other stops in the immediate area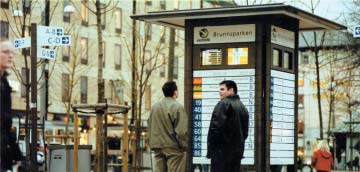 Figure 46. Travel information kiosk, Gothenburg.
The first generation of on-bus displays showed four lines of information, including the route number, next stop, next stop after that, and a scrolling message sent via Mobitex. The stop names shown on the display are typically cross streets. Displays are now being installed in the LRT vehicles. The system also has voice announcements from the vehicle's computer. New displays with larger screens will be tested soon.
The Travel Index is designed to provide information for information officers so they can be more prepared to make passenger information decisions. The Travel Index provides information on travel quality, not on traffic. Automatic information support sends automatic messages to display boards on the system. System architecture shows inputs from both static information and real-time information from the Traffic Info Center that can be used by information officers. The system has been tested and now is about to be implemented.
Real-time information is available via cell phone and SMS. It takes a long time for the user to key in the request using buttons on a phone. Typically, the user makes an information request and receives a call back with the answer. GoTIC also has a realtime warning service via cell phone and SMS. This is a push service based on a customer profile (bus destination, delay, disturbance).
For the past 2 years, customers have had the capability to use the WAP service. It works much like a web browser, and allows users to select and save "favorites" such as a stop. The service then provides information on which routes are arriving and when (to that stop) via a push of data. A new authority-the Western Region Transport Authority-now controls the Gothenburg system. This authority has the responsibility to market the WAP service, but has not yet begun doing so.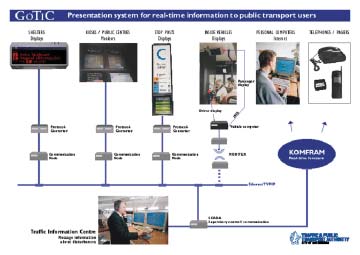 Figure 47. GoTiC system architecture.
A pager service was tested, but did not work because the private company wanted to create proprietary travel time and routing forecasts, which would have been different than any other forecast created by the transit authority, and that outcome was deemed unacceptable.