Recent Highlights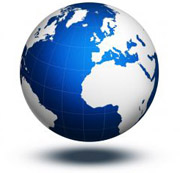 World Road Association (WRA)
FHWA and the World Road Association hosted a webinar to launch the Association's Special Project on "The Use of Unmanned Aerial Systems to Remotely Collect Data for Road Infrastructure." Unmanned aerial systems (UAS, more commonly known as drones) are gaining popularity in many industries due to their low cost, quick turnaround, safety, and ability to reach remote locations that are hard for humans to access. This Special Project was developed under the leadership of the FHWA to provide a global overview of successful UAS usage in road transportation.
The webinar is designed to help agencies understand the benefits, challenges, and best practices from around the world in using UAS to collect road data. It features an overview of the Special Project report as well as in-depth case studies on the use of drones in bridge component inspection as well as highway design and construction.
Over the last few years, FHWA has made a deliberate effort to provide leadership at the technical and corporate levels of the WRA. This leadership afforded FHWA the ability to ensure that topics of importance to the U.S. would be considered in the Association's 2016-2019 Strategic Plan. Some examples are performance management including the use of system information and data collection; major considerations in the development of V2I and V2V communication in road design and operations; and asset management including the production of a comprehensive guide to support road administrations in the implementation of these programs.
International Practices in Infrastructure Resilience
The purpose of this pilot study under the FHWA Global Benchmarking Program (GBP) was to identify innovative and best practices abroad that could help advance the development and implementation of transportation adaptation strategies in the U.S. Based on information collected through a virtual international review, it was found that the Netherlands, Denmark, and Norway have moved beyond research and are actively constructing assets incorporating climate resilience. Site visits by two FHWA representatives were undertaken to specific locations is these countries to examine adaptation features first-hand and talk through issues in greater depth with practitioners.
Knowledge gained through the study is being used by FHWA to address U.S. infrastructure resilience challenges. Study findings were applied in the update of FHWA's Climate Adaptation Framework, which guides transportation agencies in assessing the vulnerability of transportation assets and implementing strategies to reduce risks. In addition, Danish, Norwegian and Dutch approaches to choosing the more extreme emissions scenarios associated with future precipitation projections have influenced the FHWA narrative on scenario selection associated with more critical assets in a major update of the technical guidance document, Hydraulic Engineering Circular (HEC) 17: Highways in the River Environment.
The study also allowed FHWA to establish valuable connections with counterparts in Denmark and Norway and has strengthened FHWA's collaboration with Dutch counterparts. Under a bilateral agreement, FHWA, Washington State DOT, and the Netherland's Rijkswaterstaat are testing European and U.S. climate change analytical tools on a major highway construction project in Washington State and in the Netherlands.
The Executive Summary of "A Review of Practices in Denmark, the Netherlands, and Norway" is available here.
Australia
The FHWA Office of International Programs, in cooperation with Australia's National Transport Commission (NTC), organizes regular webinars and teleconferences on topics of mutual interest. Primarily, the focus of the webinars has been on freight-related issues. In 2014, an Implementing Agreement between FHWA and NTC was signed and extended the umbrella of topic areas to be considered. Most recently, we are working with our colleagues at NTC to include additional topic areas of interest outside of Freight into our webinar list, including topics such as public private partnerships (PPP's.)
Currently, a synthesis report is being produced that will serve as an official record of the exchanges engaged in by the FHWA, NTC and the other participating stakeholders. In addition to determining the FHWA's and the NTC's common strategic interests (both present and future), it will also document insightful connections and ways to move forward in the cooperation.
Brazil
In June 2014, FHWA's Office of International Programs hosted officials from FHWA's Office of Infrastructure and the Federal Motor Carrier Safety Administration in a webinar with Brazil's National Transport Infrastructure Department (DNIT), on the U.S. protocol for commercial vehicle drivers' service hours, enforcement procedures, and rest areas. The DNIT is constructing new virtual weigh stations and rest areas and plans to implement virtual enforcement procedures for commercial vehicle violations through its traffic-control centers at weigh stations. The webinar led to a better understanding of U.S. protocols and enforcement procedures, in addition to the design and management of rest areas in the United States.
Brazil's Ministry of Transport reports that the country is currently investing heavily in transportation infrastructure. Demand for improvements in highway infrastructure has increased sharply due to Brazil's emergence as an economic power and reliance on highways as means for freight transport. With the increase in highway construction work-zone crashes, fatalities, and injuries have increased sharply. A recent study indicates that the work-zone crash rate is almost twice that of the overall crash rate. This has resulted in an increased focus on work-zone safety.
The DNIT requested a workshop on work-zone management to learn about U.S. regulations, policies, and best practices related to work-zone safety and mobility. FHWA worked with DNIT to arrange this workshop and a visit to a construction site to review its work-zone traffic control practices. This workshop was held in August 2014 and attended by participants from DNIT and other transportation agencies, contractors, highway safety organizations, universities, and vendors. At the workshop, FHWA gave two presentations. The first one discussed in detail work-zone challenges in the United States, FHWA work-zone management programs, regulations, policies, and resources. The second presentation covered work-zone strategies and best practices, such as Transportation Management Plans (TMPs), project coordination and use of technology applications, traffic impact assessment, inspection and safety audits, training, law enforcement, public outreach and awareness activities, to name some of the themes. Interpreters provided simultaneous translation of the material covered. Toward the end of the workshop, participants asked questions from a panel that also included agency officials, staff from a supporting research organization, and representatives from other highway safety organizations.
On the second day, DNIT arranged a site visit to a major interchange construction project. Issues related to traffic management, worker safety, temporary traffic control, speeding, and driver compliance were discussed.
Brazil has already begun implementing some of the ideas presented in the workshop.
Netherlands
FHWA and its Dutch counterpart, Rijkswaterstaat (RWS) are working on the two new main topics of collaboration for the 2016-2018 period which are: (1) a continuation of the Infrastructure Resilience and Adaption topic by way of one pilot in each country, (2) cycling.
The collaboration on Infrastructure Resilience and Adaptation from 2014 to 2016 between FHWA and RWS resulted in each side learning about each other's tools for improving climate change resilience of transportation infrastructure. Now, for the period 2016-2018, the parties propose to implement climate change resilience tools developed on both sides of the ocean on infrastructure projects in both countries.
Within the collaboration on cycling, both the Rijkswaterstaat and FHWA have similar goals to foster safety, livability, and accessibility. The collaboration is exploring each of these three themes.
Sweden
FHWA's efforts with Sweden focus on exchanging transportation information to enhance livability in both countries. As one of the U.S-Sweden Livability Working Group's 2014 work plan activities, officials from the FHWA Office of Planning, Environment and Realty, FHWA Office of International Programs, the Office of the Secretary, and the U.S. Department of Housing and Urban Development's Office of Economic Resilience hosted a webinar to demonstrate livability-related tools such as the U.S. DOT – Department of Housing and Urban Development, Location Affordable Portal (LAP). The LAP was developed to help the public understand the combined cost of housing and transportation.
FHWA's Associate Administrator for Planning, Environment and Realty traveled to Sweden in June 2014 for a series of discussions with officials from the Ministry of Enterprise, Energy and Communication (MEEC), the Swedish Transport Administration (STA), and the Stockholm City Administration. This was a technical activity under the aegis of a memorandum of cooperation between DOT and the Swedish MEEC. The information exchange on livability issues supports implementation of MAP-21 performance measures and changes in U.S. planning regulations, as well as U.S. DOT efforts to enhance FHWA programs that provide "ladders of opportunity" to the public through transportation improvements.