Integrated Implementation of Safety Countermeasures
Figure 5. Random roadside screening by Victoria Police.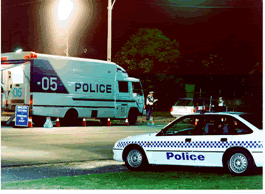 While the traffic safety crisis of 1989 was the catalyst for bringing the key agencies together, it took several years for strong, enduring relationships to be formed at the working level. The integration of efforts is a key component of Victoria's success story. For example, research evidence suggested that a substantial reduction in the incidence of alcohol-related road trauma could be achieved through general deterrence, which would require intense levels of random roadside testing. While the police were willing to increase dramatically their level of enforcement, they lacked the infrastructure (vehicles, breathalyzers, etc.) to achieve these increases. TAC purchased vehicles and breathalyzers for the police. Similarly, it was anticipated that there might be some adverse community reaction to random roadside screening. The legislation had existed for well over a decade, but the enforcement level had been modest and the now-proposed levels would mean that most citizens would be directly exposed to random screening within a short time. TAC funded a substantial public education program that explained the rationale and purpose behind the enforcement. Public opinion surveys reveal that the vast majority of the Victorian public strongly supports these extremely high levels of random roadside screening for alcohol.