A Key Investor is a Direct Beneficiary
Figure 6. Victoria blackspot safety improvement project.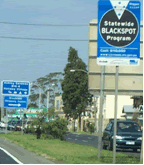 The Transport Accident Commission (TAC) is a government-owned, monopoly provider of no-fault injury compensation for transport accident victims. Its premiums are collected as part of the annual vehicle registration fee. By government decree for a wide range of government charges, the premium increases in line with the Consumer Price Index on an annual basis. This appears acceptable to the community, probably because this annual increase is considerably lower than the growth in general health care costs. Moreover, since a no-fault scheme is particularly efficient, Victoria has been able to keep its levies for transport injury compensation among the lowest in Australia.
While one might expect that the reduction in compensation payouts would result in community pressure for premium reductions, this has not occurred, possibly because TAC's role in road trauma prevention has a very high public profile and is widely accepted by the community. TAC has a strong vested interest in reducing the number of injury claims and has demonstrated significant economic returns from its investment in injury prevention. This investment is regarded as sound business practice, analogous to the investment every company makes in its own future development.
Since its inception in 1987 but mostly from the mid-1990s, TAC has invested substantial sums in implementing traffic safety programs in Victoria. This money is in addition to the traditional funds provided to the other key agencies involved in traffic safety. Victoria has, for example, expended unprecedented sums on blackspot engineering treatments and is heavily investing in demonstration programs for improving roadside safety, with both efforts funded by TAC.
Of special note also is the regular and large investment made by TAC in public education, which helps ensure that traffic safety remains salient in the minds of community members and in direct support of other measures taken by partner agencies. TAC, however, is far more than an ancillary funder. The interagency coordination and intervention program integration in Victoria is one of the key elements of Victoria's success.
Figure 7. Examples of TAC public education materials.