The Power of Evidence-Based Strategies and Plans
Figure 4. Australia's 10-year strategic plan for road safety.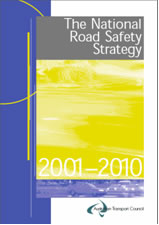 Formal strategic plans to guide traffic safety programs are a relatively recent phenomenon, first appearing in the 1990s. Australia's National Road Safety Strategy 2001-2010 is the second national strategic plan. Australia's most populous State, New South Wales, has its first 10-year strategic plan (Road Safety 2010-A Framework for Saving 2000 Lives by the Year 2010in New South Wales). Victoria has its second (public) 5-year strategy (arrive alive!-2002-2007), albeit its first with numerical targets for reducing serious injury and death.
There are two important aspects of preparing formal traffic safety strategic plans. First, the plan must not only be evidence based, but it must have sharp teeth. Second, the public release of a strategic plan that contains specific actions and targets for achievement helps ensure, but does not guarantee, application of sufficient resources and political and agency commitment to effective implementation. Through public release the government commits to performance.
Many traffic safety strategic plans are limited to general statements and lack accountability mechanisms. To achieve stated targets, the action plan should include the following:
The traffic safety problems to be addressed should be the major problems and each should be tractable.
The action plan should include interventions for which there is adequate scientific evidence of likely effectiveness (or controlled trials of innovations of unknown effectiveness).
The implementing agencies should have transparent lines of accountability for effective implementation.
The current Victorian strategy is a model in this regard.
There is clear political leadership. Senior politicians comprise the Ministerial Road Safety Council. These are the Minister for Transport, the Minister for Police and Emergency Services, and the Minister for the Transport Accident Commission. All three are senior politicians with considerable collective power in government circles.
Another feature of the Victorian system is the existence of a Parliamentary Road Safety Committee, including politicians from both the Government and Opposition. Their public inquiries stimulate debate over the nature of key problems and the issues surrounding possible interventions. While the committee is purely advisory, its role is very valuable.
The advent of three ministers forming a council to guide the collective of key agency chief executives was a unique experiment. What helped build trust and confidence in both directions was the use of a former politician as a go-between during the formative stages of the process. This was a pivotal role.
Reporting to the three senior ministers are the agency chief executives who serve as the Road Safety Executive Group. These are the heads of VicRoads, TAC, Department of Justice, and Victoria Police. They must submit a written monthly report to the ministers on progress with implementation and they meet quarterly with the ministers to review progress. It is critical to note that these reports are not made separately by each agency but as a single consolidated report. This marks effective collective accountability. At least one of these chief executives has road crash death and serious injury as a formal criterion in his performance-driven employment remuneration package.
With such strong lines of accountability, the agency executives and politicians need confidence in the potential effectiveness of the strategic plan. This, in turn, has forged a strong relationship between the traffic safety research community and the agency policymakers. It is in everyone's interest to ensure that the right problems are being addressed and that the proposed actions are based on evidence of likely effectiveness.