6. Additional Observations of Specific Practices
In addition to the team findings that led to the recommendations, the team observed many unique, interesting, or otherwise noteworthy practices and technologies worth describing to U.S. practitioners. The team does not recommend any of these practices for implementation in the United States, but believes there is value in sharing the information with U.S. practitioners.
6.1. Response Vehicles
Several observations relate to the design, use, or other aspects of response vehicles described below.
Swedish Service Patrol Truck
In Stockholm, the Swedish hosts displayed one of the roadside service and incident response vehicles used on the ring road around Stockholm. Figure 12 illustrates this vehicle. These vehicles have several features that enhance incident response:
Truck-mounted attenuators on the back of the vehicle provide some degree of protection to incident responders.
A changeable message sign on the back of the vehicle can display a variety of preselected messages to approaching traffic.
A small crane can be used to remove passenger cars involved in incidents from the roadway.
An exterior video camera mounted on a telescoping pole transmits real-time video to the traffic center from the incident site.
A rear seat in the front of the vehicle provides a place for passengers of a disabled vehicle to sit while the vehicle is serviced.
Figure 12: Swedish road service patrol vehicle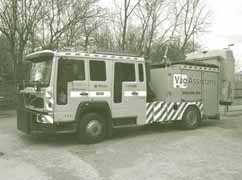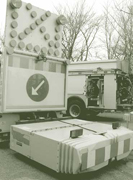 Auto Club Response Vehicles
As indicated previously in the report, auto club membership is at a much higher level in Europe than in the United States. One benefit this provides to incident response is that some auto club responders try to repair vehicles at the incident location rather than tow the vehicle to a repair facility. The auto clubs that met with the team indicated they are able to repair 80 to 90 percent of the vehicles they are dispatched to (see section on Private-Sector Role). One reason they are able to repair such a high percentage is that the response vehicles carry computer diagnostic tools that help them identify the cause of a vehicle breakdown and repair the vehicle onsite without requiring a tow. In England, the agreement with the auto clubs is that a vehicle should be removed if it is quicker to remove the vehicle than it is to repair it.
Motorcycle Response Vehicles
Sweden has a prototype design for a towing trailer for passenger cars that can be pulled by a motorcycle. The trailer can be folded so that it is no wider than the motorcycle when traveling to the incident scene.
6.2. Incident Responder Capabilities
Fire and EMS experts on the team observed several practices among the hosts that may be of interest to U.S. practitioners in the fire and EMS fields.
Fire Response Capabilities
The team observed that response vehicles in the Netherlands and Sweden carry Firexpress, a portable fire-suppression device. It contains about 25 gallons of water and produces a high-density fog that can extinguish closed-compartment fires such as those typically found in a vehicle trunk, passenger compartment, or engine compartment area. Chapter 8 lists a Web site for this product. The unit purports the following advantages:
Maximum fire-fighting capability with minimal water
No dangerous recoil
No spreading of burning debris
Minimal amount of secondary/entrained air drawn in to the spray pattern
Safe to use directly on humans
Medical Response Capabilities
Noteworthy practices used by EMS and other medical personnel involved in traffic incident response in Europe include the following:
EMS personnel use cell phone cameras to send pictures of crashed vehicles and perhaps their occupants (patients coming to the hospital) to emergency rooms to better inform hospital personnel of the forces exerted on the patients.
In one German service, the ambulance cot is loaded on a hydraulic mount that enables cot tilt and other positioning, as well as one-person operation in loading and unloading. This mounting device appears to be much sturdier than American cot mounts. A Dutch ambulance had an American-made, singleperson operating cot that also appeared to have stronger cot mounts than American counterparts.
One large German ambulance service employs a wheeled chair that is similar to some American stair-chairs, except that it is mounted in the passenger compartment with an easy roll-off, roll-on ramp. EMS personnel said that 90 percent of their emergency patients are transported on this chair rather than on a cot.
6.3. Traffic Safety and Operations
The host countries have several traffic safety and traffic operations practices that the team members considered noteworthy, but not all of them may be directly transferable to U.S. practice.
Traffic Safety Treatments
The team observed a strong commitment to many aspects of traffic safety in the countries visited. Examples include the following:
Automated enforcement is widely used for speed enforcement and red-light running in all four countries.
The Swedish are developing a speed control system that controls the speed of individual vehicles using Global Positioning System (GPS) technology. The GPS coordinates are matched with speed limit information. If the vehicle exceeds the speed limit, the accelerator pedal vibrates to alert the driver.
Traffic Operations and Management
Traffic operations practices the team observed that may be of interest to practitioners include the following:
In England, technology is used to scan and automatically recognize vehicle number plates (license plates). One application of this technology is to develop travel time information that is shared with travelers.
A combination of historical data and current information is used to develop short-term travel time predictions that are communicated to travelers. This approach allows drivers to get information about the actual travel time to expect and not the time experienced by travelers that have driven that stretch of roadway already.
The Netherlands has begun testing graphic route information panels (GRIP), which display a graphical representation of travel times on alternate routes. These could have particular use for diverting traffic during major incidents. Figure 13 illustrates these test signs.
Several traffic centers the team visited operated on a 24/7 basis.
6.4. Scene Management
Managing the scene at a long-duration incident can present many challenges. Two practices were observed in Germany that could be of benefit in the United States:
Germany has a large volunteer effort that can be involved in responses to major incidents through Technisches Hilfswerk (THW), the federal government's disaster relief organization. The assistance may be onscene by providing power, lighting, and other support services, or may be directed at the welfare of road users stuck in a longduration queue. Individuals typically serve in THW in lieu of mandatory military service. The government reimburses employers for the wages of employees who leave work for incident response.
A portable lighting unit, called Powermoon® (shown in figure 14), is used at nighttime incidents to provide scene lighting in a manner that reduces the glare for approaching vehicles.
Figure 13: GRIP demonstration signs in the Netherlands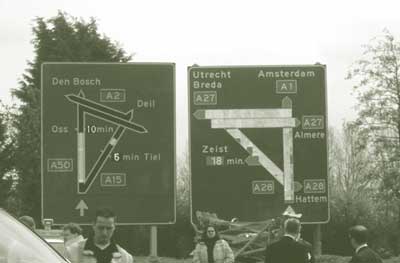 Figure 14: Powermoon lighting system