Chapter 2. The European Context
Overview
While bikesharing, carsharing, ridesourcing, and other forms of shared mobility are growing rapidly in the United States, many of these concepts originally began in Europe decades ago, and Europe today continues to lead the United States with innovations in areas such as fare payment integration, electric vehicle carsharing, and MaaS.
European advances can be attributed to factors ranging from increased public-sector involvement to culture and geography. Many European cities are densely populated, highly walkable, and closer in proximity to one another than are cities in the United States. They are often better served by public transit, which functions as a backbone to help support other forms of mobility. As a result, a culture of shared transportation is more prevalent in Europe than it is in the United States, where, in many regions, travel by private car is the default mode of choice. On average, cars cost more to own and operate in Europe (including expenses for vehicle registration, fuel, tolls and parking), and land use on the continent— from pedestrian-friendly "woonerfs" to narrower streets with less parking—make owning and operating a car less convenient and competitive with other modes of travel. In addition, there is a stronger tradition of providing public transit in smaller towns and suburban areas than in the United States.
Today, many European cities are also employing creative measures to reduce gridlock and greenhouse gas emissions from private autos. Examples of these strategies include London's congestion pricing system; Oslo's plans to ban cars from its central business district; Milan's Low Emission Zone and congestion charge, which restricts private vehicle access and parking in the city's historic core; and Paris's plans to convert the Georges Pompidou Expressway into parkland.
Photo: FHWA
While new technological advances in shared mobility often tend to grab the headlines, these cultural and geographic factors help create an environment supportive of sustained shared mobility. Other approaches by European governments—such as taking an active role in overseeing and operating shared mobility programs, allowing for some private delivery of public services, and integrating public and private transportation systems with one another—have also helped grow shared mobility and offer best practices that may be implemented in the United States
Common Challenges across Europe and the United States
While both the United States and Europe have evolved in different ways over the past 50 years, they have many common challenges when it comes to transportation, mobility, and land use. It is largely due to these commonalities that lessons from Europe would be relevant to the United States. Common challenges include:
Parking: The United States contains roughly three parking spaces for every one privately owned car.2 Due to its narrow streets and limited available land, Europe has many fewer parking spots. However, both still have significant issues when it comes to managing demand, supply, and pricing for street parking. Most cities on both continents are still reluctant to meaningfully price residential street parking.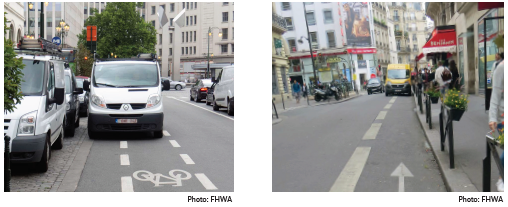 Traffic congestion: Despite having mode splits that are much more favorable to multimodal transportation, cities such as Paris and Brussels are battling with high levels of traffic congestion. In the United States, commuters waste a full week in traffic each year.3
High vehicle ownership rates in some cities: While most of Europe's capitals are densely populated, well-served by transit, and highly walkable, parts of many European cities, especially those that experienced major growth or reconstruction after World War II, have been built in a car-centric manner that resembles land-use patterns common in the United States. In cities such as Brussels, where auto ownership and usage are high, it is difficult for other modes to compete with the convenience and time savings provided by a private car, a status quo similar to that of the United States.
Rebalancing shared mobility systems to optimize efficiency and availability: Point-to-point mobility services like bikesharing and one-way carsharing have succeeded in attracting users but often still struggle from the need to rebalance vehicles to ensure that the network functions as intended and vehicles are available when and where there is demand. Public expectations, especially as related to desired trip ends, often conflict with operational practicality, leading to challenges. New models for optimizing efficiency and availability at scale are being explored but are neither yet perfected nor yet widespread.
Public-private partnerships: Europe has had notable success in establishing public-private partnerships to provide and manage transportation services, as highlighted at several points in this report, but both Europe and the United States also continue to face challenges related to private delivery of public services that fully support public goals equitably and cost-effectively.
Conflicts over street space for delivery services: The rise of e-commerce and on-demand delivery services are contributing significantly to congestion in urban areas around the world. While some localities and companies have begun experimenting with solutions to cut down on the number of trucks navigating city streets—like neighborhood delivery hubs that provide secure storage and are serviced by last-mile home delivery via electric cargo bikes and delivery lockers (e.g., Amazon Locker in the United States)—congestion from delivery services remains a challenge in both Europe and the United States.
Concerns about autonomous vehicles: Driverless cars offer the potential to transform cities by reducing the need for parking, allowing for greater housing density, and opening up land for new uses. Depending on how such vehicles are used and regulated, however, they could also undermine public transit, exacerbate sprawl, and significantly increase traffic congestion.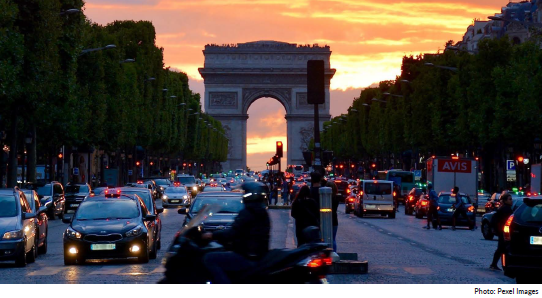 Addressing Transportation Challenges in Europe
The chapter that follows highlights the key findings and other noteworthy observations from site visits to three European cities. As the purpose of this report is to convey the broad lessons from the study, the findings are presented as experiences from Europe as a whole rather than by city. Nevertheless, context matters, so readers seeking more background on the cities visited, and specifically the conditions in which shared mobility exists in these cities, should refer to Appendix A of this report. In addition, both the study team and the Europeans with whom the team met did note that the United States may be more advanced than Europe in some areas of shared mobility. While highlighting these areas was not a study objective, it is still interesting to note them and their likely reasons. Appendix B provides this overview of shared mobility successes in the United States.
While Europe is steeped in history and tradition, the cities visited for this study had all taken on new approaches and embraced change in order to meet 21st Century urban transportation challenges. Many of these new approaches have subsequently been scaled up to levels beyond those seen in the United States, due in part to the urban density that is naturally more supportive of shared modes. Some ideas, such as start-up incubator spaces, may be familiar to U.S. readers. A number of these developments, however, have taken a decidedly European twist and, in their formulation, can offer some ideas for transportation practitioners in the United States.
---
2 C. Thompson, "No Parking Here," Mother Jones, January/February 2016. Available at: https://www.motherjones.com/environment/2016/01/future-parking-self-driving-cars/. [ Return to note 2. ]
3 Texas A&M Transportation Institute, "Traffic Gridlock Sets New Records for Traveler Misery," August 26, 2015. Available at: https://mobility.tamu.edu/ums/media-information/press-release/. [ Return to note 3. ]