Chapter 1. Introduction
Background
Shared mobility, the shared use of a motor vehicle or bicycle (or other low-speed mode), is an innovative transportation strategy that enables users to gain short-term access to transportation on an as-needed basis rather than through ownership. The term "shared mobility" includes various forms of carsharing, bikesharing, scooter sharing, ridesharing (single-trip carpooling and vanpooling), personal vehicle sharing (e.g., peer-to-peer carsharing or fractional ownership), and on-demand ride services.1 It can also include alternative transit services, such as paratransit, on-demand shuttles, and demand-response transit services (called microtransit), which can supplement fixed-route bus and rail services. Freight-related services from courier network companies and other goods delivery platforms that accommodate real-time delivery demands that substitute for personal travel and/or consolidate personal deliveries are often considered as part of shared mobility services. Smartphone "apps" that aggregate information about options and optimize routes for travelers have emerged as an important element of shared mobility.
Within the last several years, shared mobility services have exploded in popularity due to advances in technology and evolving social and economic perspectives toward transportation, car ownership, and urban lifestyles—especially among the younger generation. These services are having a transformative impact on many major cities in the United States (U.S.) and around the world by enhancing transportation accessibility while simultaneously reducing personal vehicle ownership and driving among users of these services. This, in turn, is changing the way that some people access jobs, take non-work trips, and select neighborhoods in which to live and work.
Recognizing these important transportation changes, the Federal Highway Administration (FHWA) completed a two-part domestic review focused on both current shared mobility practices and lessons learned in U.S. cities as well as the use of smartphone apps in transportation. Subsequent to this review, FHWA determined that more research is needed to further understand city and regional impacts, costs, and the potential for system performance improvements from a wide range of shared mobility modes. Information is also needed on key opportunities and challenges for public sector agencies in integrating shared mobility services into the transportation system.
While ride-sourcing services like Lyft and Uber are relatively recent entrants into the industry (the companies launched their ride services in 2012 and 2009, respectively), they have come to dominate transportation and shared mobility than their U.S. counterparts. Understanding their experiences, lessons learned, and the adjustments they have made could benefit transportation agencies in the United States that are seeking to implement new—and expand existing—shared mobility services.
Purpose and Scope
In pursuit of a better understanding of the shared mobility approaches used in Europe, the FHWA undertook a study to identify and assess effective European practices for establishing, supporting, and regulating shared mobility services that could be applied in the United States to improve accessibility and mobility. The study focused on three main topics:
Incubating new shared mobility innovations. This area focuses on European public-private partnerships forged to conceive, develop, test, and deploy new shared mobility solutions that fill important service and system gaps.
Sustaining and growing the scale and scope of specific shared mobility programs to meet expanding mobility needs and population demands, particularly with respect to innovative carsharing, ridesharing, and bikesharing applications. This includes European developments in peer-to-peer carsharing, electric one-way carsharing, electric-bicycle sharing, and ride-splitting with shared taxis and microtransit that are more advanced than U.S. practices in terms of technology, delivery-to-scale, and government support.
Successful integration of shared mobility services with other existing public transport services, in areas such as on-demand services, first mile/last mile services, fare payment, and information/ data sharing. This area includes European approaches to shared mobility and on-demand strategies, especially for the integration of these strategies with traditional fixed-route public transport and paratransit services. The intent was both to examine individual shared-mobility elements like carshare and bikeshare and to investigate the holistic approach taken by European cities to integrating these services with existing public transportation systems. The study was particularly focused on investigating the broad range of mobility-on-demand initiatives to better understand the role of public agencies in integrating shared mobility and public transport.
Study Approach
The study was conducted under the FHWA Global Benchmarking Program (GBP) which serves as a tool for accessing, evaluating, and implementing global innovations that can help FHWA respond to highway challenges in the United States. Instead of recreating advances that other countries have already developed, the GBP focuses on the U.S. acquiring and adopting technologies and best practices available and used abroad. Ultimately, the goal of the GBP is to help avoid duplicative research, reduce overall costs, and accelerate improvements to the U.S. transportation system.

The study largely focused on Munich, Germany; Paris, France; and Brussels, Belgium— three cities that have implemented innovative and sustainable shared mobility programs. FHWA selected these cities based on information collected through a review of European shared mobility programs as well as consideration of the size and scale of the shared mobility systems, impacts on mode shift, modal diversity, and innovative business models, partnerships, and policies relevant to U.S. practices. The review employed a three-tiered methodology that included a literature review, expert interviews, and synthesis. Information was collected by email, extensive Internet searches, and interviews with more than 20 leading European shared-mobility experts.
As part of the study, a team of four U.S. representatives conducted technical field visits and meetings with transportation and mobility experts in these cities between June 25 and July 1, 2017. These team members included:
Allen Greenberg, Senior Policy Analyst, Federal Highway Administration
Jim Hunt, Transportation Operations Program Manager, Federal Highway Administration
Brian Lagerberg, Director, Public Transportation Division of the Washington State Department of Transportation (sponsored by the American Association of State Highway and Transportation Officials)
Sharon Feigon, Executive Director of the Shared-Use Mobility Center (report facilitator for the study, and subcontractor to Leidos, Inc.)
The study team met with more than 50 transportation and mobility experts from European transit agencies, mayors' offices, departments of transportation, universities, shared-mobility operators, and regulatory entities. The team also met with representatives from the European Union (EU) and several Dutch cities (detailed background on the cities visited and related context for shared mobility is included in Appendix A).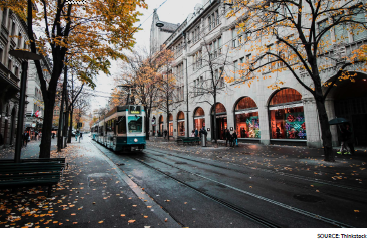 This report summarizes key findings from the GBP study and includes strategies and approaches for potential application in the United States. It is organized around four key findings, which the study team believes have contributed to the successful shared-use mobility programs in the three cities visited. These include: (1) boundary-defying public-private organizations and contracting methods, (2) proactive planning and design for shared infrastructure and electrification, (3) forward thinking transit agency leadership with a vision for shared mobility connectivity, and (4) development of "whole community" approaches to reducing personal vehicle travel and to creating and supporting shared mobility innovations.
The report also references countries such as Finland, Italy, Austria, and Denmark, which have come to the forefront in recent years through their exploration of new concepts like one-way electric carsharing, mobility as a service (MaaS) and broadly deployed demand-responsive transit. In some instances, in-person meetings with European leaders were supplemented with telephone discussions and e-mail exchanges with new contacts that were suggested or identified through following up on specific issues with previous contacts.
---
1 Shaheen et al., Shared Mobility: Current Practices and Guiding Principles (2016). Available at: https://ops.fhwa.dot.gov/publications/fhwahop16022/fhwahop16022.pdf. [ Return to note 1. ]