Chapter 1: Introduction
An effective transportation system is an essential requirement for developing and maintaining the economic strength of organized society. Planning, designing, and executing successful transportation projects requires the application of sound strategies to ensure the optimum use and management of scarce resources while, at the same time, addressing a variety of constraints and challenges, many of which are external to the agencies responsible for developing the projects.
Many transportation projects require the acquisition of land and other property interests as well as proper consideration of the accommodation and potential relocation of existing utility facilities in the right-of-way. A critical requirement for the successful completion of those projects is the judicious application of sound engineering and management principles during the right-of-way and utility processes. These requirements are particularly evident in urbanized areas, where land use is more intensive and project costs related to right-of-way acquisition and utility relocation tend to be greater.
Managing acquired right-of-way assets and accommodating utilities within those assets are continuous activities at transportation agencies. Nationwide, transportation agencies are responsible for managing millions of acres of land that provide right-of-way to transportation corridors. Managing this extensive and valuable right-of-way asset involves considerable resources and integration of numerous business processes, including determining right-of-way boundaries; inventorying roadside features; preparing right-of-way maps; buying, selling, and leasing assets; regulating the accommodation of utilities in the right-of-way; and preparing reports documenting right-of-way assets. In general, ready access to right-of-way asset data is a key requirement not just to streamline project delivery, but also to effectively manage the right-of-way asset throughout the lifetime of a transportation facility.
In September 2008, the scan team visited Australia and Canada to learn about innovative practices for right-of-way and utility processes that might be applicable for implementation in the United States (see table 1, figure 1, and figure 2). Appendix A lists the team members. The study team visited four state transportation agencies in Australia: the Road and Traffic Authority (RTA) in New South Wales, the Department of Main Roads in Queensland, the Department for Transport, Energy, and Infrastructure (DTEI) in South Australia, and the Roads Corporation (VicRoads) in Victoria. In Canada, the study team visited Alberta Transportation in Alberta and the Ministry of Transportation of Ontario (MTO). Appendix B lists points of contact and other officials the team met with during the scanning study. This scanning study complemented a 2000 scan of European countries, which covered Germany, the Netherlands, Norway, and the United Kingdom.(5)
Table 1. Basic information on Australian states and Canadian provinces visited.
Country
State/Province
Area(1,2) x 1,000
km2 (mi2)
Population(3,4) (million)
City Visited
Australia
New South Wales
801 (309)
6.9
Sydney
Queensland
1,731 (668)
4.3
Brisbane
South Australia
983 (380)
1.6
Adelaide
Victoria
227 (88)
5.3
Melbourne
Canada
Alberta
642 (248)
3.6
Edmonton
Ontario
918 (354)
13.0
St. Catharines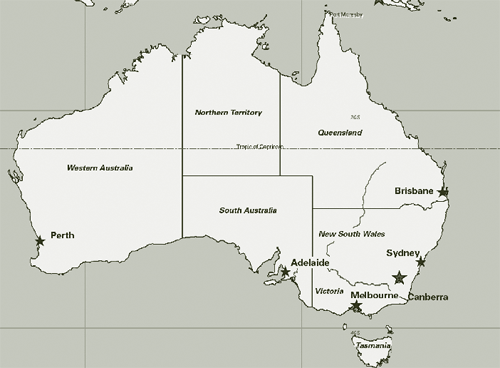 Figure 1. Australian states.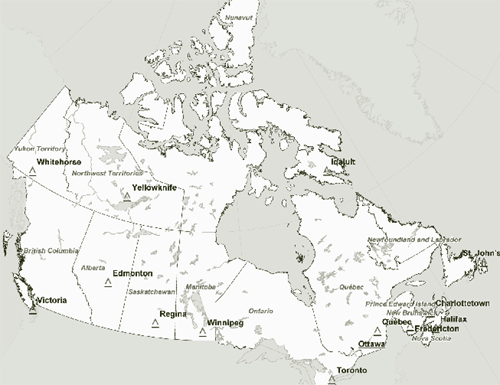 Figure 2. Canadian provinces.
Objectives of the 2008 scanning study included:
Alternative project delivery methods. Determine the experience of other nations with public-private partnerships and other alternative project delivery methods in addressing right-of-way and utility needs, and how integration of right-of-way and utility processes with design and construction has improved project delivery, including cost, schedule, and quality.
Long-range planning process. Determine how other nations coordinate right-of-way and utility activities with the planning process to identify critical future transportation (highway) corridors, manage right-of-way acquisition and utility relocation costs (e.g., by using corridor preservation and access management techniques), and identify the impact of right-of-way and utilities on project schedule, funding, and programming.
Design process. Identify how other nations coordinate right-of-way and utility activities with the project development process to reduce costs and delays associated with late plan changes, addition of required parcels, changes in access requirements, and accommodation of utilities.
Environmental process. Determine how other nations coordinate right-of-way and utility activities with the environmental process to facilitate construction permit approvals, acquire land for environmental mitigation, acquire parcels containing contaminated or hazardous materials, streamline the project development process, and minimize environmental and project development impacts.
Utility property right acquisition and accommodation. Determine how other nations acquire and accommodate property rights and facilities owned by utility companies as a component feature of the planning, environmental, and design processes; coordinate utility relocation activities to accelerate project delivery; and manage relationships and conflicts with other stakeholders (e.g., railroads).
Right-of-way property asset management strategies. Determine how other nations manage right-of-way assets, including the use of performance measures; technology-based tools to inventory, track, and manage assets; and methods to maximize benefits from right-of-way assets, including nontraditional strategies such as revenue generation and multiple public uses.
Project team, training, and professional development strategies. Identify how other nations integrate right-of-way and utility professionals into the project development and delivery process, and what techniques and strategies those nations follow to address the urgent need for succession planning through recruitment, retention, education, and professional development.
To assist in the discussion with host country officials, the study team prepared a series of amplifying questions before the scan tour to provide additional insight about the motivation and objectives of the scan. The amplifying questions (see Appendix C) covered the following subject areas:
Legal framework for right-of-way and utility policies and practices
Transportation project delivery methods
Project development process
Environmental impacts
Right-of-way acquisition
Utility coordination and utility conflict management
Real property management
Project team strategies, training, and professional development