Chapter 6: Future Trends and Research Initiatives
Future Trends
Societal Change Toward Aging in Place
As life spans and health-care costs increase, Australia, Japan, the United States, and other countries are increasing the emphasis on aging in place. This means providing goods and services to individuals in their own homes as long as possible. This trend away from traditional old-age homes has several implications for transportation. One not-so-obvious effect is an increase in delivery services for such items as groceries and medicines. Indeed, some transportation counseling programs for older persons that the scan team learned about in Australia include training on how to obtain delivery of items to reduce the need to drive or use on-demand transit services.
The other, more obvious, effect of aging in place is the sustained emphasis on personal vehicles as the primary mode of transport for elderly people—either as drivers or passengers. Hand in hand with this is a growing need for transit services accessible to older road users. Housing development trends toward transit-centered, mixed-use residential and commercial areas will serve some access needs as older people move out of the traditional singlefamily suburban home. But even those who choose to stay in their own homes will need transit, most likely in the form of on-demand services.
Transport Mode Changes: Mobility Scooters, Motorcycles, and Recreational Vehicles
Officials in both countries discussed the rising number of older people who use mobility scooters for transportation, often operating them in vehicle travelways. There was no clear consensus on what should be done in terms of licensing, training, or enforcement. Infrastructure changes may be needed to accommodate these machines as well. Some agencies provide public education materials to guide the selection of scooters and offer tips for safe operation. (56) In Japan, mobility scooters are welcomed by some in the aged services community who view them as a promising alternative form of transportation. They allow individuals to retain personal mobility, which is important for mental health and high quality of life.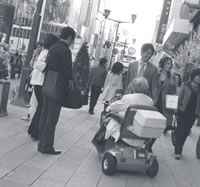 Figure 19.
An elderly shopper using a mobility scooter in Tokyo, Japan.
In Australia, as in the United States, the number of older motorcyclists is rising. The largest single motorcycle club in Australia is the Ulysses Club, which is open only to members over age 50. Many of these motorcyclists are new riders or have not ridden in many years. Motorcycles today are much more powerful than 25 years ago, and a new "old" rider may not be ready for the new machines. Some agencies are considering changes in training and licensing laws to accommodate these returning motorcyclists, who may have kept their license current for 30 years but have not owned a motorcycle for many years. Again, the fragility and physical strength limitations of older motorcyclists pose a particular risk for injury.
The last trend on the horizon in Australia is an increase in recreational vehicle ownership among older people—the so-called "graying nomads." As in the United States, retiring baby boomers are buying motor homes and camping trailers and going on extended driving trips. In Australia these trips pose a particular hazard because of the poor-quality roads in much of the country's interior. In addition, these remote roads are used by long-haul tractor-trailers that tow up to four trailers (called "road trains"). Changes to paved surface widths, turn radii, passing lane length, and other infrastructure elements may be needed to accommodate this increase.
Research Initiatives
Several research programs presented to the scan team hold promise for future policy changes, infrastructure development, and educational programs.
A study at Monash University Accident Research Centre (MUARC) uses a portable driving simulator located in a car dealership (see figure 20). This is a large-scale study examining driving patterns at intersections and other high-risk traffic maneuvers and hazards in drivers of all ages. In similar previous studies, MUARC researchers have shown that older drivers have a wider gaze pattern when negotiating some hazardous events, which in general is safer. But researchers also found that older drivers are slower to notice a hazard such as an unexpected vehicle entering their lane. This delay is likely because of both slowed response time and the wider gaze pattern, which lessens the probability of looking in the critical location at the time the vehicle pulls out. (57, 58)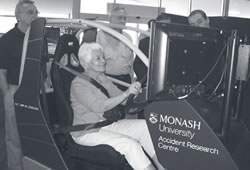 Figure 20.
Scan team members test the Monash University Accident Research Centre driving simulator.
MUARC is also conducting an Older Driver Naturalistic Driving Study similar to those proposed in the U.S. Strategic Highway Research Program (SHRP2) Safety program. This study will focus on older driver behavior at intersections. The study, funded by a private automotive company, will provide participants with an instrumented vehicle to drive for one month. Driving performance data such as gaze pattern, speed, braking, and steering will be collected for predetermined intersections in the Melbourne area.
The Queensland University of Technology is investigating the effects of age-related eye disease on driving through research using open-road driving with professional driving instructors and occupational therapists conducting assessments of older drivers on directed and nondirected routes. The professional instructors score drivers for errors in checking blindspot, lane position, gap selection, braking, and acceleration. The participants also undergo a battery of tests that measure vision, perceptual-motor skills, and physical health. The results of this test will be used to develop a battery of fitness-to-drive tests for use by medical personnel and licensing examiners. More basic research on the visual capabilities of older people who suffer from age-related cataracts and other eye diseases is also underway at this university. Another line of research here is examining pedestrian visibility enhancements provided by reflectors placed on biomotion points such as major joints (see reference 59 for a demonstration).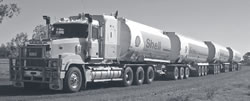 Figure 21.
Example of a road train heavy vehicle used in rural Australia.
Researchers at the Center for Accident Research and Road Safety–Queensland (CARRS-Q) at the Queensland University of Technology are beginning an evaluation of older drivers of recreational vehicles, whom they refer to as graying nomads. This study will examine infrastructure changes needed to accommodate motor homes in rural and recreational areas. The study will also interview older RVers about safety concerns associated with driving in the outback, which is characterized by narrow roads, limited services, and heavy truck traffic (see figure 21 and endnote 60). Other research at CARRS-Q is examining the impact of multiple prescription medications on driving performance.