Chapter 1: Background
In March 2008, a team of nine transportation safety, traffic engineering, and human factors experts from the United States visited Australia and Japan to assess and evaluate infrastructure improvements designed to aid older road users. The scan team members sought policy options and initiatives on transportation system planning, operations, and design as they relate to older road users. The group met with state and federal government transportation officials, university research centers, and staff from motorists' clubs and other nongovernment organizations interested in the mobility of older people. Although the scan focused on infrastructure improvements, the team also learned about policies for older road user training, assessment, and licensing. In addition, general road safety programs were discussed with all agencies visited. The majority of these programs provided a benefit to older road users, although they may not have been designed specifically with this user group in mind. The converse of this is true as well; programs and policies developed for older road user safety and mobility will improve transportation for all users. From the information the team obtained during the study, it identified several planning, design, and operational changes that could be implemented in the United States to improve the mobility and safety of older road users.
This scanning study was conducted under the auspices of the Federal Highway Administration's (FHWA) Office of International Programs, which focuses on meeting the growing demands of its partners at the Federal, State, and local levels for access to information on state-of-the-art technology and best practices used worldwide. As part of this office, the Technology Exchange Program accesses and evaluates innovative foreign technologies and practices that could significantly benefit U.S. highway transportation systems. (1) The main avenue for accessing foreign innovations is the International Technology Scanning Program. The program is undertaken jointly with the American Association of State Highway and Transportation Officials (AASHTO) and its Special Committee on International Activity Coordination in cooperation with the Transportation Research Board's NCHRP Project 20-36 on "Highway Research and Technology—International Information Sharing," the private sector, and academia.
The older road user scan team began its planning effort in September 2007 with the completion of a desk scan that recommended Australia and Japan as the two countries to visit during the trip. The initial team meeting occurred in October 2007 in Washington, DC, and the trip took place February 28 through March 16, 2008.
Purpose
By the year 2020 more than 50 million Americans will be age 65 and older, and by the year 2050 roughly 80 million adults will be in this age category. (2) Throughout the presentations and discussions with the host countries, it was clear that the graying of the population is not a demographic phenomenon limited to the United States. The scan team chose to visit Australia and Japan because of similar demographics, strong safety records, and coordinated safety implementation programs. In particular, Australia uses strategic safety plans across all levels of government. And in Japan the preparatory research showed pedestrian and transit infrastructure aimed at improving mobility for older users.
In Japan, the growth rate in the proportion of population over age 65 is much higher than in the United States. By 2030, 30 percent will be over 65, compared to 20 percent in the United States. (3,4) In Australia in 2030, demographers predict that 21.5 percent of the population will be over age 65. (5) Australia has seen a remarkable reduction in fatalities over the previous three decades from a start point of 30.4 fatalities per 100,000 in 1970 to 7.77 per 100,000 in 2006. (6) Japan's traffic fatality rate is also a relatively low 6.7 per 100,000 people. These numbers compare to the U.S. traffic fatality rate of 14.24 per 100,000 people. (7)
It is well established that age-related declines in vision, cognition, and physical abilities affect how older road users drive and use other transportation modes. As former U.S. Transportation Secretary Norman Mineta wrote in a Public Roads magazine editorial, "Without additional attention to the needs of older citizens, the United States faces critical national impacts not only in terms of transportation safety, but also for the independence and mobility of the senior population. The specialized needs of older road and transit users will place new demands and strains on America's transportation system." (8) Engineering-based countermeasures are being developed and implemented in the United States and abroad to minimize the impact of these ability changes. (9)
The U.S. Department of Transportation has a multitude of programs devoted to the integration of older road user needs involving the full spectrum of transportation systems. (10) However, the focus of this scan was on the implementation of infrastructure improvements for older road users. Many countries, including the United States and Australia, have published documents detailing how the physical, perceptual, and cognitive changes associated with aging affect a person's ability to use the existing transportation system. (11,12,13) These documents include recommendations for improvements to infrastructure and operations to address the needs of older road users, but few have reported on the successful implementation of these recommendations.
The scan team also investigated policy initiatives on transportation system planning, operations, and design as they relate to older road users. The role of older road users in road safety programming, funding, prioritization, and evaluation was also discussed with all of the government agencies. The scope of this project specifically excluded driver licensing and remedial training programs, but the team took the opportunity to learn about innovative policies in these areas used in Australia. As a recent U.S. Government Accountability Office report notes, knowledge sharing between the United States and other countries can help the United States prepare for the increase in the proportion of older road users as the baby boom demographic bubble moves toward retirement in the coming years. (2)
Organization of Report
The scan report is organized by topic, rather than by itinerary. One key theme is that improvements made to transportation infrastructure, policy, and services to aid older users results in improvements for all users. For this reason, the first section of the report focuses on general strategic safety planning and evaluation in Australia and Japan. A systems approach to improving safety benefits all users. This systems approach is present in both policy and engineering. The report continues with specific examples of infrastructure improvements to roadways, walkways, and transit systems aimed at older road users. Later sections present information on licensing, evaluation, and mobility options for citizens after they have ceased driving. The report concludes with recommendations for short- and long-term implementation in the United States.
Scan Team Members
The nine team members included transportation agency personnel from three States, university researchers, and representatives of an association of metropolitan planning organizations (MPOs) and FHWA. The following were on the team: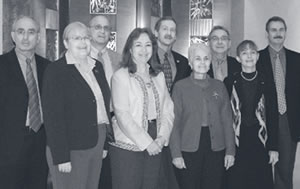 Figure 1.
Older road users scan team in Tokyo, Japan (from left to right, Barry Warhoftig, Susan Chrysler, Thomas Granda, Pamela Hutton, Thomas Smith, Leanna DePue, Howard Glassman, Elizabeth Alicandri, and David Harkey).
Elizabeth Alicandri (FHWA cochair), director, Office of Safety Programs, FHWA
Pamela Hutton (AASHTO cochair), chief engineer, Colorado Department of Transportation (DOT)
Dr. Susan T. Chrysler (report facilitator), senior research scientist, Texas Transportation Institute
Dr. Leanna Depue, director, Highway Safety Division, Missouri DOT
Howard M. Glassman, executive director, Florida Metropolitan Planning Organization Advisory Council
Dr. Thomas M. Granda, team leader, Human Centered Systems Team, FHWA
David L. Harkey, director, University of North Carolina Highway Safety Research Center
Thomas J. Smith, administrator, West Virginia Division, FHWA
Barry I. Warhoftig, director, Traffic Engineering, West Virginia DOT
Issues of Interest
The purpose of this scan was to collect information from abroad with the potential to improve roadway safety and mobility for older road users in the United States. Improvements made to benefit this user group will result in safety and mobility benefits for the general population. Major issues of interest included the following:
Safety planning and evaluation programs
Policy approaches to improving infrastructure to better meet the needs and capabilities of older road users
Transportation planning policy initiatives to address mobility of older citizens in terms of land use, transit, and other alternatives to driving
Infrastructure-based international best practices that improve safety and mobility for older road users that could be applied in the near term on U.S. roadways
Policy approaches to improving older driver assessment, licensing, and training
Safety research collaboration opportunities between international and U.S. transportation research centers
Ways to improve U.S. and international practices for long-term transportation planning for older road users.
To help the host countries address the team's concerns, a set of amplifying questions (see Appendix A) was provided to the hosts several months before the trip.
Host Delegations
During the 2-week trip, the team members met with representatives from the various national and regional transportation agencies in the host countries. A complete list of agencies and topics addressed is in Appendix B.
Travel Itinerary
During the 2-week trip, the team visited representatives in two countries: Australia and Japan. The team visited three states in Australia—New South Wales, Victoria, and Queensland—and the capital city—Tokyo—in Japan.
The itinerary is listed below:
March 2: Sydney, New South Wales, Australia—team meeting
March 3–4: Sydney, New South Wales, Australia—meetings with hosts
March 5–7: Melbourne, Victoria, Australia—meetings with hosts
March 8: Travel day
March 9: Brisbane, Queensland, Australia—team meeting
March 10–11: Brisbane, Queensland, Australia—meetings with hosts
March 12: Travel day
March 13–14: Tokyo, Japan—meetings with hosts
March 15: Tokyo, Japan—team meeting
March 16: Return to United States