Chapter 4: Performance of WMA
The general consensus in the countries visited during the scanning study was that WMA is expected to provide performance equal to or better than HMA. The scan team was interested in viewing and gathering data on the performance of in-service WMA pavements in Europe, since Europe has WMA sections that have been in service longer than U.S. trial sections.
Challenge 1: Make sure that the overall performance of WMA is truly as good as HMA. On a life-cycle basis, if WMA does not perform as well, there will not be long-term environmental benefits or energy savings.
Norway
The scan team viewed six WAM-Foam pavement sections in Norway with average daily traffic ranging from 3,500 to 25,000 vehicles (figure 5). Four of the pavements were dense-graded mixes and two were stone matrix asphalt (SMA). The pavements generally appeared to be in very good condition. Some rutting was observed, but it was not attributed to the use of WMA technologies. Norway allows the use of studded tires. Studded tires cause significant wear to the pavement, which manifests itself in the form of rutting in both HMA and WMA.
During the 1970s and 1980s, research was undertaken to identify the factors affecting studded tire wear. Based on these studies, restrictions were implemented to reduce studded tire use in Norway, mainly in the form of user fees. HMA specifications were modified to reduce studded tire wear, including the use of harder aggregate, higher percentages of coarse aggregate, and larger nominal maximum aggregate size mixes. The use of studded tires diminished further in the 1990s with the improvement of nonstudded tires. Although the use of studded tires in Norway is decreasing, it is still the main reason that roads are rehabilitated in Norway.
Figure 5: U.S. scan team inspecting a WAM-Foam pavement in Norway.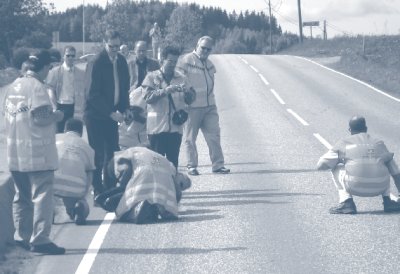 Since 1990, the Norwegian Public Roads Administration (NPRA) has performed annual pavement condition surveys on its 56,000-kilometer (km) (35,000-mile (mi)) county and national road network. The condition surveys include pavement roughness, texture, profile, rutting, and photos every 20 meters (m) (66 feet (ft)). Rutting measurements are analyzed using a cumulative frequency distribution. When the rut depth represented by the 90 percent cumulative frequency exceeds 25 mm (1 inch (in)) (e.g., 10 percent of the measurements exceed 25 mm (1 in)), the pavement is overlaid.
NPRA provided pavement management data on 28 WAM-Foam sections representing 17,800 metric tons (16,198 tons) of WMA ranging in age from 2 to 8 years.(24) The performance of the sections has been mixed. Where poor performance occurred, it was attributed to factors other than the use of WAM-Foam. The rutting or studded tire wear rate for HMA and WMA appeared to be the same. Overall, the WAM-Foam sections appeared to perform similarly to previous HMA overlays.(24)
Germany
BASt has specific procedures for investigating new materials and construction practices. In the case of new materials, the trial begins with laboratory testing. After a successful laboratory evaluation, field trials are conducted on different roads and under different conditions. The field trials must meet the following conditions:
High traffic
Right-hand (travel) lane
Section length >500 m (1,640 ft)
Contractual conditions are altered to reduce the contractor's risk in the case of a field trial. Field trials are monitored for a minimum of 5 years. For the WMA projects, field data collected at the time of construction included mix temperature monitoring, emissions data, mix samples, and initial profiles. During the 5-year evaluation period, the sections are monitored for transverse profile, layer thickness, and surface condition. The test sections are always constructed in conjunction with a control section, in this case HMA. The scan team viewed a series of WMA mastic asphalt sections being evaluated on the Autobahn between Cologne and Frankfurt (figures 6 and 7).
Figure 6: Transverse profile measurements.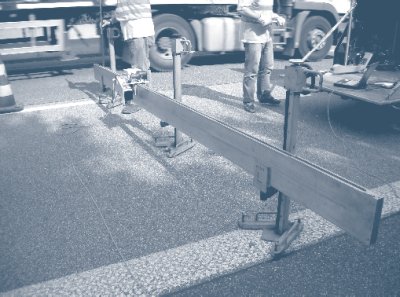 Figure 7: Layer thickness measurements.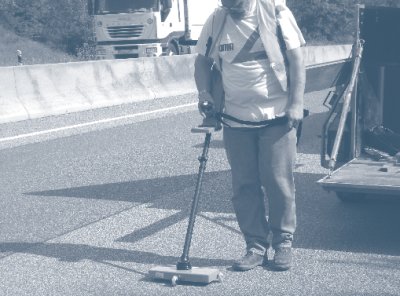 In Germany, laboratory and field performance data were presented on seven WMA test sections being monitored by BASt. The seven test sections were constructed between 1998 and 2001. Six of the seven projects were SMA mixes and one was a dense-graded mix. Two of the SMA projects were 8 mm nominal maximum aggregate size (NMAS) and the remainder of the projects were 11 mm NMAS. The seven sections include data from four WMA technologies: Sasobit, Asphaltan-B, Aspha-min, and Sübit (asphalt modified with Licomont BS 100). Table 6 shows the performance comparisons with the control sections. A control section was not available for section number 7. In all cases, the test sections had performance that was the same as or better than the HMA control sections.(13,25)
Table 6: Evaluation of test sections in comparison with control sections.
Field Measurements
SmB 35 B 209 (preblended Sasobit)
50/70 Pen + 4% Sasobit
(added at plant)
Hamburg
50/70 Pen + Asphaltan B
B 193
50/70 Pen + Asphaltan B
L 303
50/70 Pen + Aspha-min
B3
Sübit VR 45
B283
Sübit VR 35
B 51
Section Number
1
2
3
4
5
6
73
Rutting1
Equal
Equal
Equal
Equal
Equal
Equal
Low
Post-compaction densification in the wheelpaths
Equal
Better
Equal
Better
Better
Equal
None
Cracking
Equal2
Equal2
Equal2
Equal2
Equal2
Equal2
Laboratory Investigations
SmB 35 B 209 (preblended Sasobit)
50/70 Pen + 4% Sasobit
(added at plant) Hamburg
50/70 Pen + Asphaltan B
B 193
50/70 Pen + Asphaltan B
L 303
50/70 Pen + Aspha-min
B3
Sübit VR 45
B283
Sübit VR 35
B 51
Section Number
1
2
3
4
5
6
73
Thermal stability
Better
Better
Equal
Better
Equal
Better
Very Good
Low-temperature performance
Equal
Equal or Better
Equal
Equal
Equal or Better
Equal or Better
Good
Aging of the binder
Equal or Better
Equal or Better
Equal or Better
Equal or Better
Equal
Equal
Low
Adhesion
Equal or Better
Equal or Better
Better
Equal
Equal or Better
Equal or Better
Good
1Low level = <10 mm (0.4 in)
2Equal = none
3No control section available
In addition, several WMA additive suppliers presented performance data on a variety of trial sections, some of them on commercial projects. Again, the performance of the WMA was as good as or better than the HMA (or in some cases HMA that had previously been used at the site). Three of the WMA additives used in Germany- Fischer-Tropsch wax (Sasobit), Montan wax (Asphaltan- B), and fatty acid amides (Licomont BS 100 or Sübit)- have the advantage of increasing the stiffness of the binders at high temperatures. These additives may also affect the low-temperature properties of the binder. The low temperatures in Germany are generally somewhat milder than in the northern United States (PG xx-22 or warmer). Therefore, there is less concern about low-temperature cracking.
France
In France, both laboratory studies and field trials have been conducted on various WMA processes. Laboratory studies have included gyratory tests for workability and estimation of field compaction, wheel-tracking tests for rutting resistance, Duirez test for moisture resistance, and fatigue tests.(11) Workability for the WMA tended to improve. The rutting resistance of the WMA was the same as for HMA. In some cases, the ratio of the conditioned to unconditioned Duirez test results was slightly lower for the WMA. The fatigue tests indicated results similar to HMA. Service of Technical Studies of the Roads and Expressways (SETRA) has conducted field trials as part of the certification process for new products (described in Chapter 5).
The Department of Eure-et-Loir (a department is a road authority district), southwest of Paris, has experimented with Aspha-min zeolite and ECOMAC. Based on the experiences to date, the agency planned to pave 40 km (24 mi) with WMA in 2007. Eure-et-Loir is using WMA because of the environmental benefits, reduction in worker exposure, and safety aspects from reduced steam if it rains while paving. The agency also believes it helps with long haul distances and helps extend the paving season. Finally, it expects the WMA to last longer.(26)
The city of Paris has experimented with several WMA processes in the urban environment, including a dedicated bus lane. The city is evaluating WMA technologies in response to calls from Parisians concerned about fumes and odors from paving projects. The first projects used WMA in conjunction with mastic asphalt. The city of Paris has also tested six WMA processes in HMA mixes, beginning in 2004. Some of the projects were constructed at night. Projects are monitored for a minimum of 3 years before products are approved.(27)
The private toll road operator Cofiroute, which operates a series of toll roads southwest of Paris, constructed a trial section with Aspha-min zeolite on the A81 in 2003. The A81 carries 21,000 vehicles per day (two directions) with 1,500 trucks per day (one direction). The legal axle limit in France is 13 tonnes. Cofiroute placed 2,500 metric tons (2,275 tons) of a semiopen-graded mix containing Aspha-min in a 2.4-in (6-cm) lift. The mix containing Aspha-min was mixed and compacted at temperatures 30 C° (54 F°) lower than the HMA. The in-place voids were slightly higher for the WMA, 7.3 percent compared to 6.5 percent. The macrotextures of the HMA and WMA were similar, 0.98 and 1.03 mm, respectively. Samples were tested for modulus at 15 °C (59 °F) and 10 hertz (Hz). The modulus of the HMA (10,414 megapascals (MPa)) was slightly lower than the modulus of the WMA (11,376 MPa).(11) Although it sees the same advantages to WMA as described above and is pleased with the performance of the A81 section, Cofiroute has not done additional projects with Aspha-min to date because of the increased cost. Two experiments with other WMA processes were planned for 2007.(28)
Summary
Laboratory and field performance data were presented in three of the countries visited. Based on the laboratory and short-term (3 years or less) field performance data, WMA mixes appear to provide the same performance as or better performance than HMA. Poor performance was observed on limited sections in Norway, but it was not attributed to WMA use. Both France and Germany have established procedures for evaluating new products such as WMA, using a combination of laboratory testing and controlled field trials in which performance is monitored.