3. Findings and Recommendations
Over a 2-week period, scan team members visited five host countries in Europe and met with transportation officials, auditors, accountants, and financial executives. The purpose of the scan was to gather information on audit stewardship and oversight practices employed by the host EU countries. The host countries chosen for the scan had years of experience dealing with a variety of PPPs (DBM, DBOM, DBFO, financed privately with concessions) on large and innovative highway transportation projects. This fact was confirmed beginning with the scan team's first meeting in Portugal and continued throughout the meetings in all host countries. The European countries visited had extensive experience with PPPs and other nontraditional vehicles for delivering road infrastructure assets.
The EU goal of having seamless major motorway transportation systems throughout the European Union had caused a significant increase in highway construction. These ambitious motorway construction plans led not only to private sector financing but also to new delivery methods of PPPs. Contracts for PPPs with concession and financing arrangements have been an evolutionary process in the host countries. This is clearly demonstrated by the differences between the terms of initial (early stage) PPP contracts and those now being planned and developed. The countries explained their increasing use of business models and project evaluations as well as the sophisticated stewardship and oversight processes they conducted.
The scan team is aware that not all best practices identified in the EU host countries are transferable to U.S. highway programs in identical or even modified form. Political, social, and economic systems differ from country to country. What may work for one government may not be applicable to another. In addition, the scan team is aware that some of the best practices it identified may already have been implemented fully or in a modified manner in one or more of the 50 State highway programs. The scan team believes that the best practices discussed in this chapter have merit for analysis and possible implementation in the audit stewardship and oversight area of the many PPP programs being considered in the United States. The findings and recommendations are presented in three categories: audit stewardship, audit oversight, and general audit issues.
3.1. Audit Stewardship Findings and Recommendations
Audit stewardship Includes audit practices before contract initiation, including how financial evaluations are made to obtain the best outcome for the funds invested, how the government can receive the best value for the public, whether the proposing company has the resources to perform the project, evaluation of proposal costs, the sale and valuation of State assets, and audit reporting methods used to advise agencies on the mitigation of risk in the event of project difficulties.
The first finding and recommendation in the stewardship category could have been put into any one of the three categories, but it was placed under stewardship because of its importance. All five host countries emphasized the lack of and need for new auditor tools and skills. In fact, Ireland's Interdepartmental Group on Public-Private Partnerships issued a white paper titled "Framework for PPP Awareness and Training." Ireland patterns its training program for PPP after that of the United Kingdom. The United Kingdom experience was evolutionary and identified a variety of skills needed so that public sector employees can effectively approve, monitor, and evaluate PPP projects.
Portugal, England, France, Ireland, and Spain all addressed the employee skill sets necessary for dealing with new and innovative finance initiatives and the various and complex PPP models. All countries now use a diverse team approach in which team members have accounting, auditing, engineering, business modeling, financial analysis, capital budgeting, legal, and negotiation skills. These skills were identified as necessary for government teams to stand as equals with the private sector business teams that submit proposals and negotiate for private ownership with concessions for infrastructure of traditional public assets. These teams are convened at the initial planning stages of any proposed project and remain until delivery and final project evaluation. When expertise is lacking, new team members with required skills are added. The government also can hire private sector consultants if in-house personnel lack the required skill sets.
England and Ireland have established a new position of process auditor to monitor PPP initiatives through the tender (bid) process. Ireland's process auditor performs the "function of recording the completion of a number of processes in a PPP project, including the Stakeholder Consultation process. In the event that the Process Auditor has a concern of a material nature in the process, there are a number of actions available to him/her as set out in the detailed Process Auditor Guidelines. The process auditor is appointed by the Agency Head and is answerable directly to the chief executive officer (CEO)." (See sample procurement process checklist in Appendix F.)
Recommendations
The public sector needs to have (or obtain) the necessary skill sets to analyze PPP project initiation and selection with the same rigor the private sector uses before entering into any long-term business relationship. Auditors, therefore, need a variety of business and audit skill sets comparable to their private sector counterparts. These skills include but are not limited to value engineering, business modeling, capital budgeting (present value and internal rate of return applications), traditional financial problem-solving methodology, performance auditing, and service efforts and accomplishment reporting (SEA). Additional training of current staff may be required. New personnel with specialized skills may need to be hired. Skill sets needed on a limited or occasional basis could be satisfied by contracting for those services with the private sector. Portugal, Spain, England, France, and Ireland all championed the need for training of their staff to remain equal to the private sector. But they also recognized that there were times when a combination of in-house employees and outside consultants was more cost effective than hiring additional government employees or training existing employees in skill sets not needed on a continuing basis.
Public sector DOT teams need to be established for each proposed PPP highway project. This PPP team would have the necessary skill sets to develop a business model to determine if the project can deliver value for money (VFM) to its citizens. The team would be involved in all matters pertaining to the proposal, selection, and construction of this capital PPP project. Teams are usually comprised of State DOT personnel, but members also can be from outside the agency. When needed expertise is not available within the State DOT, it may exist in personnel of other State agencies, in academia, or in the private sector.
State DOTs should examine the use of a process auditor concept for each PPP. The responsibility of the process auditor is to assure that all necessary legal, accounting, and policy issues are addressed in the development of a PPP proposal through the final bid acceptance.
Audit stewardship is achieved during the planning process of major innovative finance projects or PPPs. Audit review is ongoing throughout the life of the project. Clear performance objectives should be developed for each stage of the PPP life cycle, along with audit monitoring methodology to appraise the performance objectives. Public sector comparators (comparables) need to be developed early in the initial planning stage.
Public sector comparators (comparables) provide a realistic estimate of how much it would cost the public sector to provide the identified transportation project. The standard of design quality to be achieved should be clearly demonstrated, including how the project expectations can be met within an agreed affordability envelope.
The goals of a PPP include speedy and cost-efficient value for money projects using private financing arrangements with concessions to allow transportation agencies to meet the increased demand for efficient, safe, and quality highways without increases in general or gasoline tax revenues. At the heart of audit stewardship is assurance that corporate governance is followed.
For it is through governance that an organization achieves its objectives and targets. It is about establishing a framework of control that supports innovation, integrity, and accountability, and encourages good management throughout the organization. (May 16, 2006, presentation to scan team in England)
Each host country had a team or organization, usually within the national ministry of finance, that developed policies and controls for use with PPP capital procurement projects. In Ireland, the National Development Finance Agency was responsible for this function. Created by legislation, its main functions are to (1) advise state authorities on optimal means of financing public investment projects, (2) advance moneys if necessary, (3) provide advice on financing public investment, and (4) establish (when necessary) special purpose companies.
Recommendations
Audits should be conducted throughout the project life cycle, not just at the end of construction, and they should not be merely audits of construction costs. Auditors should concentrate on audit process that is value for money oriented. The project life cycle should be monitored using compliance, financial, and performance auditing and become intimately involved with the final audit of project effectiveness.
Public project comparators (comparables) should be developed for each project early and, of course, before a request for proposal (RFP) is issued. Comparators need to be robust and meaningful. Economic and financial forecasting techniques should be used and skillfully developed. Project cost estimates must be taken seriously and prepared as if they will continue throughout the life of the project. A hastily, casually drafted first estimate, even if revised later, may be the only highway project cost estimate remembered by the media, the citizens, and the politicians.
Early and active involvement by internal audit staff and financial experts improves the quality of highway project RFP design and tender evaluation. Project performance objectives need to be established with the initiation of the project. Once they are established, audit techniques and performance benchmarks can be developed. This allows for stewardship and oversight throughout the life of the project.
All host countries emphasized that PPP contracts should be clear and concise with specific clauses dealing with (1) concessions and sharing of concession profits with the government if toll revenues (concession) exceed initial projections, (2) future increases in toll charges by the concessionaire, (3) the sharing arrangement with the government if super profits occur in an amount well beyond initial expectations detailed in the business plan used to create and award the PPP contract, and (4) the sharing of profits from refinancing debt. All of the host countries recognized that PPPs are a financing mechanism and that the interest rate in the tender is subject to market fluctuation. Therefore, they expect to keep the rate of return for private partners reasonable by requiring them to share any refinancing profits. Contracts should be clearly written to avoid or prevent future contract litigation. A contract clause, in case of disputes, should require binding arbitration.
Recommendations
Business models should be used to evaluate the capital investment of transportation projects. These robust models should include tools such as value for money, present value, internal rate of return, and risk assessment. These business models and profit projection techniques can then be incorporated in PPP concession contracts. Super profits by a concessionaire are to be avoided and prohibited. The PPP contract should establish a cap on expected return to the private sector contractor. Concession contracts should call for a sharing of revenues with the State if toll activity exceeds a specified, predetermined base. Concession contract terms should specify the annual toll inflationary adjustment rate as well as expected traffic counts. When these expectations are exceeded, the State should share in the revenues. A predetermined level of super profits could also be used to trigger revenue sharing or a required contract adjustment.
Engineering specifications on DBOM (PPP) projects should be specific to the outcomes desired. The contractor should be provided with the opportunity to determine the detailed specifications to construct, maintain, and/or operate the project.
Refinancing profits should be shared between the government and the PPP. This sharing arrangement is detailed in the original tender bid specifications.
Performance evaluations should address the PPP planning process, administrative procedures, respect of key events, technical standards, detailed estimations of bids, use of comparison with administration comparators, traffic expectations and traffic growth projected during the concession, and reasonableness of revenue projections (projected inflationary toll increases). Most of the evaluation should use the techniques of business planning and capital budgeting measures.
The value for money (VFM) process should be used as a viable and effective methodology for selecting projects and/or contractors.
Preparers of PPP contracts should consider including a binding arbitration clause.
Figure 4: Value for money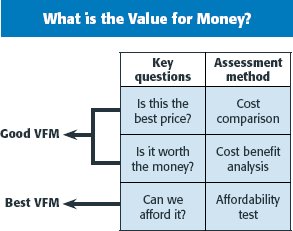 Source: Office of the Comptroller and Auditor General, Ireland
When PPPs were being implemented throughout the European Union, contracts were commonly written for 60 to 99 years. The host country representatives stated that earlier PPP contract lives were excessive and that current and future PPP contracts are limited to 30 to 35 years. A host country representative explained the 30-to-35-year contract limitation in relatively simple terms: "If a PPP is a financing arrangement, then the PPP contract period should be no longer than the length of a typical financing instrument used to finance similar assets."
England and France plan to introduce a renegotiation clause in PPP contracts at the end of each 7.5 years. This 7.5-year clause would allow all concession items to be renegotiated throughout the contract life.
Recommendation
Although each contract is unique to the PPP project, it is recommended that contracts for PPPs with concessions be limited to 30 to 35 years. Any PPP contract longer than the recommended time must be adequately justified in the business plan.
3.2. Audit Oversight Findings and Recommendations
Audit oversight-Includes audit practices during contract and post-contract periods involving the evaluation of work performed, use of project costing standards, distribution of profits from concessions, compliance with contract provisions, and an evaluation of overall price and quality of services received.
Host countries encouraged the development of a viable business plan as a condition for the effective control of a PPP capital highway project. The business plan outlines the project scope, objectives, alternative project, comparables, risk, time line, and necessary elements to develop a bid or tender. This business plan will present the VFM analysis and all elements that will become the foundation for development of life cycle audit objectives. Auditors and finance personnel need to be involved early in the process, providing a consultative role.
PPPs with concessions involve complex issues of economic revenue projections and monitoring and auditing of toll collections by the private sector. A PPP should be used only if it can be justified from a business sense. A PPP with concessions can release State DOT funds for use for necessary traditional transportation projects. The private financing for the PPP project is, of course, a business venture. Therefore, the public sector should use robust business modeling, including the same tools private business uses to determine capital investment selection and return (value for money).
Recommendations
Critical areas for audit oversight should include auditor involvement in the procurement contract, the methodology and basis of establishing risk allocation between the parties in the procurement contract, and preparation of public comparators for the contract.
Audit plans should be developed from the PPP project business plan. Poor or inadequate business planning prevents the development of adequate performance evaluation criteria. Responsibility for the evaluation methods lies with the State DOT, the developer of the business plan.
Methodology for audits of concession counts, revenues, and expenses should be developed and included with clear contract language in the tender or RFP. With long-term contracts, the audit methodology should address changes in future technology.
Financial evaluation of traffic counts should be in real time to both parties with agreed-upon methods of surveillance. Electronic systems allow contractors and States real-time information that is verifiable with basic video technology.
Audit objectives should be written for each stage of the project life cycle, including what audit questions need to be answered at each phase and the audit standards to be followed that relate to the audit objectives. A final performance audit should be conducted to determine whether the PPP project is delivering the projected sustainable benefits at the expected cost.
3.3. General Audit Issues, Findings, and Recommendations
The European governments are moving to transferring risk to private contractors for major projects. The business model developed for each project determines the amount of risk transferred to the contractor. The countries approached the allocation of risk in PPP contracts differently based on their budgets and project requirements. The most appropriate risk allocation basis should be used for each type of contract and project, given the circumstances. However, all host countries agreed that the greater the risk transferred to the private sector, the greater the cost of the project.
Recommendation
Business plans should allocate risk between the PPP partners according to their ability to control and mange the risk. Risk sharing impacts PPP construction and financing costs and thereby impacts user toll costs.
The European Union has established a goal for a seamless interstate motorway system to increase commerce within and between the member states. Because of the extensive and different tolling systems throughout the European Union, the host countries showed concern and interest in the development of a seamless EU tolling collection system to facilitate nonstop tolling. Citizens would be able to buy a toll pass and use it throughout the EU states. Centralized billing and/or credit card charges could be processed electronically. Tolling costs would be more transparent to the user and governments would be more accountable for the cost per mile for toll road usage. In addition, auditors would be able to verify toll road usage more easily by sharing traffic counts with neighboring states.
Recommendation
The United States, through FHWA and AASHTO, should work toward development of a national seamless tolling system. The system should allow State DOTs their autonomy, but it should be 100 percent compatible and interoperable. This would allow citizens with a single registration to access any toll scheme throughout the Nation.