Appendix A: ITS World Congress, Japan
The ITS World Congress is an international gathering of professionals and vendors with the common objective of advancing intelligent transportation systems throughout the world. The following is the general makeup of those attending the conference:
Government officials
Members of academia
Private-sector firms offering ITS-related services
Suppliers of ITS-related products and services
Law enforcement personnel and organizations
Other emergency services providers
The timing of the 11th World Congress on ITS in Nagoya, Japan, and the launching of this safety-related technology scan provided a unique opportunity for panel members to take advantage of the year's most comprehensive showcase of technology-related products and services available in the ITS environment. Seven members of the panel were able to attend the congress from October 18 to 22, 2004:
Michael Freitas, co-chair, FHWA
Bruce Warner, co-chair, Oregon DOT
Dr. Robert L. Bertini, Portland State University
Carlos Lopez, Texas DOT
John R. Njord, Utah DOT
Lyle Knowlton, New Hampshire DOT
Thomas R. Warne, report facilitator, Tom Warne and Associates
While at the ITS World Congress, scan team members attended technical sessions, delivered presentations, moderated technical sessions, reviewed the myriad of trade fair exhibits, and participated in an ITS safety technical tour. Panel members also met several times to discuss their findings, observations, and other pertinent information that could become a part of the final report for this scan.
In addition, on Monday, October 18, 2004, the panel met with representatives of FHWA, AASHTO, the U.S. private sector, ERTICO, and European countries that are well advanced in their implementation of ITS practices. ERTICO is a not-for- profit, public-private partnership established in 1991 to advance intelligent transportation systems in the European Union. It was envisioned that this meeting would establish a clear understanding of the opportunities to be explored by the scan team during the second phase of this scan.
The meeting with the European officials included discussion of a variety of ITS applications in various EU countries. Among the topics discussed were the following:
Officials described the general purpose of ERTICO and how the European Union is advancing ITS technologies to improve safety performance on roads and highways. EU has set a goal of reducing fatalities by 50 percent by 2010 and eliminating fatalities altogether by 2020. Also, its eSafety program focuses on deployment of new technologies.
It was reported that Sweden is operating a system in which the vehicle and the roadway infrastructure communicate and function collaboratively. In addition, Sweden has speed control technology in place as a safety measure. It is attempting to prevent crashes, protect occupants in crashes, and implement faster systems for getting aid to crash victims.
France has achieved a 21-percent reduction in fatalities with the speed-management strategies it is using. A strong commitment to road safety comes from the highest levels of government. While skeptical at first, the French public now accepts speed-management strategies as a necessary and life-saving addition to the highway system.
ADAC, Germany's equivalent of the U.S. American Automobile Association (AAA), reported on its efforts to improve driver education.
The Netherlands has implemented automatic enforcement strategies to improve speed management.
There is concern in the European Union that all improvements are focused on the vehicle and roadway infrastructure, while more than 90 percent of crashes are caused by driver error.
Renault is one equipment manufacturer that has made speed limiters available on its trucks as original installed equipment.
Efforts in the United Kingdom have focused both on crash causation and on reduction of the impact of crashes that do occur.
The meeting was valuable for the panel as a precursor to making decisions on which European countries to visit during the 2005 study.
TT-3, ITS Safety Frontline Tour
The "TT-3, ITS Safety Frontline Tour" offered scan team members the opportunity to see how both public and private entities in Japan have combined efforts to offer a wide array of ITSrelated safety improvements to the transportation system. This daylong technical tour included a wide variety of technologies with direct application to U.S. systems. The technologies showcased during the tour included the following systems.
Driving Support System
Using the differential GPS onboard navigation system, the driving support system (DSS) offers drivers of snowplows and law-enforcement vehicles enhanced views of obscured objects in front of the vehicle, thereby facilitating safer operation on the highway. This system translates detected obstacles into visual images depicting dangerous conditions ahead, as noted in figure 24.
Figure 24. Driving support system-poor visibility. (Ministry of Land, Infrastructure, and Transport, Japan)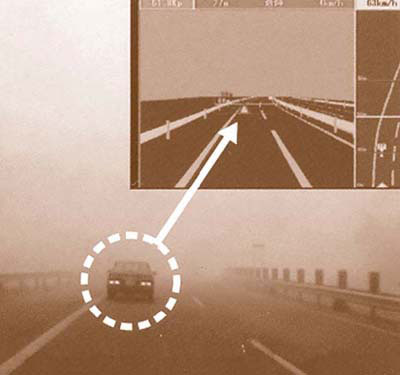 P-MAC
P-MAC (figure 25) is a system intended to increase worker safety. In this case, a variable-message sign is combined with radar detection of approaching vehicles, offering a real-time messaging system that warns oncoming traffic of activity in a work zone. Message content changes if the vehicle approaching the work zone fails to take apparent evasive action.
Figure 25. P-MAC warning system-work zone. (Ministry of Land, Infrastructure, and Transport, Japan)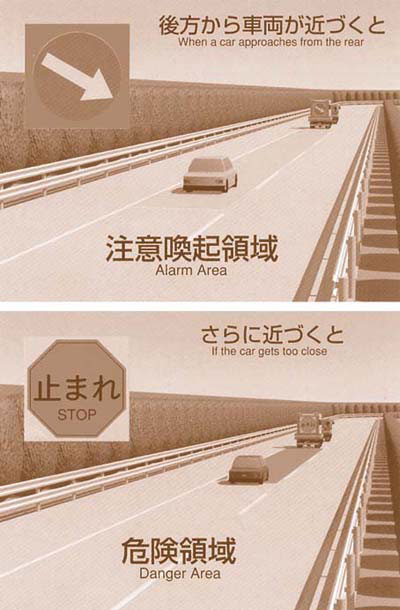 Mobile Radio LAN System
The Japan Highway Public Corporation has installed a high-speed network for mobile objects aimed at communicating real-time information to vehicles and their occupants. It allows continuous communication of vital safety information using a radio local area network (LAN) in the 2.4 GHz bandwidth. The system is capable of communicating a wide variety of information, including data and images, to the vehicle systems.
Advanced Cruise-Assisted Highway Systems
Advanced cruise-assisted highway systems (AHS) provide information on highway features (curve data or other roadway information) as well as warnings of obstacles that may be ahead on the roadway but not yet visible. Advanced warning and information enables the driver to respond safely even under adverse driving conditions.
Vehicle Information and Communication System
The Vehicle Information and Communication System VICS) is a real-time system that provides information to the onboard navigation system in vehicles. Information includes such elements as weather, road conditions, navigation assistance, traffic conditions, and virtually any other data that might help drivers operate their vehicles in a safe manner. The system had 9.2 million subscribers by March 2004. Users pay a onetime setup fee, in addition to purchasing the onboard navigation system, and then receive the VICS service free. See figure 26.
Figure 26. VICS. (Ministry of Land, Infrastructure, and Transport, Japan)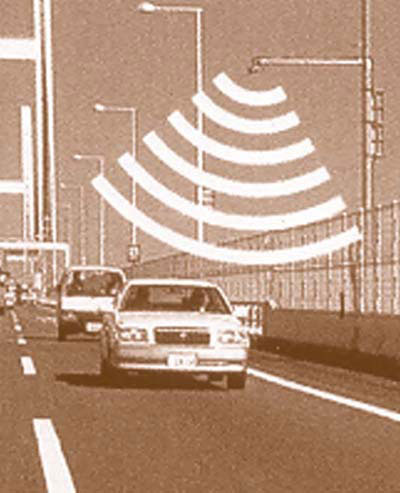 Radar Cruise Control (with Low-Speed Following Mode)
The radar cruise control (with low-speed following mode) system was demonstrated by Toyota, Nissan, and Mitsubishi at a test site. When activated, this system enables drivers to adjust headway between their vehicles and the one immediately ahead, thereby providing for a uniform flow of traffic and automatic adjustment of speed based on the actions of the leading vehicle.
Vision-Assist Technology
Vision-assist technology allows vehicle operators to "see" objects and roadway features that otherwise would be invisible because of blind spots or obscured-vision conditions. Cameras mounted on the vehicle at strategic locations can provide the vehicle operator with direct video images or enhanced visual renderings of conditions and obstacles.
Adaptive Cruise Control
Adaptive cruise control differs from radar cruise control in that it provides the added benefit of mild to increasingly intense braking if the driver of a vehicle does not respond safely to a slowing or stopping vehicle ahead. Designed to reduce or eliminate rear-end collisions, this system increases the safety of vehicles and their occupants through automated braking actions.
Japan Road Traffic Information Center
The Japan Road Traffic Information Center is operated by the Japanese Ministry of Land, Infrastructure, and Transport and offers motorists a wide variety of services, including weather conditions, road conditions, congestion conditions, and construction restrictions. Operated in conjunction with many of the other systems featured during this tour, the center is a significant modern component of the ministry's ITS initiative.
Road Construction Management System
The Road Construction Management System involves more than 1,500 taxi probes that travel extensively throughout the Nagoya region and provide a wealth of information for use by the Japan Road Traffic Information Center in managing the transportation system. GPS technology is combined with data on traveling speed and wiper operation to give a more complete picture of the operation of the system elements and any weather-related concerns to be communicated to other motorists.
Driving Safety Support Systems
The driving safety support systems operation consists of a collection of field tests focused on offering motorists additional information to improve their safety and that of vehicles and pedestrians around them. It includes the frequent communication of location-specific crash information to encourage drivers to be more cautious as they approach certain locations. It also communicates real-time information on congestion and the presence of pedestrians in crosswalks.
In addition to the above-described technologies, the panel observed many other safety-related technologies and strategies at the ITS World Congress that may have application in improving the safety of the Nation's transportation system. The themes the team observed are summarized below:
Japan has a vast number of vendors of ITS-related products and services, making the country a competitive environment for procurement, deployment, and operation of ITS.
Interoperability is advanced because of the maturation of system integration.
The onboard navigation system serves as the catalyst for ITS deployment in motor vehicles, with other technologies emanating from that point.
The Japanese use cameras, vehicle-performance information, sensors, infrastructure inputs, and other information in combination to achieve safety-related improvements in their transportation system.
VICS technology has substantial penetration in Japan.
The Japanese put a strong emphasis on how the use of ITS will improve both safety and the environment.
Strong national leadership on safety exists in both Japan (by the national government) and Europe (by the European Union).
The goals and objectives of the Europeans and Japanese to reduce crashes and fatalities are not constrained by current knowledge, practices, or technology. These goals are seen to be sufficiently important to drive researchers toward eventual encompassing solutions.
Overall, the experience in Japan at the ITS World Congress complemented the onsite visits to Germany and France and confirmed many of the findings and recommendations contained in this report.