Chapter 4: Training
Highway right-of-way staff positions are considered professional-level positions in all four countries visited. In Norway, all right-of-way personnel have a fiveyear degree specific to their profession. In Germany, most right-of-way staff members the team met with were economists, engineers, or attorneys. In England and the Netherlands, right-of-way personnel hold various college degrees and have opportunities to participate in strong continuing education programs. Training requirements vary, but all of the countries place a strong emphasis on formal training and continuous employee development.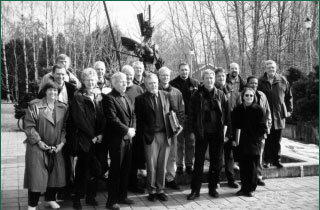 Figure 6. Right-of-Way and Utilities scanning team members and their Norwegian hosts visited the Agricultural University of Norway in As.
PRIMARY FINDINGS
Norway's Five-Year Degree Program
Most of the top-ranking staff members in the NPRA's Land Acquisition and Real Estate Division are graduates of the Agricultural University of Norway. The university has 2,000 students in a five-year program that covers property rights and land law. In Norway, a student must complete 13 years of schooling before entering college, which means a university graduate has 18 years of formal education. The university program in land use planning dates back to 1898. The university has offered a curriculum leading to a career in right-of-way and land consolidation since 1960. It also offers master's degree and Ph.D. programs in land use planning. Areas of study include landscape architecture, law, architecture, engineering, and land tenure and relocation. Land tenure and relocation involve the following subject matter:
Land acquisition
Eminent domain
Land reallocation
Land valuation and devaluation
Negotiation
Mitigation
Related subjects
The team was impressed with the concept of a degree leading to a right-of-way career. Most of the curriculum for such a degree already exists at U.S. colleges offering degrees in real estate and civil engineering. It would be a small step to create a new combination of existing courses at these colleges and combine them with courses offered by the International Right-of-Way Association and the National Highway Institute. Identifying and offering the curriculum for a degree in real estate with a specialty in right-of-way should create interest among potential candidates who are now unaware of right-of-way career opportunities.
The Netherlands' In-House Training Programs
Universities in the Netherlands do not include a right-of-way degree in their regular curriculum. Universities are willing to provide tailor-made training, but the cost would be too high. More than 25 years ago, Rijkswaterstaat (Ministry of Transport, Public Works and Water Management) contracted with a training company to develop a training program for its right-of-way staff that leads to a certificate of completion of higher professional training.
The training company developed a two-year program of eight-to-10 one-day educational sessions every six months. First-year training starts with the legal system and covers the civil law code and other legal aspects affecting right-of-way acquisition. The second half of the year is devoted to general appraising and the types of appraisal problems confronted by Rijkswaterstaat. Second-year training covers right-of-way acquisition in depth, including the intricacies of complicated appraisals. After two years of study, students must pass an examination and write a paper.
Instructors are of three types:
Right-of-way consultants who are experts in specialized areas of right-of-way acquisition
Experienced appraisers who have done appraisal work for various types of government projects
Instructors from the judiciary who teach courses in such areas as expropriation and use real-life examples from their own experience in their teaching
All right-of-way staff members are required to take the training program.
Rijkswaterstaat employees wishing to work in the right-of-way field must apply to take the program, and agency officials select students they believe would be good at negotiating and dealing with other aspects of right-of-way work. It is universally recognized that maturity and people skills are necessary to make a good right-of-way agent. New employees are not eligible for right-of-way training until they have worked for Rijkswaterstaat long enough to demonstrate the aptitude and maturity required to be successful right-of-way agents.
Rijkswaterstaat pays for training for their employees, but the program also is open to individuals from other agencies and the private sector at their own expense.
Graduates of the program attend semi-annual meetings to discuss their experiences in the field and the impact of new developments on their work. These follow-up meetings help maintain the competency of right-of-way staff. Supervisors measure the effectiveness and competency of right-of-way staff in routine performance evaluations.
England's In-House Training Programs
The Highways Agency in England has an extensive training program for employees, including those in the Lands Branch. A central training team and a team of local training advisers has been established to administer:
A central training program
Tailor-made courses
External training
Support for external studies
Learning resource centers with computer-based training
Each employee is authorized to receive two weeks of training per year. The Highways Agency supports external training. Although employees have to take it on their own time, the Highways Agency pays the fees.
The Highways Agency uses a performance appraisal system that provides annual reviews and is based on competencies needed to do the job. It establishes a framework for individuals and line managers to identify development and training needs, as well as provides interim reviews to ensure that development and training needs are kept in line with personal and business objectives.
The Highways Agency has a mentoring program to provide basic information on the agency to each new employee. The agency also has contracts with professional valuers, attorneys, and managing agents to provide training sessions for staff members. The agency issues regular updates and advice on policies and legislative changes, and arranges and finances additional specialty and job-related training. It promotes and disseminates best practices through seminars, which can be either activity specific or general. The Highways Agency uses professional development plans to determine the level of competency required in particular employment grades. Entry-level staff members normally have at least the minimum academic qualifications required for recruitment to the civil service.
German Association for Appraisers
The German Association for Appraisers is a large association of appraisers for agricultural properties. Many appraisers of improved and commercial properties belong to a Belgian appraisal association because there is no association of residential or commercial appraisers in Germany.
Royal Institution of Chartered Surveyors
England is the home base for the Royal Institution of Chartered Surveyors (RICS). In its booklet "World Class University Partnerships" is the following statement:
"Chartered surveyors are the leading source of professional advice on land, property, construction, and related environmental issues, on a global scale. Chartered surveyors are based in over 100 countries worldwide and are represented by national or regional associations in over 50 countries. They hold an internationally recognized qualification and belong to the premier property professional body in the world. And it is the profession's high standards of education and training which guarantee its universal value within the international business community. The Royal Institution of Chartered urveyors is committed to developing strong partnerships with recognized centers of academic excellence throughout the world, to ensure the direction and growth of the rofession in the long-term. Of particular interest are those centers which offer: excellent teaching faculties working closely with business, international standards of research, an appropriate range of courses at undergraduate and postgraduate level, and the ability to attract students of suitably high caliber.
RICS was founded in London in 1868 and is one of the largest professional associations in the world, with nearly 100,000 members, including 75,000 chartered surveyors (appraisers) and 25,000 undergraduates and graduates in the process of qualifying. RICS has accredited more than 60 courses in Europe, Asia, Australia, Africa, and the Caribbean. Key partners include the University of Cambridge, University of Melbourne, European Business School in Frankfurt and Berlin, University of Hong Kong, and University of the Sorbonne.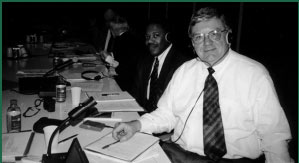 Figure 7. Myron Frierson and Richard Moeller listen to interpreters at the German Federal Ministry of Transport.
The RICS publication "The Official Prospectus to Surveying Education, Higher Education Courses in Land, Property and Construction" has a listing of undergraduate and postgraduate conversion courses accredited by RICS and the universities that offer them.
The RICS publication "Policy and Procedures for Accredited Centres and Accredited Courses" details its system of accreditation, which distinguishes between accredited centers and other centers offering accredited courses. The RICS publication "APC Requirements & Competencies" sets out standards that must be achieved to qualify for particular divisions of RICS or surveying specialties. APC stands for "assessment of professional competence."
In the countries visited, the appraiser is usually the relocation agent also. This was once a common practice in the United States, but over time these functions became separate. From a training perspective, this means that relocation agents in these countries are certified appraisers. Specialized training in relocation is not necessary, since relocation benefits in these countries are not set by regulation, but are simply whatever costs are necessary and reasonable for the resident or business owner to relocate.