Chapter 1: Introduction
Highway right-of-way acquisition and utilities accommodation in the United States has become significantly more complex during the past 20 years. At the same time, right-of-way and utilities personnel are under increasing pressure to provide cleared right-of-way more quickly. Included in the Federal Highway Administration's (FHWA) National Strategic Plan are goals to enhance communities through highway transportation projects using innovative right-of-way acquisition, relocation of affected residences and businesses, and relocation and accommodation of utilities with minimal disruption to communities.
As part of the American Association of State Highway and Transportation Officials' (AASHTO) strategic plan assignment, the AASHTO Right-of-Way and Utilities Subcommittee conducted a nationwide review of processes and procedures to identify best practices. This study addressed guidelines and best practices in project development, appraisal and appraisal review, acquisition, relocation, property management, utilities, management practices, and training. The "Right-of-Way and Utilities Guidelines and Best Practices" draft was published in January 2000.
While the right-of-way study was being conducted in the United States, FHWA, AASHTO, and the Transportation Research Board (TRB) chose the topic to study on an international level as well. The International Technology Scanning Program, coordinated by FHWA's Office of International Programs, provides a means to identify, assess, and import foreign highway technologies and practices for implementation in the United States.
A scanning team of right-of-way and utilities experts from Federal, State, and private sector agencies was formed. In March 2000, the team traveled to Norway, Germany, England, and the Netherlands to observe right-of-way and utilities best practices and identify techniques with significant potential value for implementation in the United States.
This report describes the team's findings and observations. It includes their recommendations for potential adoption of European right-of-way and utilities techniques and best practices that will enhance the ability of State and local agencies to streamline delivery and improve the quality of right-of-way services.
A Joint AASHTO-FHWA International Highway Technology Scanning Program was established in 1998. This program includes joint proposal and selection of study topics and joint responsibility for U.S. implementation of useful techniques and practices identified during scanning studies. Twelve scanning studies every two years are conducted under this program. Co-chairs from AASHTO and FHWA head each scanning team and recruit other team members. Teams typically include members from FHWA, State highway departments, industry associations, the private sector, and academia.
Once FHWA and AASHTO identify the need for a scanning study and a team is formed, the team meets to address key aspects of the trip and develop amplifying questions. The amplifying questions are submitted to transportation officials in the host countries to give them an idea of the scope of information the team is seeking. The amplifying questions for this scanning study are included in Appendix B.
TEAM MEMBERS
Team members for the Right-of-Way and Utilities Scanning Study represented FHWA, State departments of transportation (DOTs), and the private sector. Co-chairs were Richard Moeller, FHWA, and Joachim Pestinger, AASHTO. Four team members represented State DOTs: Myron Frierson of Michigan, Janet Myers of Maine, Pestinger of Washington State, and Stuart Waymack of Virginia. Private sector members included Wayne Kennedy of the International Right-of-Way Association (IRWA) and Catherine Muth from O.R. Colan Associates, Inc. Moeller and Paul Scott represented FHWA. Appendix A contains biographies of team members.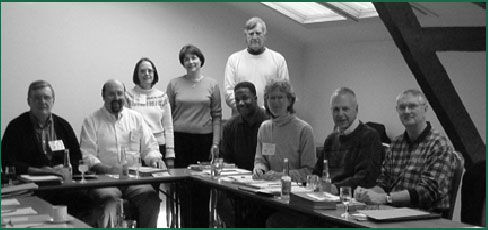 Figure 1. Scanning team members include (left to right) Dick Moeller, Joe Pestinger, Adele
McCormick, Cathy Muth, Stuart Waymack (behind), Myron Frierson, Janet Myers, Wayne
MEETINGS
American Trade Initiatives, Inc., which provides logistical support and guidance for scanning studies, scheduled four team meetings at various stages of the right-of-way study. At the first meeting in Washington, D.C., team members established the study's focus, discussed problem areas in the right-of-way and utilities accommodation process, and developed amplifying questions. The second team meeting was held in Oslo, Norway, before the first day of presentations by the team's Norwegian hosts. This meeting provided an opportunity for the team to review study objectives and the host countries' agendas. The third meeting was held halfway through the trip in The Hague, Netherlands, to allow the team to refocus and regroup to ensure the scanning study's objectives were being met. This was a pivotal meeting at which the team discussed the first week's findings and observations and set the course for the second week.
The final meeting was held in London, England, on the last day of the study. The team used this meeting to review findings and develop recommendations for implementation.
The team developed amplifying questions to give their European hosts an understanding of the scope of information the team desired. Questions were divided into nine categories:
Right-of-way and utility laws, regulations, policies, and programs
Right-of-way and utility involvement in project development
Property appraisal and appraisal review
Acquisition of property rights, easements, and permits
Relocation assistance to owners, tenants, businesses, and farm operations
Utility coordination, adjustments, and relocation for highway projects
Public involvement
Property management of real estate acquired for highway right-of-way
Training programs and mentoring procedures for right-of-way staff
Each topic included specific questions intended to provide the team with an understanding of the host country's right-of-way and utilities practices and techniques. Amplifying questions are listed in Appendix B.
The Right-of-Way and Utilities Scanning Study took place in March 2000. The team met with highway right-of-way and utilities experts in Oslo, As, and Moss, Norway; Bonn, Germany; The Hague, Netherlands; and London, England. Two bus trips--one from Berlin to Bonn and another from Bonn to The Hague--allowed the team to experience highway right-of-way and utilities operations in those countries firsthand. The team's Norwegian hosts organized another bus trip that took the team through the new Oslo Fjord Tunnel, the world's longest sub-sea tunnel for car traffic, and to other points of interest, including the Agricultural University of Norway in As and the Ostfold County Road Office in Moss.
Table 1. Right-of-Way and Utilities Team Meetings
LOCATION
DATE
PURPOSE

Washington, D.C.


December 1999
(3 months before study)

Set study focus and develop
amplifying questions


Oslo, Norway


March 12, 2000
(start of study)

Review team objectives and host
country agendas


The Hague, Netherlands


March 19, 2000
(mid-study)

Discuss findings and review
objectives


London, England

March 25, 2000
(final day of study)
Identify key findings and develop
recommendations for implementation
HOST DELEGATIONS
The team met with representatives from the Norwegian Public Roads Administration (NPRA) and the Agricultural University of Norway; Bundesministerium fur Verkehr (Federal Ministry of Transport) in Germany; Ministerie van Verkeer en Waterstaat, Rijkswaterstaat (Ministry of Transport, Public Works, and Water Management) in the Netherlands; and the Highways Agency and Valuation Office in England. Appendix C lists members of the host nations' delegations. These host officials provided the team with a wealth of information on their nations' right-of-way and utilities techniques and practices. The team was grateful for the time and energy the host delegations expended to make their visit informative and rewarding.
REPORT ORGANIZATION
During meetings in each host country, the team identified many interesting right-ofway and utilities practices that may be of value for implementation in the United States. The following chapters present these findings in the categories of appraisal and acquisition, compensation and relocation, training, utilities, and project development. The chapters include findings the team believes have the greatest potential for U.S. implementation. Other observations include items that may have implementation value in specific instances. Recommendations and implementation strategies are included in the final chapters.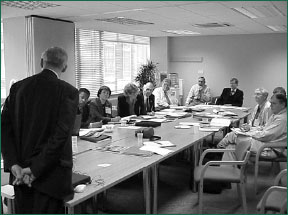 Figure 2. The Right-of-Way and Utilities Scanning Team meets at St. Christopher House in London.