Chapter 4: Conclusions and Lessons Learned
Conclusions
The purpose of the scan on managing travel demand was to explore European experience with demand-side strategies that contribute to the more efficient use of highway infrastructure and provide enhanced mobility options and travel choices. What the scan team found was a profound new way of thinking about travel, one that attempts to influence travelers before they get into their cars (promoting nonmotorized modes and alternative destinations of travel) and provides improved options for those drivers who choose to use the road system (faster routes and more reliable travel times). While the policy context and reasons for implementing demand management sometimes differed from the United States, the objectives seem to be consistent: safe operations, improved travel time reliability, enhanced choices, and efficient and sustainable transport systems.
The scan team learned that travel demand could be affected by a variety of measures, in some cases as part of management systems that until now were thought of as operational or "supply management." For example, as part of the management of incidents of a long duration (e.g., natural disaster), the traditional response was to close lanes or redirect traffic from the affected areas. However, better information on the timing of travel, other modes, and even the need to travel could affect travel demand (for example, in some disasters, it may be better to have residents stay home under certain conditions until the infrastructure can handle traffic).
The Dutch model of traffic and demand management (see figure 6) was a key to the scan team's understanding of how demand management fits into the management and operations of the transportation system. A modified version of this model (figure 1) provides a conceptual framework illustrating how many of the management systems used to manage travel demand and traffic can affect traveler choices-which lane is best, which route or time of departure is fastest, or even which mode of travel or destination is optimal for a given traveler. For example, systems to control the number of directional lanes or maximum speeds might affect only lane choice on a given facility and, therefore, manage only traffic already on the network. But other systems, such as incident management, which have traditionally been considered as influencing only traffic on a given facility, might actually influence route choice, time of travel, destination, and even mode.
Other systems can be viewed as influencing traffic demand and transport demand, beyond managing the traffic on the existing network. Pretrip traveler information systems are clearly designed to encourage more efficient travel by suggesting routes and times of the day that are less congested and offer more reliable travel times. Pretrip information can also influence the mode selected (e.g., public transport or carpooling) or even the destination of travel (whether to work from home or shop closer to home). However, as evidenced by European experience, near-trip and even on-trip information can influence time, route, mode, and destination choice. For example, commuters can be provided with real-time information on travel times to their work location if they continue to drive or shift to a nearby park-and-ride service, as witnessed in Cologne. Finally, while road pricing can clearly affect mode, time, and route choice, it can even influence lane choice, as is the case with high occupancy toll (HOT) lanes in the United States. Pricing can also include incentives for changing modes or time of travel.
In the center of the management systems is the transportation management center (TMC), which both manages facilities and provides information to travelers. Traditional transportation demand management (TDM), such as rideshare matching, promotion of alternative modes, vanpool provision, etc., typically works at the other end of the framework, influencing mode and destination choice based on the need to travel, but it can also be an integral part of the information systems linked to the TMC. Therefore, this conceptual framework, modified from that presented by the Dutch, provides a new way of looking at the need for and management of transport and traffic demand. It provided scan team members with a new perspective on the systems they manage by helping them understand the difference between managing traffic and managing demand.
Figure 54. Demand management and traffic management: modified Dutch model.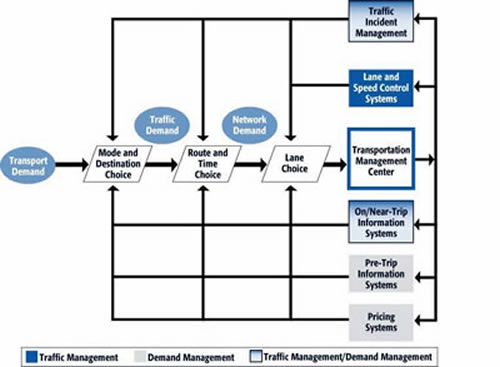 Overall, most of the places the scan team visited were striving to create more livable, sustainable cities by creating and implementing integrated packages of transportation measures that combined improved alternatives to driving a car, real-time information on traffic conditions and options providing pretrip, near-trip and on-trip information, new partnerships to support these enhanced travel choices, and even pricing to reduce the number of cars entering the city centers or on the entire network during congestion periods. They are doing so by integrating demand management into both their long-range transportation plans and short-range operating policies. They are carefully monitoring the performance of the system by looking not only at mobility but also at other measures such as accessibility, air quality, and livability.
LESSONS LEARNED
The following 10 lessons learned are based on the key findings enumerated above and discussions among the scan team members. These lessons may hold promise for addressing congestion, mobility, accessibility, energy, and environmental concerns in the United States.
Transportation management thinking is evolving in Europe. The Europeans are realizing the benefits of managing demand before cars and trucks get on the road. Many programs are working to provide smart choices and create smart growth. The United States might learn from this new thinking by integrating demand management strategies into the management and operations of transportation systems in the 21st century.
Demand management differs from traffic management. Demand management maximizes effective choices that provide reliable travel times and addresses the increase in travel demand through means other than increasing road supply. The mission of one agency the team visited is to work toward "safe roads, reliable journeys, and informed travelers." Thus, the mindset has changed from being an asset manager to a service and choice provider, network operator, and traffic manager.
There is a need to bring highway operators, regional planners, information providers, transit service providers, and traditional TDM professionals together to establish dialog centered on this new perspective.
Demand management can be integrated into short-term management and operations as well as long-range plans. Many operational strategies in Europe are designed to modulate demand, not just improve traffic flow and efficiency. The programs are performance based to assure accountability and measure progress against policy objectives.
The decoupling of traffic and economic growth might be possible by implementing aggressive, sustainable transport planning that promotes more efficient automobile use by providing effective choices to travelers, while creating a desirable environment in which to work, live, do business, and invest. This ability to plan for congestion and demand while maintaining economic development provides a strong policy basis for demand management.
Road pricing, specifically in the form of area schemes to reduce traffic into city centers, has proven to be effective in reducing peak-period traffic, improving air quality, and enhancing the walkability of the urban core. Part of the revenue from these programs is spent on improved public transport services, in the form of park-and-ride systems, new routes, service frequency improvements, and cleaner fleets.
Improved travel time prediction through new research can offer travelers a powerful tool for travel decisionmaking. This comes at a crucial time as many U.S. cities build travel time indicators into congestion management strategies and performance measurement processes.
Dynamic route information panels and variable speed control signs provide information on congestion, incidents, and alternatives. The intent is to slow traffic before drivers reach the queue. This has been successfully demonstrated to increase safety, improve efficiency, and reduce delay.
Effective individualized and customized traveler information can influence travelers and other users before they get into their cars and trucks. This includes multimodal, real-time information on route, modes (transit, shared rides, biking and walking), location (telework), and time choices (leaving earlier or later or working alternative schedules).
Evaluation must be integrated into demand management programs and projects, including demonstrations and ongoing efforts. Such evaluation needs to be based on standardized performance measurement and monitoring. Results from these evaluations can be disseminated in the form of updated best practices.
Overall, transatlantic research and knowledge exchange of the type inherent in the International Technology Exchange Program will lead to dividends in the United States because demand management research and expertise have progressed rapidly in Europe over the past 10 years. The continued exchange and dissemination of information outlined in the next chapter will help accelerate the evolution in thinking presented in this report.