2. General Observations and Findings
As the team traveled in the four countries, it gained many valuable insights into European practices for traffic incident response and observed some significant differences between practices in the United States and Europe. To provide a context for the recommendations presented in the following chapters, this chapter describes the team's more significant observations. The recommendations can best be appreciated if one has an understanding of the working relationships among and between the pertinent organizations in the various countries.
2.1. General Observations
Most of the countries the team visited are geographically compact and have higher population densities than most of the United States. This makes it more practical for those countries to implement and operate national traffic management and traffic information systems. In some respects, the countries in Europe more closely resemble individual States or multistate regions in the United States from the standpoint of implementing some recommendations. Compared to the United States, the countries visited generally are less complex institutionally, with fewer layers of overlapping authority for incident response. This may increase the challenges associated with implementing European strategies in the United States.
Each country reported a significant projected increase in highway usage over the next several years. With the exception of Sweden, which is in the midst of an ambitious construction program over the next 12 years to "ring" Stockholm with an obviously overdue highway and tunnel system, each country's transportation agency recognized that it could no longer "build its way out of congestion," and that proper management of roadway and personnel resources was necessary to offset the tremendous economic and quality-of-life issues resulting from congestion. England, Germany, and the Netherlands have diligently developed plans and practices that leverage the benefits of coordinated incident response among transportation agencies, police, fire, EMS, and private- sector resources.
All four countries have a high level of commitment to incident management, often in the form of a national edict or policy. Typically, one agency has overall responsibility for the program and regularly measures performance. Ownership of the incident response process was found to be a key element of effective incident response programs.
Cultural Contrasts
While the focus of the scanning study was on incident response, the team members experienced many different aspects of the countries they visited during their travels. As they traveled on planes, trains, subways, buses, taxis, and boats; ate in various restaurants; stayed in different hotels; and interacted with the people in each country, team members were able to observe firsthand many significant cultural characteristics in the four countries. As they did so, they were able to contrast these characteristics with those of the United States. Many of these cultural characteristics represent nothing more than a different way of living and give each area its unique identity. However, the team members believe that some of these cultural characteristics have a direct impact on the transportation systems in each country.
Probably the most significant cultural characteristic affecting the transportation system is the extent to which European road users follow driving regulations. In several cases, the hosts indicated that most drivers in their countries tended to adhere to the rules of the road when traveling. The team also learned that concern about tort liability issues is significantly less, although tort concerns appear to be growing in some countries. These factors were important considerations when the team members began to evaluate traffic incident response practices for potential implementation in the United States.
2.2. Incident Response Stakeholders
European agencies have a very integrated approach to incident response. Police, fire, EMS, and highway agencies work closely with one another to develop response plans and respond to incidents. The key stakeholders involved in European incident response are described below.
Police
Police play a significant role in incident management in Europe. In England, the police are in charge at all motorway (freeway) incidents. In Germany, motorway police have responsibility for highway incidents. The police authority responding to incidents has clear jurisdictional responsibility. Unlike some U.S. localities, where several police agencies may have jurisdiction at the site of an incident (State, county, city), the countries visited had one police agency with jurisdiction at a particular scene. That agency might be a local or regional one, but it would be the only police responder at an incident scene. As a result, these responders received specialized training associated with freeway incidents. Police also tended to have the command responsibility at incident scenes. For example, in England, the responsible police agency takes the lead in dealing with all incidents. England has 39 police agencies, but only one has jurisdiction at a particular incident scene.
Fire and Rescue
Fire department personnel were involved in incident response in all four countries, but appear to be particularly integrated in Germany and the Netherlands. Some fire departments had response equipment (such as cranes) that provided the ability to remove vehicles and debris from the roadway.
Emergency Medical Services
The team found that emergency medical services appear to be provided at a level comparable to or higher than the paramedic level found in the United States and are highly coordinated with police, fire, and major incident responders. All of the countries visited have highly evolved helicopter EMS systems. England and Germany use highly trained emergency medical technicians or paramedics. In Germany, these are supplemented by physicians who respond to most scenes and provide most of the advanced life support. In the Netherlands, highly specialized nurses provide most of the advanced life support ambulance care, occasionally supplemented by physicians in the field. In Sweden, a mix of nurses and emergency medical technicians and paramedics is employed.
Roadside Assistance Patrols
The team found an impressive commitment to roadside assistance in all four countries, particularly with the private-sector automobile associations in England, Germany, and the Netherlands. These auto groups, described in more detail later in the report, provide a valuable service by repairing or removing vehicles that have broken down on the motorway. Some national transportation authorities had national or regional traffic patrols that provided traffic control and limited motorist assistance to drivers and incident responders.
Towing and Recovery Providers
A significant finding related to towing and recovery providers is that several countries have established performance requirements for this service. These recovery specialists were required to meet minimum qualifications and response-time criteria to maintain their contracts. In some countries, recovery companies are contracted through the road agency or police to respond to incidents on controlled-access highways.
Highway Operations Contractors
England has a private-sector contractor that provides incident support on the motorways for the Highways Agency. Other duties include routine and cyclical maintenance, management functions, winter service, program management, and other activities. It maintains a fleet of incident support units (ISU), an example of which is shown in figure 2.
Figure 2: AmeyMouchel incident support unit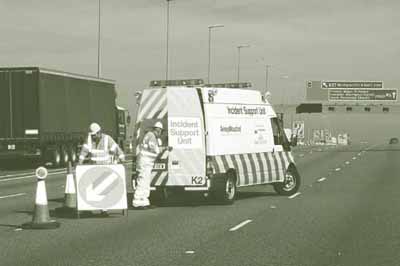 Universities and Academies
Several countries also have an educational element involved in incident management and response activities. The most significant involvement of a university was found in the Netherlands. One day of meetings was held at the roadway authorities building located on the campus of Technical University Delft. The facility included a demonstration area behind the building (see figure 3) where research could be conducted and promising technologies demonstrated. The first day of meetings with the German hosts took place at the German Academy for Crisis Management, Emergency Planning, and Civil Protection (AKNZ), a competency center for education, research, and national and international exchange on the federal level. It appears to the team that the university and research community is leveraged into traffic incident response training and technology development. One team member was asked to be a guest lecturer at the University of Applied Sciences in Cologne. The group addressed included police, fire, and EMS personnel in bachelor's degree-level emergency service management tracks, which include traffic incident management content.
Figure 3: Research and demonstration facility in the Netherlands