Appendix A. Background on European Site Visit Cities
Munich
Munich, Bavaria's capital and the third largest city in Germany with a population of 1.4 million, has been rated one of the most livable cities in Europe due in part to its walkability, multitude of public transportation options, and long history of transit oriented design.57 Munich boasts a large number of public transportation providers, from shared taxis to trams, and the transit agency is collaboratively operated by Stadtwerke München (SWM), Munich's electric utility. This cooperation has yielded large investments in electro-mobility, including an establishment of a municipal charging network that is coordinated within the region (Bavaria/ Saxony) and funded through the Federal Ministry of Transport.58 Additionally, Munich's downtown has been a low-emission zone since 2008,59 and the city is the site of multiple European Union demonstration projects, including the CIVITAS ECCENTRIC Project and the Smarter Together collaborative.
Munich is a leader in carsharing, with eight providers currently operating in the city providing a range of services, including one-way, free-floating, round-trip, all-electric, and peer-to-peer carsharing. Munich is home to headquarters of BMW and several mobility pilots and services from other automakers such as Daimler. BMW carsharing service DriveNow has a fleet of more than 700 vehicles in Munich, and STATTAUTO, the leading round-trip provider, has a fleet of 430 vehicles at 110 stations, as well as a zone-based carsharing pilot called STATTAUTO flexy.60 Munich is also one of the six German municipalities with an integrated mobility hub, which features carshare, bikeshare, transit, and electric charging stations. The Munich Transport Corporation (MVG), Munich's transit agency, has developed a variety of innovative programs, including the transit-run integrated payment app MVG More, which provides seamless travel planning across four carsharing providers and the city's free-floating bikeshare system (MVG-Rad).
Munich's urban development has been largely conducive to supporting a transit-reliant, car-lite population, especially in the inner ring of the city. Approximately 45 percent of Munich households are car-less. And with high-frequency trains running every two minutes in the city core, using public transit is very convenient for residents. According to a study conducted by MVG in 2015, more than two-thirds of residents use transit at least once every week, and 38 percent are daily transit users. With more than 50,000 parking spaces for bikes at transit stops, cycling accounts for 15 percent of the city's modal share.61
The city has a growing population with 100 new residents arriving every day. Policies established in 1990 have resulted in 90 percent of the urban growth occurring in locations close to tram stops, and new residential buildings are encouraged to promote multimodal lifestyles through providing limited parking, free transit passes, and on-site mobility hubs. Public transportation in Munich is well-linked within the larger region, and Bavarian intercity rail is robust and continues to expand. Bavaria receives a national subsidy of €1 billion ($1.1 billion in 2017 dollars) each year for public transportation, and saw an 88 percent increase in transit service and 36 percent more ridership (a 14 percent increase per capita) between 1990 and 2015, in part due to the integrated regional ticket, the Bayern-Ticket.62
Paris
Paris, France, a city of 2.2 million, with over 12 million inhabitants in the Greater Paris region, has long been an innovator in shared mobility. Paris has a legacy of ambitious public transit initiatives: in 2007 the City of Paris launched Vélib', the first major bikesharing system in the world, and in 2011, launched the first all-electric carsharing program, Autolib'. The city has continued to set lofty goals, and by 2020 plans to raise the price of parking across the city, ban diesel cars in the urban core, and significantly expand the city's network of bike lanes.63 Its chief public transit network, Metro, is heralded as one of the best in the world, and has plans to expand further through an initiative called the "Grand Paris Express," a €30 billion ($32.5 billion in 2017 dollars) project which will add 68 stations across the regional network by 2030.64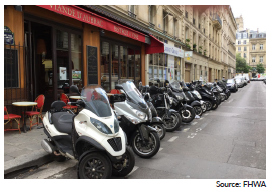 All these efforts have resulted in a very multimodal population. More than half of Parisian households (55 percent) are car-free. Since 2002, Paris has seen a 30 percent mode shift away from driving to other modes, and 83 percent of Paris trips occur by foot, public transit, or bicycle.65 Yet the Greater Paris region remains car dominant, with most commuters into Paris (65 percent) traveling in single-occupancy vehicles. The regional transit agency, Île-de-France Mobilités (formerly STIF), is leading a variety of new multimodal initiatives to combat high levels of car ownership and usage, including expanding the integrated payment app and smartcard "Navigo pass," which works across all public transit in the region as well as for the bikeshare and carshare systems.
On the private sector side as well, Paris has been a magnet for innovation in shared mobility. Peer-to-peer carsharing operators OuiShare and Drivy are highly popular, with Drivy attracting more than 1 million registered users and both Drivy and OuiShare hosting approximately 30,000 vehicles on their platforms. A tough regulatory environment for ride-hailing providers, including the intermittent banning of Uber, has resulted in encouraging the growth of some smaller start-ups offering similar services, such as the wildly successful carpool provider BlaBlaCar, which now offers "BlaBlaLines" for short carpool trips, in addition to its long-distance model. Other smaller providers include Ouihop and Karo. New mobility options such as demand-responsive shuttles (Padam and Via) and scooter sharing (CityScoot and Gogoro) are also growing in the city, and new innovations are being tested regularly, such as shared light commercial electric cargo vehicles, included a refrigerated cargo van.66
Brussels
Belgium has long been a progressive leader in shared mobility. Brussels, officially called the Brussels-Capital Region (population 1.1 million), was rebuilt as a more auto-centric region following World War II. Due in part to its urban design as well as its prominence as "Europe's capital," the city faces significant problems related to traffic congestion and pollution. These challenges have pushed Brussels toward strong support for shared mobility, especially carsharing, to address transportation sustainability issues. As a result, the city has become a test site of many innovative initiatives with significant buy-in and participation by the public sector, including the De Lijn and STIB transit agencies. In neighboring Ghent, the nonprofit organization TaxiStop has helped to pioneer carsharing and transportation demand management programs, including Cambio carshare, the long-standing Villo! bikeshare system, and initiatives such as the "Basic Mobility Law," which established people's right to the basic provision of public transit.
In the past decade, forward thinking policy and political leaders have turned the emphasis back toward pedestrian, bicycle, and transit-oriented design, and many tunnels and flyovers for highways have been built to improve walkability. The city has also constrained much of the parking supply in the city, and built the second largest pedestrian zone in Europe in the downtown.67 Additionally, Brussels has funded major public transit renovations, built a new underground rail line, and constructed 12,000 park-and-ride spaces in its outskirts. Villo! Bikeshare has more than 40,000 users, and has plans to eventually move entirely to electric-assist cycles to make cycling easier on the city's many steep inclines.68 DriveNow, which launched in Brussels in September 2016, had more than 16,000 members as of mid-2017 according to the city's transport minister. All public transportation in the region is integrated through the "MOBIB" Brussels Mobility Card, which was introduced in 2007 and includes payment integration for bikesharing, carsharing, shared taxis, shared parking, and several Belgian railways.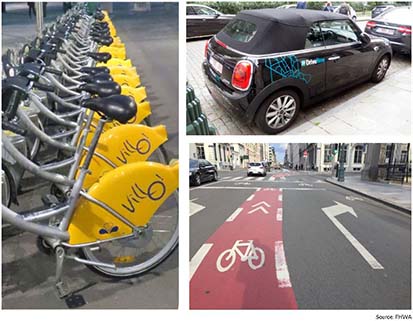 ---
57 Oliver Smith, "Revealed: The world's best (and worst) cities to live in," The Telegraph, April 16, 2017. Available at: https://www.telegraph.co.uk/travel/news/liveable-cities-2017-economist-intelligence/. [ Return to note 57. ]
58 Stadtwerke München, "Förderung der Elektromobilität in München," n.d. Available at: https://www.swm.de/privatkunden/m-mobilitaet/elektromobilitaet.html. [ Return to note 58. ]
59 City of Munich, "Munich Low emission Zone," n.d. Available at: https://www.muenchen.de/rathaus/home_en/Environment-and-Health/Low_emission_zone.html [ Return to note 59. ]
60 Statt Auto, "How the CarSharing System works," n.d. Available at: https://www.stattauto-muenchen.de/en/english-how-the-carsharing-system-works/. [ Return to note 60. ]
61 Munich Transport Corporation, "Munich Transport Corporation (MVG) Sustainability Report 2014/2015," 2015. Available at: https://www.mvg.de/dam/mvg/ueber/nachhaltigkeit/mvg-nachhaltigkeitsbericht-eng.pdf. [ Return to note 61. ]
62 Buehler, R., Pucher, J., & Dümmler, O. (2018): "Verkehrsverbund: The evolution and spread of fully integrated regional public transport in Germany, Austria, and Switzerland," International Journal of Sustainable Transportation, DOI: 10.1080/15568318.2018.1431821. [ Return to note 62. ]
63 "Why Paris will be the first post-car metropolis," Financial Times, September 6, 2017. Available (with subscription) at: https://www.ft.com/content/1b785f3e-9299-11e7-a9e6-11d2f0ebb7f0. [ Return to note 63. ]
64 "Bicycles and bans are reshaping the city," The Economist, September 14, 2017. Available at: https://www.economist.com/news/europe/21728997-motorists-denounce-hipster-takeover-bicycles-and-bans-are-reshaping-city. [ Return to note 64. ]
65 Epomm, "TEMS – the Epomm modal split tool," 2008, http://www.epomm.eu/tems/result_city.phtml?city=201&map=1. [ Return to note 65. ]
66 F. Guaspare and T. Mourey, "Commercial in confidence," Thinking Cities 4(1), May 2017, pp. 20-22. Available at: https://www.polisnetwork.eu/uploads/Modules/PublicDocuments/tc8lo.pdf. [ Return to note 66. ]
67 Alexander Saeedy, "Brussels extends pedestrian zone, Europe's second largest," Reuters, June 29, 2015, Available at: https://www.reuters.com/article/belgium-brussels-transportation/brussels-extends-pedestrian-zone-europes-second-largest-idUSL5N0ZF36Z20150629. [ Return to note 67. ]
68 Polis, "Free floating bikes arrive at Brussels," August 29, 2017, https://www.polisnetwork.eu/publicnews/1466/45/Free-floating-bikes-arriveto-Brussels. [ Return to note 68. ]