Chapter 5: PPP Program Performance and Lessons Learned
Overall, PPPs have served the nations the scan team studied well. They have allowed them to achieve objectives they would not have otherwise. The countries, however, have had to learn hard lessons about these arrangements and endure intense scrutiny from other executive agencies, elected officials, and the public.
This chapter summarizes the outcomes achieved generally and by each country through the use of highway PPPs, as well as common lessons learned over the past two decades during their implementation.
Outcomes
PPPs have allowed all of the host nations to deliver specific projects sooner than possible with conventional project delivery methods. Essentially, the public sector's capacity to appropriate budgetary funds lags behind the private sector's ability to access capital in the financial markets, particularly for large-scale projects. Alone, this circumstance does not justify a PPP approach, but it is a fact that public agencies use to their advantage.
Several host nations claimed that PPPs produce better price and schedule certainty for design and construction. Certainly, one of the private partner's incentives is to open a project for service as quickly as possible so it can begin collecting revenue from tolls or government payments. As an illustration, table 10 shows the schedule performance of the PPP projects in New South Wales, Australia.
Portugal
Foremost, Portugal has built its National Motorway System using PPPs. In doing so, it has kept pace with the traffic demands of its country, vastly improved highway safety and travel times, and leveraged private investment. While upgrading the quality of the motorway system probably has more to do with the improvements in safety and travel times than the implementation of performancebased PPPs, the pace of Portugal's highway development program, and thus its improved motorway quality, is directly attributable to its aggressive PPP program since 2000. Figures 18 and 19 (see next page) are telling in this regard.
Spain
Similar to Portugal, Spain has built a majority of its National Highway System through concessions and, in the near future, will have more than half of this system under active PPP concessions. Since the 1960s, Spain has pioneered the concession model for infrastructure development and has continuously sought better ways to improve the effectiveness and efficiency of its approach. Along the way, it has also built a global industry that is positioned to provide highway development, operations, and financial services anywhere in the world.
Table 10. Schedule performance of highway PPPs in New South Wales.
Project
Opened
Scheduled Opening
Time Savings
M4
May 1992
Feb. 1993
9 months
M5
Aug. 1992
Feb. 1994
18 months
Sydney Harbour Tunnel
Aug. 1992
Aug. 1992
On time
M2
May 1997
Nov. 1997
6 months
Eastern Distributor
Dec. 1999
Aug. 2000
8 months
Cross-City Tunnel
Aug. 2005
Oct. 2005
2 months
Westlink M7
Dec. 2005
Aug. 2006
8 months
Lane Cove Tunnel
Mar. 2007
May 2007
2 months
Total
53 months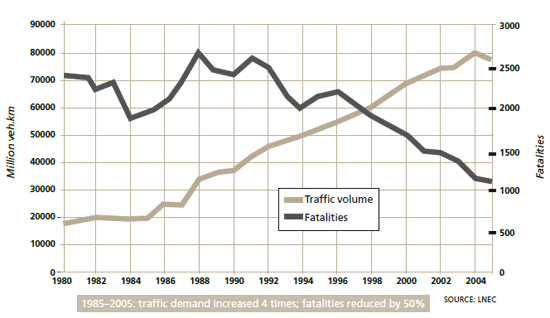 Figure 18. Traffic volume versus fatalities in Portugal.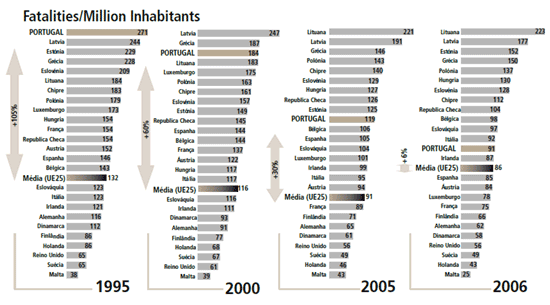 Figure 19. Road safety improvement in Portugal: 1995 to 2006.
United Kingdom
PPPs, as well as increased use of the private sector in highway operations and maintenance contracts, have contributed to the Highways Agency's transition from a network provider to a network operator—"steering, not rowing." This has allowed the agency to heighten its awareness of its customers and focus on its key performance measures:
Reliability—Implement a program of delivery actions that tackle unreliable journeys on the strategic road network.
Delivery of major projects—Deliver to time and budget the program of major schemes on the strategic road network.
Road safety—Deliver the Highways Agency's agreed-on proportion of the national road casualty reduction target.
Maintenance—Maintain the strategic road network in a safe and reliable condition and deliver value for money.
Environment—Mitigate the potentially adverse impact of strategic roads and take opportunities to enhance the environment, taking into account value for money.
Customer satisfaction —Deliver a high level of road user satisfaction.
Efficiency—Deliver the Highways Agency's contribution to the Department for Transport's efficiency target.
Australia
Australian states have used highway PPPs selectively in their urban centers to implement large-scale surface mobility improvements in a relatively short timeframe. These highways have improved both commuter and freight travel in the most densely populated cities in Australia—Sydney, Melbourne, and Brisbane. Similar to Spain, the activity in Australia has spawned an industry of highway developers, operators, and financiers. These private firms are also positioned to provide their services across the globe.
Common Lessons Learned
Preserving the Public's Interest While Attracting Private Participation
Over time, the host nations have learned that their highway PPP programs must preserve the public's interest and attract private participation. To some, these may be conflicting objectives. Balancing the two for PPP projects, however, essentially requires that the state and its citizens achieve the following:
Receive a reasonable price
Obtain a marginal value or benefit
Likewise, private participants require the following:
Reasonable risk and reward profiles
Manageable transaction costs
Previous sections of this report have highlighted various practices the nations visited use to facilitate these outcomes. For instance, public sector project and business case analysis methods help identify drivers of life-cycle value as well as appropriate risk-allocation strategies. Emphasis on project outputs enables public decisionmakers to pinpoint customer needs and target KPIs to satisfy those requirements. Competitive procurement processes (1) employ phased approaches to filter potential respondents down to a select few or (2) fix project requirements and bid parameters to improve transparency and accountability while driving down transaction costs. And the public sector's recognition that latent financial gains are possible in these sorts of arrangements precludes excessive private sector profits and promotes public confidence in government. Measures such as these prompt the private sector to focus its strengths on finding creative and effective solutions for complex projects.
Viewing Highway PPPs as Enterprises
Over time, the host nations have recognized that highway PPPs are enterprises that require a careful combination of technical, legal, and commercial conditions. This is fundamentally different from prescribing the requirements for a constructed facility, which is typically done in conventional project delivery. Instead, the public sector is granting the private sector the right to initiate and operate an enterprise within the bounds of a contract. Accordingly, a careful balance must be struck between the project's business and engineering provisions so that the private partner can succeed while also satisfying the public sector's objectives.
Building and Continuously Improving Public Sector Institutional Capacity
The host nations emphasized the importance of building and improving institutional capacity for PPP program effectiveness. From business case analysis through handback, PPPs present a variety of challenging tasks for public sector officials. As their PPP programs have matured and their staff capacity has increased, the host nations have relied less heavily on external consultants. This capacity has not been derived simply through experience. Rather, deliberate actions such as establishment of best practices groups, development of principles and guidelines, and creation of standard procedures have all contributed to this growth.13 Certainly, the need for complementary specialized expertise in areas such as legal and financial matters will not cease. However, the institutional infrastructure required to conceptualize, procure, deliver, and manage PPP arrangements as they themselves continue to evolve is significant. Failure to recognize this could leave a public agency overmatched by its private partner.