Chapter 1: Introduction
Background
Comprehensive highway public-private partnership (PPP) programs are relatively new to the United States and not widely used. Limited highway funds, unmet needs for new highway capacity, interest from private investors, and other factors have led to substantial discussion of PPP projects and programs at the State and Federal levels and implementation of projects in a few leading States. In contrast, some countries have extensive and, in some cases, long-term experience with infrastructure PPPs, particularly highways. In fact, some public agencies have completed long-term concession agreements and the facilities have been returned to the public agency after many years of private operation.
Many international public agencies also have multiple PPP arrangements that have been in place for more than a decade. Furthermore, they continue to invite the private sector to compete for the opportunity to develop, finance, operate, and maintain public facilities for terms ranging from 30 to 50 years. Agencies need a fuller understanding of the factors that led to successful implementation of PPPs in other parts of the world before exploring the success factors in any individual agreement. This includes an exploration of preceding conditions and public expectations, philosophical perspectives on the role of the private sector, the original rationale for implementing PPPs, and issues that need to be confronted, including public acceptance.
With this understanding, the lessons learned in the procurement and contracting process can be put in the proper context and the issues can be better framed for application in the United States. A successful PPP will include appropriate performance measures for the maintenance and condition of physical infrastructure and the transportation of people and products through the facility, as well as management of user charges and rates, where applicable.
Equally important are effective mechanisms to update an agreement to accommodate the future demands on a facility, as well as any conditions deemed significantly different from those at the time of an agreement. Finally, what are the metrics for measuring success? Current U.S. practice and experience do not provide a wealth of knowledge in any of these areas.
Purpose and Scope
Accordingly, the purpose of this scanning study was to (1) examine programs, policies, and practices used by other countries that actively solicit and involve the private sector in the delivery of highway infrastructure; (2) document lessons learned; and (3) make implementation recommendations that will improve U.S. policy and practice. Further, this scan represented an opportunity to collect information from public agencies administering mature agreements with private contractors developing and operating public roads.
For the purposes of this report, a public-private partnership is defined as a contract between the public and private sectors for the delivery of a project in which the private partner has the responsibility for acquiring the majority of the necessary financing. This characterization of PPPs is the result of the information provided by the host nations during the scanning study. The preliminary information sent to the host nations before the trip did not define PPPs; rather, the countries visited described program aspects and project examples that prompted this definition.
The scope of the investigation involved sending a team from the United States to Australia, Portugal, Spain, and the United Kingdom to collect and evaluate information about PPP programs and projects for highway infrastructure. The team met with representatives of the public and private sectors involved in PPP arrangements, as illustrated in table 1 (see next page). Most information exchange occurred during presentations by host agencies or private sector representatives, but roundtable discussions, social events, and site visits also provided opportunities for information collection.
Within each country, PPPs play an important role in facilitating national and regional mobility. Each country also has a relatively mature PPP program for highway and road infrastructure. While PPP strategies, policies, and practices across the countries were similar in many respects, significant differences in several areas were identified. This variety is beneficial to the scan's objectives because it provides a broader spectrum of perspectives for consideration as the PPP market in the United States continues to evolve.
At this stage, one cannot conclude whether one particular policy or practice is better than another. In fact, such conclusions may be impossible to reach, given the complex sociopolitical environment in which highway infrastructure resides. But differing approaches should give both policymakers and decisionmakers the opportunity to appraise their advantages and disadvantages and determine if implementation resolves a need and is in the public's interest.
Scan Team
Table 1. Scan trip details.
Location
Meetings with Organizations
Site Visits
Lisbon, Portugal
Estradas de Portugal, S.A.5
Brisa2
Brisa Traffic Control Center
Madrid, Spain
Polytechnic University of Madrid3
Communidad de Madrid1
Madrid Calle-302
Madrid Centro Financiero4
Ministerio de Fomento1
Calle-30 Highway
M-45
M-12
London, United Kingdom
Highways Agency1
Department of Transport1
None
Sydney, Australia
Roads and Traffic Authority, New South Wales1
Treasury, New South Wales1
Infrastructure Insight2
Infrastructure Partnerships Australia4
Leighton Contractors2
Allens Arthur Robinson2
Macquarie Capital Advisers2
Parsons Brinckerhoff2
Thiess2
Transurban2
Cross City Tunnel
Sydney Harbour Tunnel
Lane Cove Tunnel
M-2 Motorway
Melbourne, Australia
VicRoads, Victoria1
Partnerships Victoria, Department of Treasury and Finance1
East-West Transport Link1
Southern and Eastern Integrated Transport Authority1
Transurban2
CityLink Motorway
EastLink Motorway
Brisbane, Australia
Main Roads, Queensland1
Infrastructure and Planning, Queensland1
AirportLink/Northern Busway1
North-South Bypass Tunnel
1government or public agency, 2private company/concessionaire, 3university, 4professional or trade organization, 5state-owned enterprise/concessionaire
The team assembled to fulfill the objectives of the PPP scan included representatives from the Federal Highway Administration (FHWA); American Association of State Highway and Transportation Officials (AASHTO); National Council for Public-Private Partnerships (NCPPP); State departments of transportation (DOTs) in California, Illinois, Texas, and Virginia; and Virginia Polytechnic Institute and State University (Virginia Tech). This group represented a diverse set of interests and expertise in the areas of asset management, contract administration, engineering, procurement, program management, and policy. The following were members of the team:
Janice Weingart Brown
(FHWA cochair)
Division Administrator
FHWA Texas Division
Robert Pieplow
(AASHTO cochair)
Chief, Division of
Engineering Services
California DOT
Roger Driskell
Deputy Director,
Region 4 Engineer
Illinois DOT
Stephen Gaj
Leader, System Management
and Monitoring Team
FHWA Office of
Asset Management
Michael J. Garvin
(report facilitator)
Associate Professor
Virginia Tech
Dusty Holcombe
Assistant Director,
Innovative Project Delivery
Virginia DOT
Michael Saunders
Program Manager,
PPP Program
FHWA
Art Smith
Chairman
NCPPP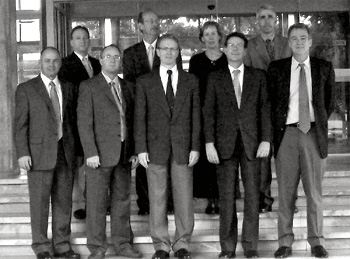 Figure 1. Scan team members at the headquarters of Estradas de Portugal, S.A.
Planning and Approach
The proposal for a PPP scan was evaluated and selected by a group made up of FHWA representatives and National Cooperative Highway Research Program (NCHRP) Project Panel 20-36 members. After scan team members were selected, a desk study was completed to identify candidate countries for the scanning study. The desk study involved literature reviews, expert interviews, and synthesis. Based on the desk study, the team selected the most appropriate and promising countries to visit.
Subsequently, the team prepared a panel overview document, which was sent to the host countries to prepare them for the U.S. delegation. The panel overview explained the background and scope of the study, its sponsorship, team composition, topics of interest, and tentative itinerary.
Before conducting the scanning study, the team prepared a comprehensive set of amplifying questions to further describe and refine the panel overview document. Development of the amplifying questions was an iterative process, and the questions were designed to acquire information relevant to the scan's objectives while remaining general enough to capture unanticipated data the host nations might provide. Appendix B lists the scan's amplifying questions.
Overview of the Report
The subsequent chapters cover the following:
Chapter 2 describes basic characteristics of the PPP programs in the nations visited, including the origins, role, structure, evolution, and public acceptance of these programs. It provides a foundation for the more detailed discussions that follow.
Chapter 3 discusses the project programming and delivery processes observed. It gives an overview of how a PPP project moves from project identification and selection to commissioning.
Chapter 4 describes PPP project operations and contract management. In many respects, these aspects are the keys to success since these arrangements are long-term relationships between the public and private sectors.
Chapter 5 discusses PPP program performance and key lessons learned from the perspective of the host nations.
Chapter 6 presents the team's 26 principal findings from the scanning study.
Chapter 7 explains the proposed implementation strategy, which is vital to ensuring that the information acquired from the scan as well as subsequent proposed efforts are transferred into U.S. highway policy and practice.