Chapter 6: Maintenance Practices
Canada
In Ontario, maintenance and rehabilitation schedules for concrete pavements are included in the life-cycle costing procedure. For doweled JPC pavement, the initial joint resealing operation occurs in year 12, with resealing operations in years 18 and 28. Diamond grinding to improve friction is scheduled for years 18 and 28. Major rehabilitation of JPC in the form of concrete pavement restoration (CPR) occurs in year 28. CPR includes full- and partial-depth repairs, including some slab replacements, diamond grinding, and joint resealing.
Ontario has conducted field tests of different types of precast slab installations for rapid repair. Two methods for individual slab replacement and one for multiple slab replacement have been tested. These techniques are applicable in situations where the only possible time for a lane closure for slab repair is between 11 a.m. and 5 p.m. MTO believes that slab repairs can be accomplished using precast slabs at production rates comparable to fast-track cast-in-place slab repair, with less dependence on weather conditions.
Québec developed manuals for rigid pavement distress identification(44) and rigid pavement maintenance and rehabilitation.(45) However, no budget for pavement maintenance is provided.
Germany
Germany uses high-early-strength concrete to repair individual slabs in existing concrete pavements, opening the road to traffic during the evening of the same day the repairs are cast. A cement content of 22 to 25 lb/ft3 (360 to 400 kg/m3) is required to achieve a compressive strength of 1,740 psi (12 MPa) at 6 hours. Superplasticizers are used to achieve sufficient workability in these mixes.
Austria
On motorways in the Vienna area, pavement repairs are started on Friday evening or early Saturday afternoon, and pavement must be reopened to traffic by Sunday afternoon. To open repairs in 3 days, a concrete mix with a water-cement ratio of 0.42 is used; for one-day opening, a mix with a water-cement ratio of no more than 0.40 is used; and for opening in 12 hours or less, a mix with a water-cement ratio of no more than 0.36 is used.
Austria has recently been studying the use of whitetopping (thin bonded concrete overlay of asphalt) to correct rutting in asphalt pavements. Testing conducted by the Research Institute of the Austrian Cement Industry Association indicates that a wedge-splitting test is a better way to measure the bond between the asphalt and concrete than the more commonly used tensile test. Other tests showed that the asphalt-concrete bond achieved by thoroughly cleaning the milled asphalt surface was not improved by the application of bonding agents.(46)
Belgium
Concrete overlays and inlays are important techniques for rehabilitating old asphalt and concrete pavements in Belgium. An overlay raises the pavement grade and the old pavement structure becomes the base for the new pavement structure. With an inlay, the existing asphalt (often just in the outer traffic lane) is milled out to a depth equal to the new concrete pavement thickness required. Belgium was the only country visited to mention a concrete inlay as an often-used rehabilitation technique.
Belgium constructed its first concrete inlay in 1933. Concrete inlays in Belgium may be either JPCP or CRCP. In either case, a bituminous layer is required below the concrete slab. Figure 41 shows a CRC inlay being placed.
Figure 41: CRC inlay construction in Belgium.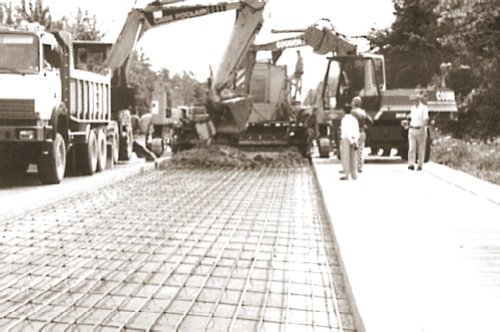 The first concrete overlay in Belgium was constructed in 1960 over a concrete pavement originally constructed in 1934. The jointed concrete overlay was constructed of 7-in-thick (18-cm-thick) reinforced concrete slabs. Figure 42 shows the overlay still in service nearly 45 years later.
Figure 42: Belgium's first concrete overlay after 45 years in service.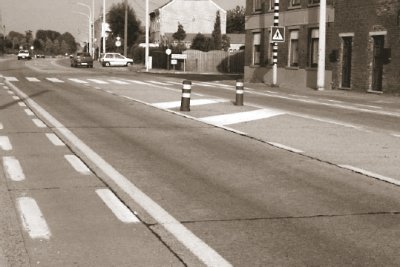 Belgium's first concrete pavement, the Avenue de Lorraine in Brussels, was overlaid with concrete in 2003 after 78 years in service. The overlay, shown in figure 43, is 7.8 in (20 cm) thick and 1.8 miles (2.95 km) long and was constructed in 11 days.
Figure 43: Concrete overlay constructed in 2003 on Avenue de Lorraine in Brussels.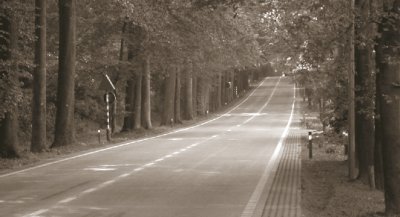 Figure 44 shows construction of a concrete overlay on the E40/A10 road from Brussels to Ostende. Two mobile concrete plants were used to produce the 2,600 yd3 (2,000 m3) of concrete a day required for this project. The average paving rate was 3,900 ft (1,200 m) per day, 24 ft (7.25 m) wide. Figure 45 shows a closer view of the paver. Because of the tight schedule for this project, concrete was placed without interruption, 24 hours a day, 7 days a week. As a result, the CRC overlay has no construction joints. A slipform paver was also used to construct the safety barriers on this job, as shown in figure 46.
Figure 44: CRC overlay construction on E40/A10 in Belgium.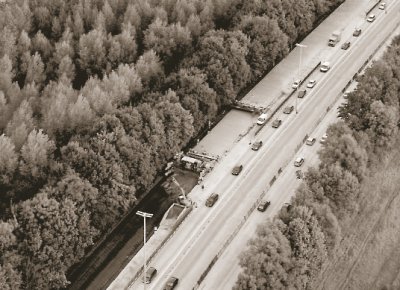 Figure 45: CRC overlay paving on E40/A10 in Belgium.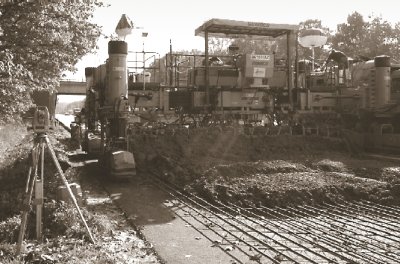 Figure 46: Slipform paving of the safety barriers on the E40/A10 CRC overlay project.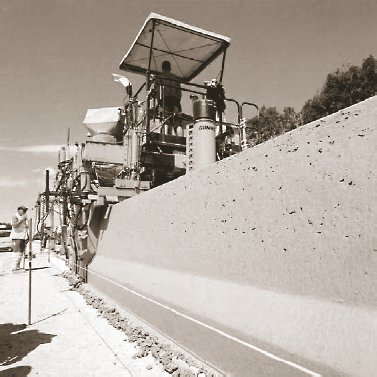 Fast-track concrete paving mixes are used for rapid repair and reopening to traffic in Belgium. Typically, the base layer is also replaced. These fast-track mixes contain either 28 lb/ft3 (450 kg/m3) of type CEM I, strength class 42.5 cement with a water-cement ratio of 0.33, or 28 lb/ft3 (450 kg/m3) of type CEM I, strength class 52.5 cement with a water-cement ratio of 0.38. The mixes used are designed to achieve a compressive strength of 5,800 psi (40 MPa) after 30 to 36 hours, the maximum allowable lane closure time according to Belgian standard specifications. The concrete mixture contained no fly ash or silica fume. Belgium experimented with using precast slabs for rapid repair, but abandoned the technique because of problems with joint faulting.
The Netherlands
The frequency of pavement maintenance in the Netherlands depends on the type of surface. Single-layer porous asphalt surfaces are assumed to need replacement in the right lane after 10 years and across all lanes after 14 years. Double-layer porous asphalt surfaces are assumed to need replacement of the top layer in the right lane after 6 years and replacement of both layers across all lanes after 10 years. Bare CRC pavements are assumed to need no maintenance in the first 15 years of service.
Sealing joints in JPCP was tried in the Netherlands in the 1980s, but no beneficial effect of sealing on pavement performance or life was observed. Joints in JPCP now are typically left unsealed.(20)