Chapter Two - General Findings and Observations
In identifying implementable safety solutions, it is important to understand and acknowledge the cultural differences between the countries visited and the United States. In many cases, specific solutions and practices succeed in Europe because of approaches to public safety, legal issues, public funding, public education, respect for authority, etc. The team identified practices that were innovative and unique, but that would have limited application in the United States because of basic cultural differences. A good example is traffic signal synchronization. In the United States, signal synchronization is important not just for signal safety and efficiency reasons, but also for air quality and fuel conservation concerns. European countries do not have environmentally declared nonattainment areas where signal synchronization is required. For that reason, European traffic engineers have substantially more flexibility than U.S. traffic engineers to use unusual signal phasing and flexible signal cycles.
The following summarizes the general, overarching beliefs and practices that shape intersection safety solutions and programs in the countries the team visited.
SWEDEN
Traffic safety in Sweden is directed by a national policy called "Vision Zero." An interim goal of Vision Zero, begun in 1996, is to reduce highway fatalities by 50 percent by 2007. Previously, primary responsibility for avoiding traffic accidents was placed on the individual road user. The Vision Zero concept is rooted in the belief that highway fatalities are unacceptable and are the responsibility of all agencies and entities involved in transporting people and goods, including engineers, planners, local and national highway agencies, automobile manufacturers, policy makers, police agencies, etc. Vision Zero is being realized in a variety of ways in agencies throughout Sweden.
Most traffic signals in Sweden are located in the Stockholm region of the Swedish National Road Administration (SNRA). As in much of the United States, traffic in this region is increasing at a much faster pace than the population, and SNRA is not able to expand the transportation network swiftly enough to meet the demand. Traffic problems are aggravated by the fact that so much water divides land areas (i.e., the expense of bridging roadways apparently limits the number of available corridors to move traffic to much fewer than are available in U. S. cities). The result is an increase in congestion and associated driver behavior, such as aggressive driving and red-light running. The first priority remains safety, particularly for vulnerable road users (pedestrians and bicyclists). When faced with the mobility-versus-safety issue, safety is paramount. Turning right on red, for example, is prohibited in Sweden.
Traffic safety efforts focus on eliminating fatalities and irreversible injury accidents and protecting vulnerable road users rather than reducing overall accident rates. The primary focus is on crash severity, not frequency. This is an important consideration, particularly at signalized intersections with heavy pedestrian and bicycle traffic (see Figure 2-1). On the basis of this principle, SNRA has converted signalized intersections to roundabouts, recognizing that the frequency of total accidents may increase, but the severity of those accidents may be greatly reduced. Following the same principle, the overall approach to intersection safety is to reduce speed, especially where pedestrians, bicycles, and vehicles share the same space.
Figure 2-1. Pedestrian and bicycle traffic at signalized intersection in Stockholm, Sweden.
The following are statistics on signalized intersections in Sweden:
Sweden has about 3,000 signalized intersections, with SNRA responsible for about 600 intersections and cities and local jurisdictions responsible for the rest.
About two-thirds of police-reported accidents (fatalities, injuries, and damage only accidents) at signalized intersections are related to either red-light running or rear-end crashes. Protected left-turn phasing is used extensively in Sweden and is required for all intersections with approach speeds equal to or greater than 70 kilometers per hour.
Safety improvements are funded at the national level through appropriations from Parliament and the Ministry. SNRA then works with local agencies to implement safety improvements on a systematic and project-specific basis.
Tort liability is not a primary concern in Sweden.
SNRA has the responsibility to organize municipalities, police, and other organizations to improve roadway safety.
Traffic signals are viewed less as safety improvements than as capacity devices.
Though tort liability is not a primary issue in Sweden, the country is beginning to see an increase in the number of traffic-related lawsuits. Tort liability's limited effect (real or perceived) allows SNRA and local transportation agencies the opportunity and flexibility to test innovative ideas and solutions with limited restrictions and risks.
GERMANY
Highway safety improvements are a priority in Germany and, as a result, the country has experienced a large reduction in highway fatalities since reunification in 1990. The team observed the following safety priorities in Germany, which are similar to Swedish approaches but differ by placing a high priority on efficiency and overall traffic-flow quality:
Safety of motorized and nonmotorized vehicular traffic with an emphasis on reducing the consequences of crashes rather than the overall number

Mobility throughout the network, including transit

Intersection/roadway traffic flow and operations
In Germany, traffic signals are generally the responsibility of local street traffic authorities, whose duties typically include planning, locating, constructing, signing, and marking signalized intersections.
German law requires traffic engineers to follow standards and codes in designing and operating traffic signals, including rigorous signal timing and clearance calculations for all modes of traffic. Failure to follow these standards can result in criminal and civil liability on the part of the owning agency or engineer of record. German law, however, limits tort liability related to innovative traffic control devices by making it illegal for one to enter an intersection until it is clear. To avoid tort liability issues with innovative control devices, operators of signal systems must meet extensive clearance calculations and other required safety criteria (performance criteria).
Like other European countries, Germany places a high priority on bicycle and pedestrian traffic safety and protection of vulnerable road users. In some cases, pedestrians and bicyclists are given priority over motorized vehicle traffic. Extensive intersection pavement markings are used to identify bicycle and pedestrian crossings within intersections (Figure 2-2).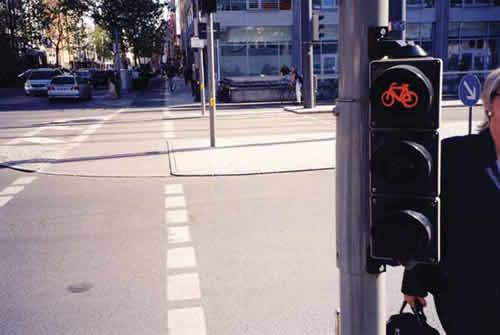 Figure 2-2. Pedestrian and bicycle crossings in Germany.
Frankfurt, Germany, has 764 signals, all of which operate on 10-volt power with halogen signal locations. Experience has shown a gain in energy savings equivalent to using light-emitting diode (LED) technology, and 10-volt power is safer for employees to operate.
German officials do a substantial amount of simulation, both to optimize signal timing and to demonstrate to the public how signals work. Officials made a point of saying they do not allow "apple pie" simulation to sell a project and that the simulation is vital to accurately portray real traffic flow. They indicated the simulation process is considered a "contract" with their constituents.
Germany installs red-light enforcement cameras without warning signs. Additionally, extra camera locations and wiring at alternate locations are installed so that the cameras can be rotated among locations. Penalties for violating the redlight law are severe and are graduated based on how extensively the motorist violated the law (i.e., how many seconds into the red he entered the intersection).
Traffic safety in Germany is clearly a coordinated effort among local and national organizations. The German government has assembled about 500 accident commissions at the federal and local levels (the commission in Frankfurt is called KEBU). These commissions combine engineering, law enforcement, and other authorities, including local traffic authorities, civil engineering departments at universities, and traffic security wardens (similar to the U.S. National Safety Council). Depending on the nature of the safety problems, other organizations such as cyclist groups or public transit authorities participate in the commissions. These commissions are responsible for identifying high-accident locations, completing engineering studies, implementing solutions, and monitoring the solutions for effectiveness (Figure 2-3). In addition, the commissions provide general traffic safety training to school children and the general public.
Figure 2-3. Responsibilities of Germany's accident commissions.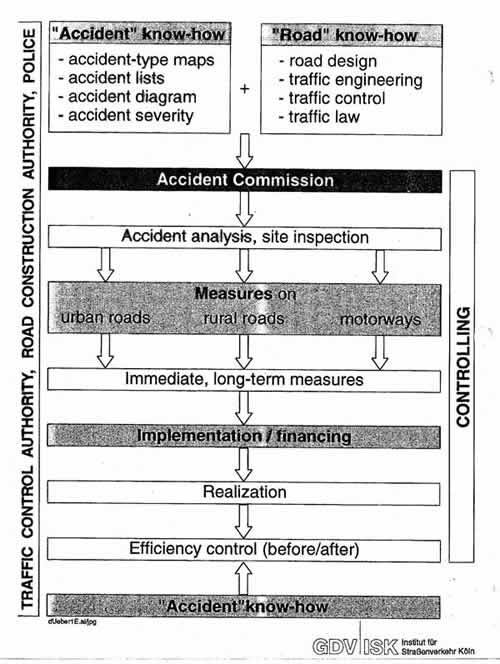 The performance of these commissions varies throughout the country. Developing a successful commission can be a lengthy process and is highly dependent on having a qualified person or group in a leadership position. To address these issues, the Germans have developed a three-day training course for local commissions. German experience has shown that the most effective commissions are those with the highest degree of training and technical knowledge.
Funding for the safety commissions and the improvements they recommend comes from general federal transportation funding sources. The level of priority and the amount of money directed to safety improvements is left up to the commissions and local authorities (projects and funding are not earmarked solely for safety priorities).
Though Germany uses roundabouts for speed control, officials said a significant disadvantage of roundabouts is that they take control away from engineers. The geometric design and yield to the roundabout rule prevail, and it is not possible to give priority to buses or bicycles.
THE NETHERLANDS
The Ministry of Transport, Public Works, and Water Management (RWS) is the national road authority in the Netherlands. RWS provides some funding for intersection safety improvement, but decisions on how to best direct funds to meet specific needs are determined largely by local agencies.
The Netherlands has about 5,300 signalized intersections. Eighty-one percent are located in urban areas and 19 percent in nonurban areas. Seventy-seven percent of the signals are actuated. In 2001, 1,085 traffic fatalities were reported, about 11 percent at signalized intersections. In that year, 18,510 people were hospitalized as a result of traffic accidents.1 The number of fatalities in 1972 was 3,250, and since then both fatalities and hospitalizations have been decreasing an average of 4 percent a year.
The Netherlands has national safety goals guiding its approach to intersection safety. The National Traffic and Transport Plan has set goals of a 30 percent reduction in fatalities and a 25 percent reduction in serious injuries by 2010. The program is based on developing sustainable safety solutions and is built on three primary principles (Figure 2-4). First, the form of the system should be designed to follow the intended function and prevent unintended uses. Second, the system should be homogeneous. The Dutch believe that a highly homogeneous system improves safety, and they try to prevent major variations in vehicle speed, direction, and mass on their higher-speed facilities. Finally, the system should be predictable even to users unfamiliar with the road.
Principles of Sustainable Safety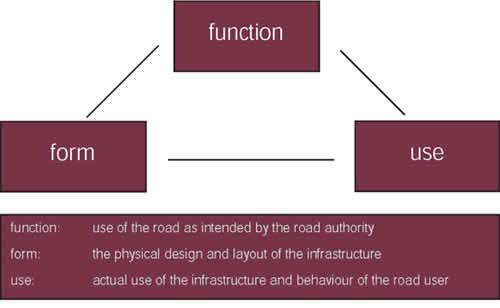 In December 2001, the Ministry of Transport's Transport Research Centre (AVV) published the second edition of its report "Sustainable Safety: A Preventable Road Safety Strategy for the Future." This report is available in English and presents the principles of sustainable safety, phase implementation plans, and specific implementation measures.2
The Dutch have developed regional traffic enforcement task forces that target five safety areas: speeding, red-light running, driving under the influence, safety belt use, and moped helmet use. All 26 police regions have task forces that work with national enforcement officers who rotate around the country. The general speed limit tolerance level is 10 percent with both cameras and police officers. Enforcement locations are determined by reviewing accident and violation statistics. The revenue generated by these task forces goes to the national government's treasury department, and the money is reinvested in sustaining the programs.
The Dutch spend considerable effort and resources on engaging the public in developing and maintaining a safe and sustainable transportation system. A nongovernmental association known as 3VO is at the forefront of public awareness efforts and campaigns. The association's mission is to provide never-fading attention to traffic safety, start at the lowest level (interact with civilians), share knowledge with others, and work with as many allies as possible. The association recently changed its approach from pointing the finger at problem areas to disseminating safety messages with an emphasis on solutions and interaction.
Like other European countries visited, heavy pedestrian and bicycle traffic is common at most signalized intersections in the Netherlands. The Dutch have developed and deployed special signal indicators to warn pedestrians, bicyclists, and motorists of potential conflict situations. A noteworthy practice in the Netherlands is to limit maximum signal cycle lengths to better accommodate pedestrians, bicycles, and public transport vehicles. Under certain political conditions, motorized traffic congestion issues are treated as secondary. This approach is in contrast to typical practice in the United States, where intersections are timed, phased, and operated to minimize delay to motorists.
The Dutch promote safety and focus on skilled driving from the start by requiring the following for obtaining a driver's license:
An average of 30 hours of hands-on training, with lessons costing U.S. $30 an hour.

A 50-question written exam on information taken from a 500-page driver's manual.

A 35-minute driving test at a cost of U.S. $163. The failure rate is 70 percent, and an additional 10 lessons are required before retaking the test.
The Dutch program for intersection safety focuses on reducing speed and providing road users with clear, consistent information. Speed is controlled by several methods, including geometric design, speed-warning signs, speed tables, and an extensive use of the latest technology, including conspicuous automated photo enforcement.
If traffic volumes allow, the Dutch make extensive use of roundabouts that are conservative in design (one-lane roundabouts with sharp entrance angles to assure vehicle speed reduction are preferred).
To measure speeds, the Dutch have made substantial investments in detection. Their limited-access freeways (equivalent to the U.S. Interstate system) have speed/volume detection in each lane every quarter mile. One signalized intersection the team visited had as many as 78 detectors to sense vehicle speed and traffic volume and revise signal timing.
The Dutch extensively use oversized signal indications and back plates for conspicuity (much more so than any of the other countries visited). Their largest signal indications are equivalent to 12-inch heads used in the United States, but the back plates are substantially larger than any in the United States. The back plates are oval, with the border painted white for contrast.
A significant portion of the intersection safety program in the Netherlands focuses on pedestrians and bicyclists, who suffer severe consequences when involved in accidents at signalized intersections. Tort liability is not a major concern in the Netherlands, but the rising number of civil lawsuits creates concern.
UNITED KINGDOM
Institutional structure in the United Kingdom is similar to that in the United States. The central government sets overall policy and legislates countrywide standards to achieve uniformity. The central government also allocates funding and provides advice and guidance to local agencies through the traffic management department. Local governments implement national policies and make local traffic regulation orders (e.g., access control measures) to best meet their goals and needs.
England has 149 local highway authorities with a broad range of objectives, including reducing congestion, promoting modal shift, and improving road safety, air quality, and the quality of local space.
A number of mechanisms are in place to help accomplish those objectives:
White papers

A 10-year plan

National air quality strategy

Local transport plans

Legislation

Commitments to select committees and commissions
The United Kingdom's national safety plan, "Tomorrow's Roads—Safer for Everyone," calls for a 40 percent reduction in total roadway fatalities and serious injuries, a 50 percent reduction in the number of children killed or seriously injured, and a 10 percent reduction in the slight-casualty rate. As with the other countries visited, the emphasis is on accidents with serious consequences. The plan is being implemented in partnership with local authorities, police, health services, commerce and industry, other government departments, and road users.
The Highways Agency is responsible for the 10,000 kilometers of the national system. The United Kingdom has about 350,000 kilometers of local roads. The Highways Agency is responsible for more than 1,700 signalized intersections (plus 860 signalized pedestrian crossings), while local agencies are responsible for more than 12,000 signalized intersections (plus 13,800 pedestrian crossings).
The United Kingdom, like the United States, faces significant traffic congestion in metropolitan areas. It faces the challenge of maintaining a delicate balance among safety, mobility, and congestion in the design and operation of signalized intersections. The British have developed and implemented several computerized signal-timing optimization software packages, such as microprocessor optimized vehicle actuation (MOVA) and optimized signal capacity and delay (OSCADY), to increase intersection capacity, reduce delay and queuing, and improve safety.
Pedestrian safety and the effect of pedestrian traffic on motorized traffic are also high priorities in the United Kingdom. A number of specialized pedestrian crossings have been developed, including the PUFFIN (pedestrian user-friendly intelligent) and TOUCAN ("two can" cross) crossings, to improve pedestrian and bicyclist safety and operations at signalized intersections. Leading-edge technologies (including passive infrared and microwave detection) optimize both motorized and nonmotorized traffic operations at signalized intersections. The PUFFIN crossing has pedestrian detection and can forego the pedestrian phase if detection shows the pedestrian has changed his mind or crossed the street on the "don't walk" sign, and can extend the "walk" time if a pedestrian lingers in the street.
It has been demonstrated in the United States that care is needed in marking crosswalks because they may actually encourage pedestrians to relax their guard while crossing, so crossing technology favoring pedestrians might have downsides. During a briefing on traffic in highly congested parts of London, officials reported that up to 29 percent of the crashes at signals involve pedestrians.
Transport for London (TFL) is responsible for traffic management in the greater London area. It owns and operates about 4,500 traffic signals and 600 enforcement cameras. Over the past two years, TFL has developed a Road Safety Unit, which emphasizes enforcement and education. As with the safety commissions and task forces in the other countries visited, the unit is made up of representatives from multiple agencies. The team visited the London Traffic Control Centre and was surprised to hear that although traffic engineers are accountable for all signal timing, if the centre detects the need for changes on the basis of the extensive camera system, officials must call Scotland Yard to make the changes. (Traffic management and police-related functions, however, are becoming more integrated).
Like other countries visited, tort liability has not been an issue in the United Kingdom, but lawsuits are becoming more prevalent and transportation officials must follow standards and rigid engineering practices to avoid civil liability. Typically, local agencies work with the Transport Research Laboratory (TRL) to research and test new ideas before they are implemented. TRL has developed a sophisticated vehicle simulator (Figure 2-5) that allows engineers to test signal operations and design plans in a laboratory setting before full-scale implementation, reducing risk and limiting liability associated with new ideas. Several lawsuits related to the use of red-light cameras have been unsuccessful.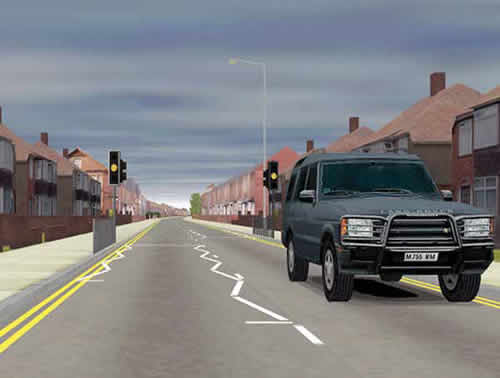 Figure 2-5. Vehicle simulator to test extended amber timing in the United Kingdom.