Chapter One - Introduction
BACKGROUND
About 25 percent of fatal crashes in the United States are intersection related, and more than one-third of these fatal crashes occur at signalized intersections. In U.S. cities, about a third of fatal crashes are related to intersections, while about 14 percent occur at signals. This is because a large proportion of fatal crashes in cities involve pedestrians. Accordingly, safety at signalized intersections is a top priority for the Federal Highway Administration (FHWA), the American Association of State Highway and Transportation Officials (AASHTO), the Institute of Transportation Engineers (ITE), and a number of State departments of transportation (DOTs). In fact, one of the 22 emphasis areas of the AASHTO Strategic Highway Safety Plan is improving the design and operation of highway intersections. This emphasis area includes four specific strategies. Implementation of the plan calls for an effort to determine the most promising countermeasures, including experimental or innovative countermeasures. Similarly, FHWA has identified intersection safety as one of three priority areas. This priority is reflected in FHWA safety policies, programs, and research. And ITE has developed a Safety Action Plan that includes an aspect titled "Intersection Crashes." ITE has identified 10 strategies that call for, among other things, promotion of best practices and new technologies for improving intersection safety.
To this end–improving intersection safety–FHWA and AASHTO sponsored a European scanning study to focus on innovative safety practices in planning, designing, operating, and maintaining signalized intersections and junctions. During the May 10-25, 2002, study, the scanning team visited Sweden, Germany, the Netherlands, and the United Kingdom.
STUDY OBJECTIVES
The primary objective of the study was to identify and evaluate promising and readily implementable intersection safety solutions and programs to use in the United States. The team met with representatives of the four countries to discuss intersection safety strategies and programs that, if implemented in the United States, would improve safety at signalized intersections. Through discussions and site visits, the team also identified potential barriers to or special needs of implementation in the United States. The team also observed safety improvements and gathered information about site-specific studies and examples of signalized intersection safety improvements.
SCAN APPROACH AND PLANNING
FHWA and AASHTO identified the need to address safety issues related to signalized intersections in the United States and jointly sponsored a team of experts to identify readily implementable best practices used in Europe. The team conducted a literature search and prepared a desk scan report to identify countries addressing intersection safety with innovative techniques. Based on the desk scan results, the team visited four countries. The scan started in Stockholm, Sweden, and continued to Germany, the Netherlands, and the United Kingdom (Figure 1-1).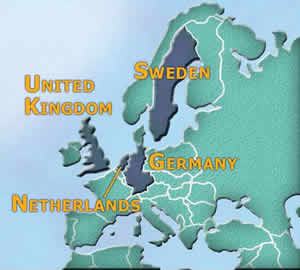 Figure 1-1. Map of Europe.
Scan Team
The scanning team's 13 members included representatives from FHWA, AASHTO, State DOTs, municipal transportation agencies, universities, and the private and nonprofit sectors. Co-chairs Gene K. Fong, director of FHWA's Field Services-East, and James H. Kopf, chief engineer and deputy executive director of the Mississippi DOT, led the team. Other members were Philip Clark, deputy chief engineer and director of design for the New York State DOT; Rick Collins, director of the Texas DOT Traffic Engineering Section; Richard A. Cunard, engineer of traffic operations for the Transportation Research Board (TRB); Ken F. Kobetsky, program director for engineering for AASHTO; Nazir Lalani, principal engineer for the Ventura County, California, Transportation Department and past international president of ITE; Fred N. Ranck, safety and geometrics engineer for FHWA's Midwestern Resource Center; Robert K. Seyfried, director of the Transportation Engineering Division of the Northwestern University Center for Public Safety; James W. Sparks, traffic engineer for the City of Phoenix, Arizona; Rudolph M. Umbs, chief highway safety engineer in FHWA's Office of Safety Design; Steve N. Van Winkle, director of public works for the City of Peoria, Illinois; and Kevin L. Slack, senior transportation engineer and vice president at CH2M HILL, who served as the team's report facilitator (Figure 1-2).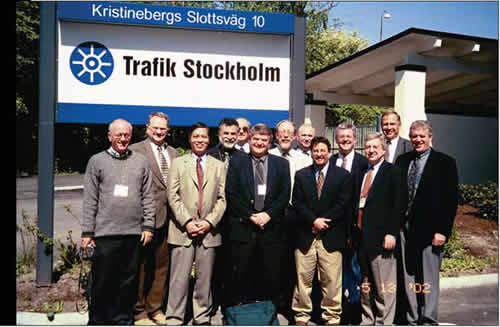 Figure 1-2. Scan team members (left to right) Jim Sparks, Rudy Umbs, Gene Fong, Nazir Lalani, Ken Kobetsky, Fred Ranck, Bob Seyfried, Richard Cunard, Rick Collins, Kevin Slack, Jim Kopf, Steve Van Winkle, and Phil Clark.
Figure 1-3. Jake Almborg of American Trade Initiatives, Inc. organized the study and logistics with the host countries.
Amplifying Questions
To provide the European hosts with an understanding of the scanning study's objectives and interests, the team developed questions that focused on six major areas of interest, listed below. The complete set of questions is in Appendix B.
The scanning team was divided into six subgroups according to the areas of interest listed below. Each subgroup was responsible for documenting observations and findings in its respective area of interest:
Selection, design, installation, operation, and maintenance of traffic control devices at signalized intersections (Steve Van Winkle, team leader)
Innovative traffic control devices at signalized intersections (Rick Collins, team leader)
Innovative geometric designs for signalized intersections (Phil Clark, team leader)
Processes and procedures for identifying safety problems at signalized intersections and evaluating and selecting countermeasures (Fred Ranck, team leader)
Low-cost safety improvements for signalized intersections (Bob Seyfried, team leader)
Research projects focusing on safety issues (Rich Cunard, team leader)
Team Itinerary
Figure 1-4 summarizes the scan team's itinerary from May 12 to 25, 2002. During the scanning study, the team met with signalized intersection safety experts representing national and local transportation agencies, research organizations, signal manufacturers, and universities in the host countries. A list of representatives from the host countries is in Appendix C. Meetings with the host agencies were a combination of workshops and site visits to observe intersection operations in the field.
In addition to attending host-country meetings and site visits, the team met several times during the scanning study. At its first meeting, the team confirmed assignments and reviewed the study objectives, amplifying questions, and host agency agendas. The team met again halfway through the trip to discuss findings and observations from Sweden and Germany, the first two countries visited. The team met on the last day of the study to summarize findings, develop preliminary recommendations, and establish the implementation team.
Report Organization
This report summarizes the scan team's observations, findings, and recommendations. During the study, the team had the opportunity to interact with many experienced officials who provided valuable insight on signalized intersection safety from the perspective of their respective organizations. In addition, the team observed firsthand various innovative practices and technologies in the field.
TABLE 1. Scan Team Itinerary
| Location | Group Purpose | Date |
| --- | --- | --- |
| Stockholm, Sweden | Scan team organizational meeting | May 12 |
| Stockholm, Sweden | Swedish National Road Administration (SNRA) and Peek Traffic | May 13 |
| Stockholm, Sweden | City of Stockholm Traffic Service Department, site visits | May 14 |
| Munich, Germany | Siemens Traffic Control Facilities May 15 Frankfurt am Main, Germany Site visits | May 16 |
| Bergisch Galdbalt, Germany | Federal Highway Research Institute (BAST) | May 17 |
| The Hague, Netherlands | Team meeting—review meetings in Sweden and Germany | May 18 |
| The Hague, Netherlands | Team meeting—review meetings in Sweden and Germany, prepare for Netherlands and United Kingdom visits | May 19 |
| Utrecht, Netherlands | Dutch Ministry of Transport's Transport Research Center (AVV), site visits | May 20 |
| Delft, Netherlands | AVV, Ministry of Justice, Province Zuid-Holland, consultants' presentations | May 21 |
| Rotterdam, Netherlands | Presentations and site visits | May 22 |
| London, United Kingdom | Department of Transport and Transport for London | May 23 |
| Crowthorne, United Kingdom | Transport Research Laboratory and site visits | May 24 |
| London, United Kingdom | Final team meeting and preliminary recommendations | May 25 |
The report is organized around the six areas of interest described above. The next seven chapters summarize the general findings and observations by country for each major area of interest. The final chapter summarizes the team's primary and additional recommendations. The primary recommendations focus on implementable strategies to address safety at signalized intersections. In addition, a number of scan team members identified practices and programs that relate to their respective areas of expertise.