Chapter 5 - Speed Management
Everywhere the scan team visited, speed management was a key priority for improving highway safety. The "human" element was also a major consideration in methods to control speed. Countries first designed roadways to achieve the desired speed objective through the functional use of the roadway (self-organizing roads), but road speed management was also achieved through aggressive enforcement and public education.
Self-organizing roads (Chapter Two) help control driver speed. For example, drivers must slow down to enter a roundabout (figure 25).
Figure 25. Roundabout entry in Sweden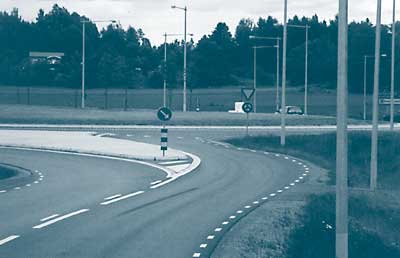 The 2+1 roadway design discussed in Chapter Two also has worked well for speed management. It has improved throughput and raised speeds on two-lane roadways. In Finland, travel speeds at low flow rates improved 1 to 2 km/h (0.6 to 1.2 mi/h),with gains of 4 to 5 km/h (2.5 to 3.1 mi/h) for higher flow rates. In Sweden, average passenger car spot speeds on two-lane sections are 4 km/h (2.5 mi/h) faster on a 2+1 roadway with a median cable barrier than on a 13-m (14.2-yd) roadway with wide lanes.
Speed Cameras
In Sweden, Norway, France, and the Netherlands, speed cameras were effective in controlling driver speed (figure 26). Multiple camera boxes were installed in Sweden with the driver unable to determine which box, if any, contained the speed camera, as is done in the United States with red-light-running enforcement cameras. Speeding tickets are sent to the driver of the vehicle if he or she can be identified. The police attempt to match the photograph of the car owner or the spouse stored in the driving licensing system to the speed camera photograph. If there is no match, the case is dropped. In France, installation of 100 speed cameras contributed to a 20 percent reduction in fatalities. In the Netherlands, photos are taken when a vehicle enters and leaves the roadway. Computers calculate the time it takes the vehicle to travel the roadway to determine if the motorist was speeding. This information is automatically forwarded to a processing center, where a notice of fine is mailed the next day. The immediacy of the sanction has a deterrent effect.
Evaluation of automatic speed monitoring in Sweden in 2002-2003 showed several impressive results. Of 4,801 photographed vehicles in 2002 and 9,402 vehicles in 2003, there were 2,565 approved photographs in 2002 and 6,073 approved photographs in 2003. Thus, the number of approved photographs and contact with drivers increased from 54 to 67 percent, primarily because of decreasing technical defects in the photographs. The average crash total decreased from 144.6 before cameras were used to 109.1 after cameras, and the average total of personal injuries decreased from 241.6 to 194.5. Fatal crashes decreased from 9.2 to 4.5 and fatalities from 12.6 to 5.4, although these small samples must be interpreted with caution. Vehicle speed was reduced at the cameras by 8 km/h and by nearly 5 km/h between camera boxes. Socioeconomic calculations revealed a benefit/cost ratio of 3.7. These data reveal that speed cameras are very effective in improving traffic safety.
A pilot study of automatic speed enforcement in Denmark conducted at 20 camera sites and 10 control sites, primarily in the metropolitan cities of Copenhagen and Odense, also found substantial benefits. The Danish Traffic Code requires car owners to provide the name of the driver to the police or to be penalized with a fine. Results showed a 2.4-km/h reduction in speed. During the 12-month test period with equipment in operation about 2 hours a day, 105,000 fines with pictures were sent out. Of these, about 3,200 were taken to court and the police lost only three cases. Based on these pilot results, the Danish Parliament has decided to permanently implement automatic speed control throughout Denmark.
Figure 26. Sign indicating speed camera in Sweden.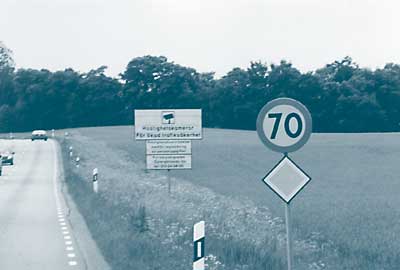 Variable Speed Limits
In Finland, variable speed limits were successful in managing driver speed. Speed limits varied according to the season, with lower limits in winter than in summer. The Netherlands changed speed limits dynamically as a function of traffic.
Intelligent Speed Adaptation
In Copenhagen, the team learned about a large-scale field operational test of intelligent speed adaptation conducted in Sweden. It used 4,000 test vehicles in Umea, 400 in Borlange, 290 in Lund, and 280 in Lidkoping. The project cost SEK75 million (US$12.7 million), and was conducted jointly by the Swedish National Road Administration and local authorities.
Intelligent speed adaptation presents in-vehicle warning signals (visual, auditory, and in some cases tactual from the accelerator pedal) when the vehicle exceeds the speed limit. Global positioning systems (GPS) were used to provide speed-limit information in Lund, Lynkoping, and Borlange, while roadside transducers were used in Umea. Both private and commercial vehicles were used in the test.
Results showed that drivers liked using the system in urban areas. A clear majority of the drivers believed the speed limit should be honored on 30- and 50-km/h (20- and 30-mi/h) streets, and appreciated the feedback provided by the system. About two-thirds of the drivers wanted to keep the system, if it were free, after the test ended. The drivers raised some interesting points on integrating the intelligent speed adaptation system into the vehicle:
Users want to see the speed limit displayed inside the vehicle. Of course, this displayed value must match external speed signs.
In-vehicle speedometers usually present a higher speed, with a margin of up to 15 percent higher than the actual road speed. Thus, the warning signal reacts at too high a speed. Drivers found this conflict to be irritating. This could be easily fixed by replacing the original speedometer with a more accurate speedometer as part of the intelligent speed adaptation system.
A 3-year field test of intelligent speed adaptation is underway in Denmark. It uses 300 volunteer drivers who are customers of a Danish insurance company. It will use auditory feedback if the vehicle exceeds the speed limit by 5 km/h (3 mi/h) combined with digital speed maps. Results may allow insurance companies to adjust rates for customers.
Figure 27. Project Manager Bente Nielsen presents intelligent speed adaptation overview.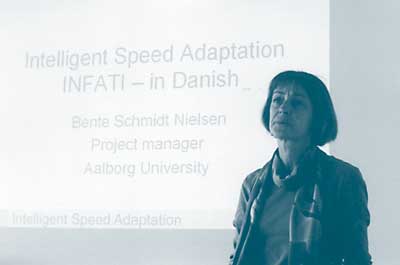 Intelligent Speed Adaptation Contact Information
Bente Schmidt Nielsen
Aalborg University
Fibigerstræde 11, rum 111
DK-9100 Aalborg
Phone: +45 9695 8080
bsn@plan.aau.dk
www.auc.dk