Chapter 3 - Scan Results
The U.S. delegation met with numerous representatives from transportation and highway ministries, research organizations, and consultants who shared many interesting ideas and insights on the scan tour topics. This chapter presents practices the delegation found most significant and those that may be beneficial for the U.S. environment. Additionally, it identifies and discusses practices that may be transferable to the U.S. context.
Project Planning
The countries visited all have an underlying philosophy of a project planning process aiming to improve safety while remaining sensitive to the needs of the community. As noted in the previous section, all agencies are responding to a safety mandate, which affects their project development process through a focus on improving the existing system by making better use of it. The following three steps are typically followed in the project development process. First, a project need is identified either on the basis of long-term plans or through a political request. Second, a feasibility study is performed to determine and examine alternatives and seek public input. Third, a final design is developed for the project construction and completion. This process typically covers a 10-year period with periodic updates.
Although this general approach is followed in all countries visited, some differences exist with regard to how this general plan is applied. For example, SNRA has a set of guiding maxims to follow during the project development. These maxims include quality assurance, community planning, transparency (open mindedness and decisions involving the public), environmental concerns, safety, clearly explained decisions, and assurance of public understanding of these decisions. In Denmark, after the completion of certain stages of the process, parliamentary support is required to continue with the project. At the end of the initial project concept, an Act of Design is required in which the need for the project is demonstrated and authorization to continue is granted. After completion of the preliminary design, an Act of Construction is sought to support development of the final design. After a final design has been selected, a funding request is submitted to the Parliament and the project is included in the national budget. In the Netherlands, one of the initial steps includes definition of the relationship of the proposed project to existing government policies and a request for political support by all levels of government. Moreover, after the completion of the preliminary design a statement by the Minister of Transport is required that identifies proposed alternatives and documents the project's importance and significance. This project planning process is described in one of the Dutch laws (Tracè Law), and the final design of the project becomes a Tracè law. The Highways Agency in England also has recently developed a process by which all proposed projects on a route are evaluated in light of a Route Management Strategy that has been prepared for that route. The route and project evaluations are based on the following five criteria: safety, economy, environment, system integration, and network accessibility. Moreover, studies are completed that consider other modes of transport in conjunction with roadway projects to determine whether other travel modes can accommodate the travel needs more efficiently. So far, this new approach has been applied to three routes, and the Agency is satisfied with the results of the process. Germany has somewhat different stages for urban and interurban projects. For urban areas, decisions are made on the basis of four themes that consider traffic volumes, environmental concerns, town planning and road space issues, and economics. For federal inter-urban projects, the requirements are defined by law, which is preceded by a formal procedure where the choice is evaluated on the basis of a microeconomic analysis.
Generally, the project development process in the countries visited is similar to that of the United States; however, differences were noted. A major difference is that in Europe a longer period of time is devoted to the planning process and longer sections, typically entire corridors, are considered. Such an approach provides the opportunity for long-range planning by allowing for a more systematic overview and for defining needs and deficiencies over the entire system. Another difference in the process is greater European emphasis in urban areas on integrating projects in communities by addressing the public's concerns for speed management and aesthetics. Integrating both human and natural environmental concerns is an integral part of their project development process. An example is shown in Figures 1 and 2, where a park was placed over a freeway section to address noise and visual pollution in Germany.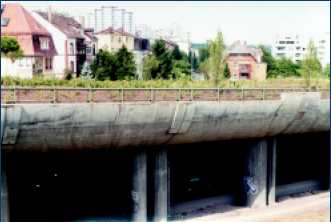 Figure 1. Freeway lid with park, Germany.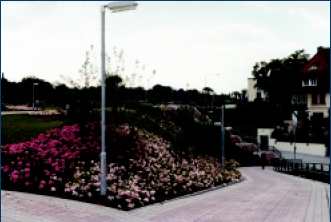 Figure 2. Park view of the freeway lid, Germany.
The delegation was also impressed by the level and impact of public involvement. All five countries involve the public in their project development process, although degrees and levels of involvement varied by project type and country. Sweden has legislative requirements for public involvement and SNRA solicits public input even in projects for which it is not legally required because Swedish officials believe it is good public policy and can provide them with additional support in later stages of the project. Local communities have the final decision on projects that pass through their communities, but they have less say in projects in rural areas. In Denmark, stakeholders of a project are involved in various stages of the project development, and the public is involved either passively through information dissemination or actively through consultation or participation in the design process. The Netherlands has recently implemented a new approach for public involvement. This approach is based on design workshops in which all alternatives for a project are worked out simultaneously by a group of experts and stakeholders. All of these alternatives are then presented at a public meeting, where the public's assistance is sought to define the best alternative. This approach has been applied in some projects, and the Dutch believe that the process was successful. In England, the public is informed through press announcements, and specific stakeholders are involved at various stages. Route seminars are held for invited stakeholders to discuss project objectives and to identify potential problem areas and possible solutions. Value management workshops are presented to a smaller group of stakeholders to identify specific actions to be taken to determine the final design choice. Finally, the public can comment on the final choice; however, the Agency has the final say. Germany permits a higher public involvement for urban projects, since such projects have a more direct impact on individuals. Public meetings and work groups are an integral part of project development: consensus is sought and the old concept of simply announcing the project to the public has been abandoned. For inter-urban projects, the public can appeal the final design and alignment of the project, but there are time limits on comments and appeals.
Some of these concepts and methods to involve the public in project development are potentially transferable to the United States and could prove beneficial in streamlining existing practices. The use of the Dutch design workshops, in which alternatives developed by experts and stakeholders are presented to the public to select the best alternative, is a method that deserves additional exploration. Moreover, involvement of the public at the earliest stage possible was stressed by all governments to problems after the project has been fully developed. The use of artistic renderings as visual aids to graphically show the finished project is very important in gaining public acceptance and understanding (Figure 3). Distribution at public meetings of detailed pamphlets that identify the affected area and the rationale for selecting the proposed options can enhance and improve the public's understanding of the project (Figure 4). Some additional observations include the use of safety audits as an evaluation tool for overall project design, the development of project budgets at the end of the process, and the greater role of state and local politics in the project development process. The scan team concluded that no single approach can solve all potential problems in project development, and a reasonable mix of practices is essential.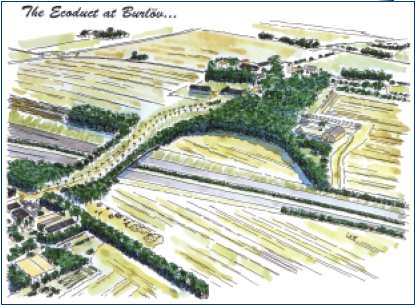 Figure 3. Artistic rendering of bridge overpass with avoid potential conflicts and plants, Sweden.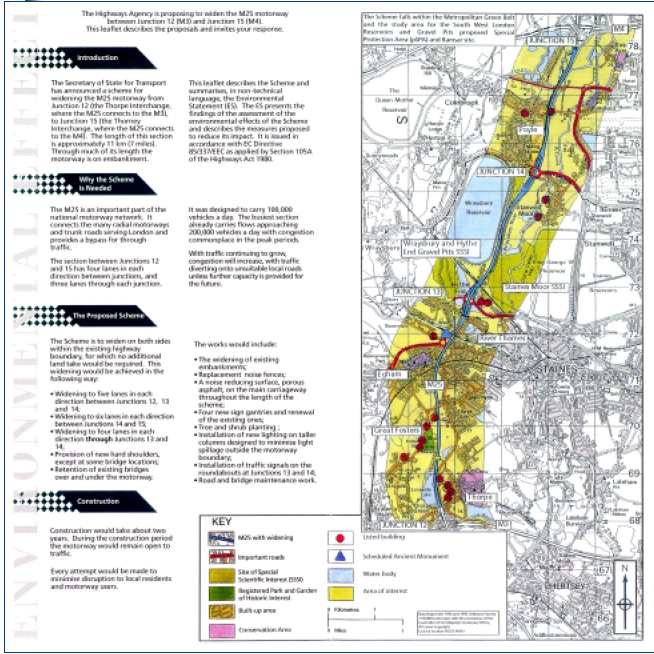 Figure 4. Pamphlet inviting public involvement, England.
Environmental Considerations
All the countries visited include environmental issues as an integral part of the project. It was interesting to find that several countries have copied or adapted the U.S. National Environmental Policy Act (NEPA) process but they have integrated it more efficiently within the project development process. The Dutch believe that recognition of environmental concerns is an everyday practice and that these concerns are addressed sufficiently through their normal design process. Currently, Dutch officials are considering means by which the regulations and process can be streamlined to reduce project completion time. The English use a design manual to guide environmental impact analysis (EIA) and environmental design in which a proper and full examination of all environmental considerations relevant to the project are presented. They have also recently initiated a new approach to appraisal (NATA) in which all impacts of a project are defined within five overall objectives (environment, safety, economy, accessibility, and integration) either quantitatively or qualitatively. It is expected that application of the NATA as a high-level tool for appraising projects will help to address environmental factors in making initial investment decisions.
One general observation was that the highway agencies of these countries are very committed to addressing environmental issues. Most of the issues presented appeared to be human related, including noise and historical preservation concerns. The reliance on local governmental agencies to develop environmental impact studies (EIS) was also presented as an alternative to identifying problems and possible solutions more easily and at the local level. For ease of project development and faster completion, projects are often restricted to within the existing right of way. The concept of land redistribution was also presented as a method of mitigation. A simple example of this approach is shown in Figure 5, where the new road will bisect both land parcels. To avoid access problems and maintain continuous property for each land owner, the land parcels 1 and 2 cut by the road are swapped between the two owners. This practice seems to address some accessibility issues and merits further review for application in the United States. Finally, European Union (EU) laws and directives regarding environmental issues play an important role and are addressed in the project development process.


Figure 5. Land redistribution concept.
Speeds
Even though each country used a different term to describe their design speed, all use a guiding speed for designing roadways that ties the various roadway elements. In Sweden, the term "reference speed" is used to denote the existing or planned speed limit of the road. For new rural roads, a speed of 70, 90, or 110 km/h is selected based on the road type. Under this scheme, motorways and semi-motorways (two-lane, two-way roads with full access control) use a speed of 110 km/h, while the choice between 90 or 70 km/h is made based on the geometrics of the road. A new concept that has been applied only in urban areas so far is the "environmental reference speed," which is a speed used in designing roadways in such a way that it is difficult to drive above this speed. In Denmark, a desired speed is defined, which represents the upper limit of the driver's comfort level. To address safety, a design speed is used that is equal to the desired speed plus 20 km/h and also reflects actual operating speed for inter-urban roads. The relation between desired speeds and roadway categories for urban roads is shown in Table 3.(10) Until recently, design speeds in the Netherlands were 120 km/h for roads with right shoulders and heavy vehicles, 100 km/h for motorways, 80-90 km/h for roads with either no right shoulder or heavy vehicles (or rural, un-divided roads), 5070 km/h for roads with no right shoulder (urban arterials), 50 km/h for arterials, and 30 km/h for residential access roads. In the future, only three road categories will exist, and then the design speeds will be 120 km/h for urban and rural freeways, 50-80 km/h for urban and rural distributors, and 30-60 km/h for urban and rural access roads.
Table 3. Speeds and categories of urban roadways in Denmark.(10)
Traffic intensity
Roadway function
A
B
C
D
E
I
120-90
-1
-2
NA
NA
II
100-80
80-70
-1
-2
NA
III
80-60
70-60
30-50
-1
-2
IV
70-60
60-50
40-50
20-30
-1
V
-3
-3
none
none
VI
-3
-3
-

3

none
Notes: NA, not applicable; 1 problematic combination; 2 extra problematic combination; 3 not currently recommended
The design speed in Germany is determined on the basis of the roadway to be designed.(11) A matrix is used that identifies possible combinations between traffic intensity and roadway function (Table 4). Categories A, B, and C provide connection between urban centers, while category D provides higher access to local areas, and category E is mainly for direct access (and thus, no design speeds are used). There is a hierarchy among urban centers that defines what type of connection is to be provided. The entire German roadway network is based on the concept that certain minimum travel times need to be achieved: 60, 30, and 15 minutes of travel time between urban centers and villages. These rules also shape the roadway category and, thus, the choice of the design speed. The design speed choice is made by the road planning group, which could be the local or regional planning agencies. The design speed of the roadway is a design aspect that is determined by the planning team, and the public cannot influence its selection. The design team typically selects the design speed on the basis of issues that need to be addressed and the goals to be achieved. The choice is usually based on a combination of cost considerations, safety concerns, and environmental issues.
Table 4. Roadway categories and design speed in Germany.
Roadway type
Traffic intensity/ speed (km/h)
Very low 10-20
Low 30-40
Medium 50
High 60-70
Traffic roads (through traffic and traffic between urban centers)
X
X
X
Local roads
X
X
(X)1
Note: 1 possible but not desirable
Finally, in England a range of speeds for each roadway category exists that is more narrow than the ranges suggested in the Green Book. The parameters that control this choice are alignment constraint, which describes frequency of curves; layout constraint, which describes access frequency and roadway cross section; and mandatory speed limits. The design speed for rural roads is defined using the diagram in Figure 6, where for urban roads the design speed is approximately 5 km/h higher than the speed limit.(12)
A roadway design philosophy common to all countries was the reliance on the physical roadway design to "enforce" operating speeds. This philosophy could be considered as a speed management approach in which the objective is not simply to reduce speeds but to provide a roadway planned and designed in such a way that an appropriate speed is obtained, thus, a "consistent" or "self-explaining" look for each road category can be achieved. This is the concept of the self-explaining, self-enforcing road, in which roads are designed for a specific purpose or function (Figure 7). The Europeans address safety in an efficient way for all users by implementing an aesthetic approach to explain the road function and enforce speeds. This approach also allows them to establish speed limits close to the expected operating speeds and thus avoid higher travel speeds. An interesting observation was the lack of speed enforcement by the police and the greater emphasis placed on other enforcement means, such as roadway geometry or automatic cameras. It should be noted, however, that reliance on roadway geometry to enforce speeds was more prominent in urban settings. Moreover, all countries have set national speed limits for each road category and area type (urban or rural).
Another observation was the acceptance of lower operating speeds by the road users in these countries compared with the levels of acceptance in the United States. This attitude may reflect the design approach of a self-enforcing roadway design and higher public acceptance of such roads.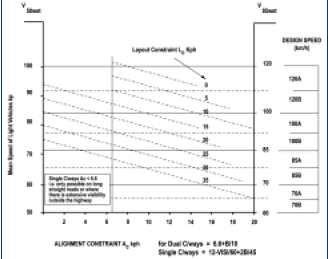 Figure 6. Design speed nomograph, England.(12)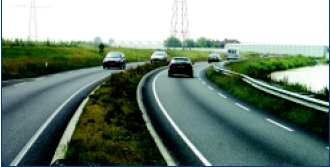 Figure 7. Self-enforcing, self-explaining road, The Netherlands.
Design Flexibility
All countries visited utilize design guidelines for roadway design that are considered central to their design philosophy. These guidelines are typically more strict for motorways and are applied more as standards and with greater conformity to these roads. All countries visited have a design exception process through which to address departures from design guidelines. This process is more frequently applied to non-motorways. It was also noted that, in general, the public more easily accepts the lack of flexibility in motorway design because of the purpose of these roads - mobility is gained at the expense of aesthetic treatment. Greater design flexibility was observed for urban and rural non-motorways that typically are responsive to site-specific limitations. Thus, the wider acceptability of such design departures may be due to the fact that each problem area is addressed within its context and constraints.
Commitment to creating a roadway environment that addresses safety, capacity, economic, and environmental concerns has also shaped the wider acceptance of design flexibility. The British Design Manual has a section for such deviations in each roadway component that discusses possible reasons for deviating (relaxing) the suggested guidelines.(12) This approach reinforces the concept of adjusting the roadway design to the specific local requirements. It should be noted that although the Manual emphasizes the use of appropriate design and implementation of desirable values, at the same time it arms the designer with possible flexibility.
All these countries have or are currently revising their design guidelines. This process may have made them more aware of the need to view their design guidelines as a flexible tool for those designs where human and environmental needs may play a stronger role in shaping the final roadway design. In addition, realizing the possible limitations of the previous guidelines may have significantly impacted current acceptance of such flexibility, since the new guidelines are now geared to address road purpose and to create a uniform look for each road category. The experience of developing new guidelines has allowed these agencies to understand the value of design flexibility and exceptions.
Set documentation, which was very extensive in England, is required to justify departures from the design guidelines. Morever, the Highways Agency in England has a manual that describes how and when design departures are to be requested and identifies the types of documentation needed to support such a request.(13) In a typical project, the designer has to visualize the project and determine how to approach it. Then, each departure needs to be justified and explained to the Safety Office of the Agency, which has ultimate decision authority. Several components of the project are set, similar to the AASHTO minimum criteria, and these components require official documentation. Designers have the latitude to alter other, more minor components at their discretion to address the specific needs of the project. In general, the countries are shielded from legal liability regarding design defects. The exception is England where litigation is expanding regarding departure from design guidelines; most of the litigation is settled out of court.
In the countries visited, the guidelines issued by the national highway authorities are usually considered as recommendations for any projects under the authority of local governmental agencies. This provides great flexibility in designing to meet the local needs and conditions.
Rural Roads
High speeds on rural roads are also a safety issue for these countries, which experience a high number of runoff crashes. In Sweden for example, runoff crashes on two-lane roads comprise a third of all crashes on these roads (115 of a total of 339). Moreover, almost all of the runoff crashes occur on two-lane roads (100 of a total 115). Similar percentages were also noted for other countries as well. Head on crashes were the second most common type of crash in most of these countries. A typical cross section of rural roads in some countries is 13 m, with 5.5-m travel lanes and 1.0-m shoulders (Sweden and Denmark) while in England a 9.3-m cross section is used, with 3.65-m travel lanes and 1.0-m shoulders (i.e., 7.3-m carriageway plus 2 x 1.0-m hardstrips). In Germany a 10.5-m cross section is used, with 3.75-m travel lanes and 1.5-m shoulders. To address capacity issues, wider cross sections are used in England, with 5-m travel lanes, which also allows better overtaking for improved flow and is also safer than the standard width. However, the Swedes have indicated that these wider roads have not had a good safety record.
The major contributing factor to the high number of runoff crashes is high speeds, so those countries are focusing on attempts to control and reduce speeds. To achieve this objective, higher speeds are eliminated to preserve safety. This is manifested in the lower design speeds and speed limits for rural roads as well as in efforts to implement the self-explaining, self-enforcing concept on these roadways.
With the exception of the Netherlands, all countries visited use a common treatment on high-volume rural roadways, namely the conversion of a two-lane roadway to a 2+1 facility in lieu of four-lane facilities (Figure 8). On such roads the third (middle) lane serves as a passing lane in which the right of way alternates periodically. Each country has customized this design to conform to its design guidelines and safety goals, including use of varied roadway widths, lengths of passing lanes, median cable guardrail, and end treatment of passing lanes. For example, in England and Sweden these roads have been retrofitted (within the same right of way) to wider cross sections of 12 m and 13 m, respectively. The passing lane has a width of 3.5 m and the remaining travel width is evenly split between the other two lanes. In Germany a slightly wider right of way is used and a 15.5-m cross section is utilized (Figure 9). In Sweden a cable barrier is used to separate the two directions of travel, and the safety experience with these roadways has been good (Figures 10 and 11). The Germans, on the other hand, do not favor the use of cable barriers because of safety concerns. The German experience indicates that these roadways can have similar capacities as four-lane divided roads without shoulders, and when four-lane roads present safety problems they are converted to 2+1 facilities. Finally, all countries that use this design indicated that to facilitate conversion and reduce costs, they utilize the existing right of way.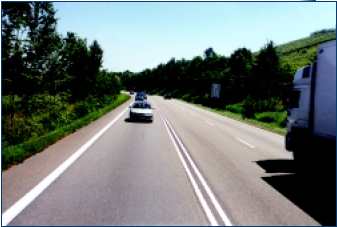 Figure 8. Example of 2+1 road, Germany.


Figure 9. Cross section for German 2+1 roads.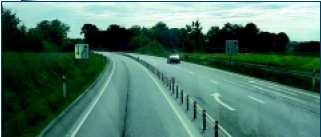 Figure 10. Use of cable barrier in 2+1 road, Sweden.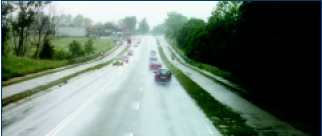 Figure 11. 2+1 road without median separator, Denmark.
Overall, all agencies indicated capacity gains and safety improvements from the use of this design, which may be transferable to the United States. This practice is similar to the U.S. passing lanes on two-lane roads, but it would be done for longer roadway sections. It should be pointed out that additional research may be required to evaluate the use of these roadways in the United States, particularly since some countries indicated that they are experiencing higher speeds and more crashes around the merging area (Germany).
Another approach for improving safety on these roads is the use of narrower lane widths, which requires drivers to slow down. This approach is implemented either by physically creating narrower travelways (Figure 12) or by visually decreasing the available width. The more widely used techniques in optically narrowing the road are painting wider edge lines or eliminating centerline striping (Figure 13). It should be noted that this optical narrowing is a concept more often used for low-volume, rural roads. To further enforce the narrower roadway concept, clear zones are typically not provided in some countries (Sweden and Denmark), and some roadway objects are shielded by guardrails. These measures are applied to non-motorways where flexibility exists in design guidelines, rather than to motorways for which the guidelines are more rigid.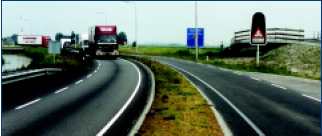 Figure 12. Narrow lane widths, The Netherlands.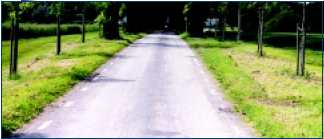 Figure 13. Optical narrowing by eliminating centerline, Sweden.
Traffic Calming
A strong commitment to reducing speeds through urban areas was a common concept among all countries visited. The Danish Road Directorate has developed a guide that describes possible means for reducing speeds through urban areas with specific design elements.(14) A European Community project is also under way, called Developing Urban Management and Safety (DUMAS), which is examining speed management in urban areas in Denmark, the Netherlands, and England. The practices of each of these countries are summarized in a report by the Danish Road Directorate,(15) and additional guidelines for evaluating speed management techniques in urban areas were recently published.(16) Finally, the Department of the Environment in the United Kingdom has developed a series of leaflets that summarize concepts, principles, and examples of traffic calming devices.(17)
Numerous practices have been implemented in urban areas to reduce speeds:
Prewarnings: typically lines on the pavement with (rumble strips) or without punishment (lines and traffic signs);
Gates: typically different pavement color or structures that indicate transition between traffic environments, often augmented with signs and landscaping (Figures 14 and 15);
Narrowings: typically the available travelway width is reduced to narrower lane widths with the addition of islands, by eliminating one lane in two-lane roads or by using wider edge markings (Figures 16-19);
Humps and tables: with varied profiles including circular, sinusoidal, dome-shaped, or trapezoidal cross-sections and varied lengths depending upon the desired speed reduction (Figure 20);
Raised areas: typically a trapezoidal hump with extended length to allow for longer vehicles to have all wheels on them;
Staggering: typically a lane is shifted over;
Roundabouts: typically used as gates for speed reduction (Figures 21 and 22);
Chicanes: typically extensions of the curb at intersections to reduce approach lane widths;
Islands: typically raised elements along the centerline of the roadway to shelter pedestrians and ease street crossing (Figure 23);
Cushions: typically square humps in each travel lane (Figure 24);
Landscaping and plantings: typically use of vegetation as gates, as a means to visually reduce lane widths or as methods to enforce other traffic calming components; and
Pavement textures and colors: typically use of stones or pavers to visually separate roadway elements, and use of colors to enforce concepts or mark transitions between roadway environments (Figures 25-27), (26 and 27 displayed on page 22).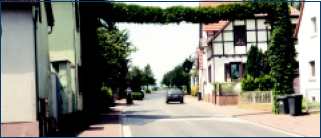 Figure 14. Example of gate, Germany.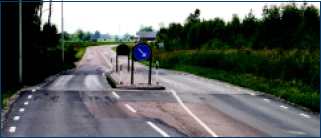 Figure 15. Example of gate with a platform, Sweden.

Figure 16. Landscaping to narrow lane width, Germany.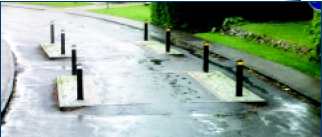 Figure 17. Narrowing with humps, Denmark.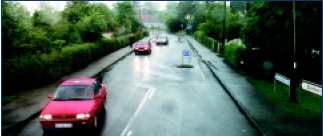 Figure 18. Narrowing with signs, Denmark.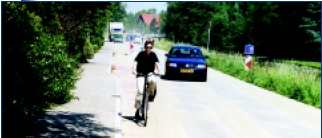 Figure 19. Narrowing by eliminating one lane, The Netherlands.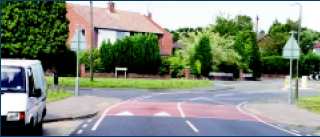 Figure 20. Speed hump, England.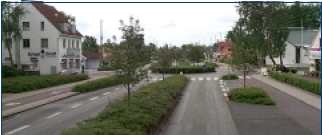 Figure 21. Combination of several traffic calming elements: islands, roundabout, and narrow lanes, Denmark.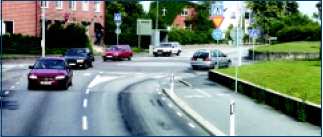 Figure 22. Small roundabout flush with pavement, Sweden.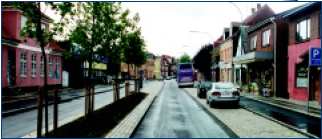 Figure 23. Combination of several traffic calming elements: islands, narrow lanes, and pavement textures, Denmark.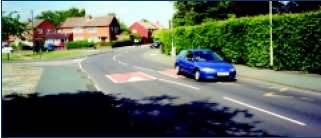 Figure 24. Cushions, England.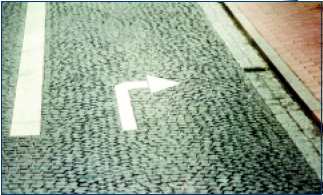 Figure 25. Lane markings as part of pavement texture, Denmark.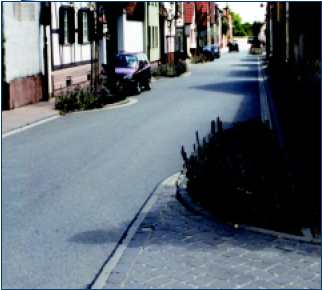 Figure 26. Chicane and pavement texture, Germany.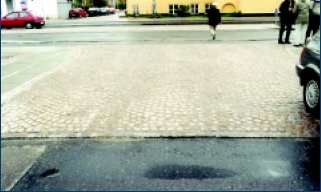 Figure 27. Table with different pavement texture, Denmark.
The goal of these devices is primarily to reduce speeds, and they achieve their objective by forcing drivers to drive through them at lower speeds.(18) In all countries visited the use of these devices produced the desired speed reductions, which ranged from a few km/h to 20 km/h.(15) Safety gains also materialized from the use of traffic calming schemes, and crash numbers were reduced - in some cases by more than 60 percent (Denmark and England). It should be mentioned here that the most effective traffic calming means are humps, but they require precision in design and construction to achieve a comfortable ride when traversed at the desired speeds.(19)
For successful implementation, an area-wide strategy is required with a systemic rather than a localized solution. This reinforces the concept of traffic calming for the entire area by giving the driver a clear and continuous message. Because of the likelihood that not all components of the plan will be constructed at the same time, an area-wide strategy ensures that all individual components will be part of the total solution. An additional element for successful implementation is use of consistent or similar treatment elements throughout the area. Such consistency avoids continually surprising drivers with new designs, which results in inappropriate behavior.
An additional goal of the highway agencies in the countries visited is integration of all modes and users in the same space in urban centers. Several of the traffic calming elements presented here are utilized to achieve this objective. For example, raised areas are used to indicate pedestrian crossings and alert motorists of the presence of other users; different pavement colors are used to indicate bikeways sharing the same travelway with vehicles; and narrowings are used to provide parking spaces and pedestrian access.
Another important aspect is the requirement that each traffic calming element be properly designed for the intended travel speed. This will result in a roadway uncomfortable to drivers exceeding the speed but not to those who travel at the desired speed. This design aspect is especially important for humps, bumps, cushions, and raised areas, since all create vertical rises and may cause discomfort. Finally, community acceptance is also very important for successful implementation.
Several communities throughout the United States have utilized various traffic calming elements. Most of the elements presented in this report are transferable to the U.S. urban environment. However, differences in land use, development, and transportation users between Europe and the United States must be recognized. For example, the automobile-dominated society and urban structure in the United States is in stark contrast to the extensive use of public and other modes of transportation in European cities. Moreover, the goal of improving safety is considered more important than mobility by European highway agencies and, thus, the use of these traffic calming schemes is accepted more easily by the European public.
Roundabouts
Roundabouts are used extensively in all countries visited and are considered an effective form of traffic control at intersections. Four of the five countries each have more than 1,000 roundabouts (Sweden has approximately 900), with the Netherlands having approximately 2,000 in existence. Each country has developed design guidelines to address the specific geometric design aspects.(20-24) Two general philosophies guide the design components of roundabouts. The first concept is that the flared, tangential approach provides for a smoother path for vehicles, where the aesthetic component of the roundabout is overlooked in favor of creating a path around the circle that allows comfortable travel without significant loss of speed. This approach is used to enhance capacity and allow higher entry speeds. The second concept is the radial approach, where lower entry speeds force drivers to slow down when entering the intersection. The latter roundabouts are used more as speed reduction and traffic calming devices. The first design concept is used in England and Sweden, while the second design concept is used in the other three countries.
Irrespective of the design philosophy, roundabouts are considered a very safe form of intersection in all five countries. Various levels of safety gains have been achieved with the installation of roundabouts, but the overall trends are positive. For example, a Danish study of 201 roundabouts showed a 71 percent reduction in injury crashes after the installation of roundabouts, while a Swedish study of 21 urban intersections showed a 35 percent reduction in injury crashes after the installation.(15) A similar study of 200 sites in the Netherlands indicated a 51 percent reduction in all crashes and a 72 percent reduction in casualty crashes. As these safety studies indicate, significant reductions in fatality and injury crashes materialized after the installation of roundabouts. A few issues, however, should be pointed out here. First, despite significant reductions in the severity of crashes, the reduction in the overall number of crashes is sometimes not as large. Second, most of these sites were not signalized intersections and, thus, the safety gains at signalized intersections may be lower, since there is the likelihood of higher safety concerns at such intersections. Third, there may be significant differences in the level of safety gains between urban and rural areas because of the differences in travel speeds. Finally, significant differences in safety gains are realized by various types of road users, with passenger car users having the highest gains and pedestrians and bicyclists having the lowest. Overall, however, these empirical data that demonstrate the safety improvement from roundabouts can be used in the United States to supplement and support the early U.S. experience with roundabouts and to support their further usage and implementation.
Roundabouts can also improve intersection capacity over signalization; those with single-lane approaches seem to perform very well, with volumes of up to 2,500 vehicles per hour (Figures 28 and 29). Even though this estimate was provided by all the agencies as a general upper limit rule of thumb for one-lane approaches, roundabouts are also used on roads with significantly higher daily traffic volumes. For example, in the Netherlands they are used on roads with 5,000 to 40,000 vehicles per day. The radial approach entry, i.e., the centerlines of the approaches pass through the center of the inscribed circle, is encouraged to facilitate both sight distance issues and to provide a smooth entry in and exit from the roundabout. However, the safety gains experienced are typically due to reductions in speeds through the roundabout that may reduce mobility and create delays to through traffic. To increase capacity within the roundabout, some countries are implementing multi-lane approaches and signalization (Figure 30), which may affect safety levels. Another means for increasing capacity is the provision of exclusive right-turn lanes or bays at the appropriate roundabout approaches. Roundabouts are particularly successful where the traffic flows are in balance on all approach legs. Roundabouts are a less effective form of intersection when the number of entry legs exceeds four, mainly because of the size of the junction and the higher circulating speeds that can be achieved.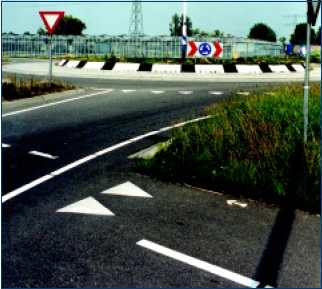 Figure 28. One-lane rural roundabout with bike lane, The Netherlands.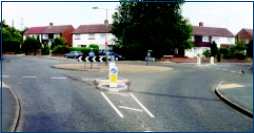 Figure 29. One-lane urban roundabout, England.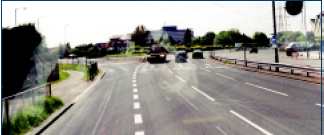 Figure 30. Roundabout with three lanes and traffic signal control, England.
An additional significant observation is that four of the five countries visited (all but England) have, to date, only used single-lane roundabouts and are now starting to consider and introduce double-lane roundabouts. The four countries (Sweden, Denmark, the Netherlands, and Germany) have used roundabouts primarily as a safety tool and a speed reduction measure, whereas England, which has used roundabouts longer, uses them more for operational benefits.
Roundabouts provide the designer with the flexibility to adjust the design to site-specific conditions. An example of this flexibility is the use of tear-drop-shaped roundabouts at interchanges in Sweden. This design eliminates the need for traffic signals or other traffic controls at the interchange, creates a safer environment for left-turning traffic, and improves capacity because of lower levels of delays. The size of the roundabout is also important. It is a flexible design element and each country has adopted different minimum radii for the central island (Figures 31 and 32). For example, in Sweden the minimum radius for the central island to accommodate trucks and buses is 10 m, while in England the minimum is 4 m. The size of the roundabout will also be affected by the design philosophy to either address capacity or reduce speed, which in turn will have an impact on the right-of-way requirements.
One issue of concern is the interaction among vehicles, pedestrians, and bicycles and the best integration of these users within the roundabout. Some countries are separating the travel lanes of vehicles and other users by creating separate paths (Figures 33 and 34). In these designs, vehicles have the right of way and islands are provided for the other users when they are needed for crossing the roadway. In other countries, bicyclists have their own lanes and thus, have the right of way in the roundabout.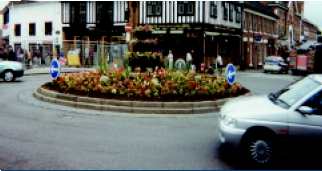 Figure 31. Small roundabout, England.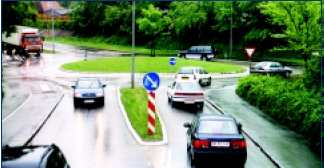 Figure 32. Medium-size roundabout, Denmark.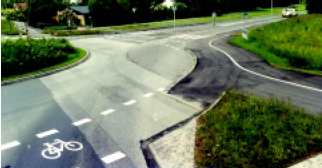 Figure 33. Exclusive bike path on roundabout, Denmark.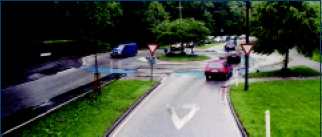 Figure 34. Separated and colored bikeway on roundabout, Denmark.
Bicyclists and Pedestrians
All countries visited address and consider seriously the needs of bicyclists and pedestrians. Depending on the country's national policy, two different philosophies apply to the level of consideration for these users. Sweden, Denmark, and the Netherlands place a high importance on addressing the needs of these users and often provide separate facilities as part of their network. Moreover, there is a systematic effort in these countries to promote alternative use of transport modes, and thus cycling and walking are heavily promoted. A recently completed project, sponsored by the European Community, identified the best practices to promote cycling and walking.(26) This project identified ways to promote and encourage cycling and provides a list of means to improve existing cycling and pedestrian facilities. The national cycling policy in Denmark, for example, is advocating that there is no need to abandon the automobile, but to strengthen the use of bike and other transport modes (Figure 35). On the other hand, Germany and England consider these users in their planning process but they give them lower priority when compared with the other countries. One reason for this difference may be that levels of demand are lower in Germany and England than in the other countries. For example, in Denmark each household has on average two bikes, in contrast to 0.7 automobiles per household; data from the Netherlands indicate that more than 50 percent of trips are non-motorized.
A national network bicycle plan (in various states of completion) exists for all countries visited. Additional sections are obviously added where needed, but Sweden, Denmark, and the Netherlands consider their networks complete. In most countries the highway agencies are charged with development of the network but the local authorities are mostly responsible for providing the specific plans and final designs. Furthermore, community organizations and non-governmental agencies are cooperating with the highway agencies in several countries to develop guides for such facilities from their perspective. An example of such an effort is a guide developed by the Swedish Association of Local Authorities that presents ideas and concepts regarding use of town streets by both motorized and non-motorized users.(25)
All five countries place an equal importance on the mobility needs of bicyclists and pedestrians in urban areas and frequently give them higher priority than the mobility needs of vehicles. This philosophy is manifested in their efforts to promote use of bicycling and walking either by national campaigns (Netherlands and Denmark) or by constructing dedicated facilities for these users as part of improvement projects (England). Additional efforts include using traffic calming devices as part of urban areas, reducing parking spaces in urban centers, and reducing speed limits (to increase travel times while attempting to improve safety). In Denmark, for example, there has been a systematic effort to reduce car parking spaces by 2 to 3 percent to promote cycling and walking.
In most countries separate facilities are provided (Figures 36-42, this page and opposite) and whenever possible pedestrians and bicyclists are also separated to improve safety. Even though significant efforts are made to address pedestrian and bicyclist needs, some cases still exist where their needs are overlooked or not addressed properly. An example of such a problem is the conversion of exclusive facilities to shared use where one of the two groups loses the exclusive use of the pathway. In another case, use of facilities that alternate at intervals from side to side of the vehicle roadway creates additional crossings that require careful design and may be detrimental to safety.
All countries are struggling with integrating pedestrians and cyclists into roundabouts. Denmark and the Netherlands provide completely separate paths for these users (Figures 43 and 44, opposite page) while the other countries provide paths within the same travelway. In most countries, pedestrian safety is good at roundabouts, since the design affords the opportunity to provide crossing facilities on the approaches. However, for bicyclists there are more concerns, since crashes are likely under-reported. To improve these estimates, the Swedish agency has currently started an effort to collect crash data from hospitals in addition to police records.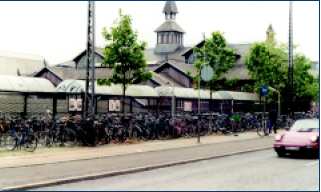 Figure 35. Bike parking facility, Denmark.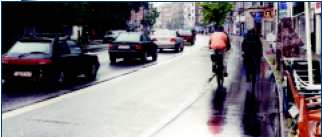 Figure 36. Bike path elevated and separated from roadway, Denmark.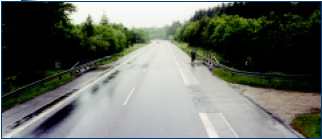 Figure 37. Bike path separated by road markings, Denmark.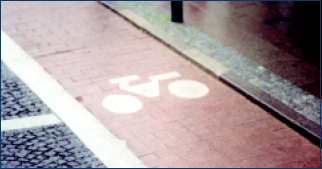 Figure 38. Bike lane separated with color coding, Denmark.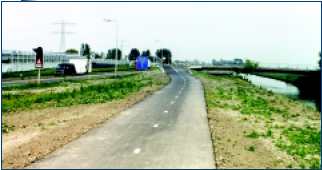 Figure 39. Rural bike facility parallel to roadway, The Netherlands.


Figure 40. Urban bike facility parallel to roadway, The Netherlands.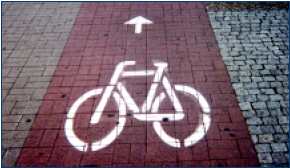 Figure 41. Bike and pedestrian paths separated by color, Germany.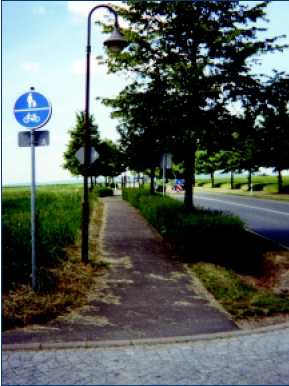 Figure 42. Shared pedestrian path and bicycle facility, Germany.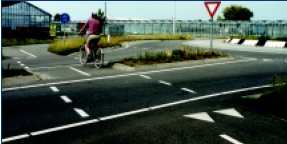 Figure 43. Bike path and roundabout crossing on separate paths, The Netherlands.

Figure 44. Bike path sharing the roadway, but color coded, Denmark.