Roundabouts
During the tour, the panel observed many new or relatively new roundabouts in Europe. Team members were told that civil and traffic engineers prefer to use roundabouts instead of traffic signals for reasons of safety and efficiency. In addition, in some places, roundabouts are popular with local communities, thus generating demand for more new intersections of that type. Figure 48 shows a roundabout in suburban Paris.
Figure 48. Roundabout, Paris, France.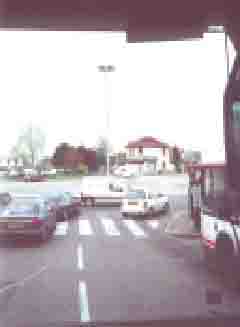 The panel visited the Philips Lighting facility in France. Representatives of Philips indicated that the goal of roundabout lighting was to provide a total view of the roundabout geometry from three levels: long distance, nearby (100 m), and at the entrance. Figure 49 shows a roundabout at the Philips facility.
Figure 49. Roundabout at Philips Outdoor Lighting Application Center, La Valbonne, France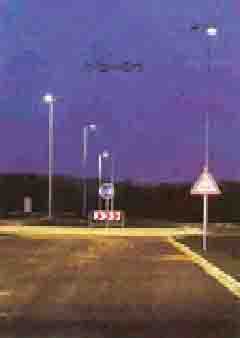 Roundabout Categories
The French divide roundabouts into the following three categories:
| | |
| --- | --- |
| Urban location | Systematically lit |
| Suburban location | Recommend lighting |
| Rural location | Not lighted, unless there is already lighting in the vicinity |
Luminaire Locations
In France, outer edge or central island luminaire locations are permitted. In Finland, Belgium, and Switzerland, roundabouts are lit from the outer edge.
Swiss and Belgian designers initially lit from the center, but found poor results with negative contrast in crosswalks and roundabouts. The Swiss design specifically addresses pedestrian crosswalks and roundabouts by providing positive contrast.
Swiss and Belgian experts believe that proper placement of luminaires (figure 50) will provide positive contrast on pedestrians and automobiles, thereby improving recognition. In addition, highly visible (retroreflective) materials are used extensively on the curb (or periphery) of the center of the island to enhance its conspicuity.
Figure 50. Swiss recommendation for luminaplacement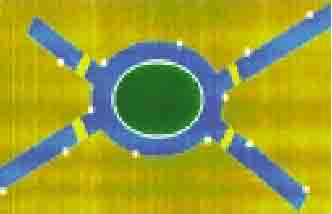 Roundabout Light Levels
In Finland, designers strive to have 30 percent more light on the roundabout than on the approaching roads. Swiss roundabouts are designed for homogeneous lighting at a level 50 percent above the best approach road.
In Belgium, roundabout design is for a 40-lux horizontal illuminance light level with a uniformity greater than 40 percent. In addition, Belgian experts have found that providing a 15-lux vertical level at 2 m from the outside edge of the central island improves the general perception of the roundabout. The central island has to be materialized by vertical (retroreflective) elements on the central island with a minimal frontal surface. They believe that the entrances of the roundabout (120 to 150 m before the roundabout) also have to be lighted.
Panel Recommendation
The panel recommends that the European experience in roundabout lighting be synthesized and consolidated in the AASHTO Lighting Guide for U.S. application.