Practical Matters of Roadway Lighting Systems
In the area of practical matters, the panel was interested in examining details involved with design, verification, operation, and maintenance of European roadway lighting systems.
Design
Generally, lighting is installed in Europe at a higher light level than is used in the United States, and the roadway lighting is more uniform in appearance. The higher lighting levels and more uniform appearance are the results of many studies over the years that examined visual performance and visual comfort. Additionally, the panel heard the Europeans equating higher light levels with driver comfort, which, they believe, produces a higher level of safety. (It should be noted, however, that numerous studies have been conducted, the results of which have not been conclusive. French experts pointed out that while higher light levels contribute to driver comfort, they may also create a false sense of safety, masking drivers' levels of fatigue or intoxication.)
In Europe, the luminance design method is widely used for standard road sections. The illuminance design method is used for more complex situations such as intersections, pedestrian crossings, roundabouts, residential areas, rest areas, and bicycle-path lighting. Currently, each country visited has its own design standards that are based on the documents produced by the Commission Internationale de l'Eclairage (CIE). Among countries the lighting levels are approximately the same for equivalent classes or types of roadways. In addition, each country has developed its own guide for lighting designers to consult. The guides address matters of mounting height, spacing, overhang, lamp wattage, lamp type, and type of luminaire.
Of all the countries visited, only Switzerland is not a member of the European Union (EU). However, all are working through the Comité Europeén de Normalisation (CEN), which is the European Committee for Standardization, to produce harmonized lighting standards that will apply to all EU members.
It was common to find the design process outsourced to contractors. In Finland, the government had negative experiences with performance specifications, because contractors reduced installations to the minimum limit acceptable, which reduced long-term suitability. To solve the problem, the typical specification is written, based on experience, to read "manufacturer, catalog number, or similar."
In Belgium, most (80 percent) of the motorways (freeways) are continuously lighted, for safety reasons. The traffic intensities on Belgian motorways are very high and the distances between interchanges are short (each 3 to 4 km) because of the high degree of urbanization. In less densely populated areas, only the interchanges of the motorways are lighted.
As noted earlier, in the Netherlands, motorway light levels have been reduced to approximately the same range of values as those used in the United States. The uniformity of lighting is, however, still typically European. The Dutch seem to be satisfied with the lower light levels.
Finnish representatives mentioned that they have ceased using low-pressure sodium (LPS) as a light source, primarily because of the cost of the lamp.
Verification
Rather than testing individual luminaires for tunnel applications, field measurements of lighting levels are conducted on the majority of tunnels in Switzerland. Roadways, however, are measured only if there appears to be a problem. (In Finland, calculations are verified, but no field verification is currently conducted.) Because lighting contractors cannot be held accountable for road surfaces, verification is usually done in lux. The French designs are based on luminance and verified by measuring illuminance (lux).
Equipment Quality Level and Lighting System Maintenance
The panel reviewed some of the European lighting equipment and, in general, concluded that it was of a higher quality level than that generally available in the United States. In addition, the team noted that the relamping maintenance of the lighting systems was very good (see figure 2). Typically, the road lighting systems are relamped on a group basis, on a 3- to 5-year cycle.
The French are experimenting with remote control and monitoring of public lighting systems. Monitoring data will include time of operation, proper operation, automatic troubleshooting, and problem notification. Control includes on/off control and possible future dimming. Fixtures employ electronic high-pressure sodium (HPS) ballasts.
Figure 2. Maintenance of luminaires, Switzerland.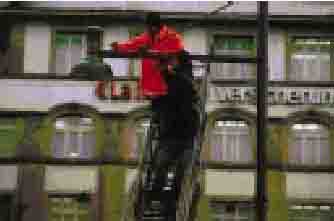 As the team traveled around the five countries at night, it had many opportunities to observe each country's lighting. Generally, the lighting was better maintained than comparable lighting in the United States. The team rarely observed unlit luminaires and was impressed with the overall uniformity and quality of the lighting.
The panel noted that Europe shares a problem with the United States, i.e., matching existing photometrics, or overall lighting performance, on an existing system. In discussions with representatives in various countries, it became evident that the Europeans have not achieved an effective means of maintaining the photometric performance of the lighting systems. Once a system is designed and built, no systematic lighting measurements are made in the long term and no controls are placed on replacement luminaires. This causes a rapidly deteriorating performance of the system. The scope of effort required to correct the problem and the cost involved are enormous, which has prompted the Europeans not to require maintenance of initial performance levels.
In Belgium, the regions or cities are responsible for the installation and maintenance of lighting installations; contractors are hired on a low-bid basis to perform the installation and maintenance. No controls or contract requirements are made to maintain photometric performance of the lighting systems. Contractors are responsible for obtaining fixtures and other replacement items. Contractors do not typically have a lighting engineer or a lighting-design expert on staff and have little incentive to maintain the photometric performance of existing systems.
In-depth discussions with the Belgians on maintenance issues confirmed that their concerns are similar to some U.S. concerns. These concerns are that maintenance personnel are not capable of determining the photometrics of the existing system and that they are not able to determine acceptable alternatives. Contractors typically replace luminaires with whatever is in stock. It is difficult to write and enforce specifications for photometrics for replacement fixtures that would provide equivalent luminance values.
The French allow the installing contractor to select fixtures to meet a luminance calculation specification. French representatives stated that contractors do not usually understand the luminance design method and pay little attention to it. Field measurements of the built system are made with illuminance values. Maintenance personnel do not attempt to match replacement fixture photometric performance to that of initial fixtures.
The problem is more critical on lighting systems designed for lower light levels, where poles are spaced farther apart. On such systems, nearby fixtures will have a higher percentage contribution at each point, and distant fixtures will have a lower percentage contribution, making fixture photometric performance increasingly important for maintenance of the system performance.
Tunnel lighting system maintenance is done on a shorter cycle, approximately two to four times per year, which coincides with the common washing and spot relamping cycle. The panel noted that all the tunnels on the loop in Paris are cleaned every month, as shown in figure 3.
Figure 3. Tunnel cleaning in Paris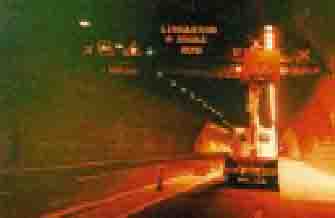 Power Conservation
The Swiss Energy Administration has a standard, not a law, on the lighting density limit (watts/m2) that sometimes affects the design light levels. The Administration also limits the amount of annual energy consumption (KW h/yr) for lighting. To meet the requirements, some lighting is reduced in the late night, typically from 11 PM to 5 AM.
Although France has no limits on power consumption, it is not unusual to dim the lighting, to save energy, between the hours of 10 PM and 6 AM. A recent survey by the Center for Studies on Urban Planning, Transport, Utilities, and Public Constructions (CERTU) shows that one-third of French towns decrease lighting at night, and 8 percent of the networks are dimmed at night.
In Finland, an analysis of lighting-system costs over 20 years shows that electric energy is two-thirds of the total cost. To save energy, some Finnish roadways have high/low-style controls, and light levels are lowered. The motoring public has not complained.
Master Lighting Plan
Throughout the scan, the panel noted that a number of cities had developed formal master lighting plans. The plans accounted for economic and cultural changes, the public image of the city, and technological developments. The benefits of such a plan are that it organizes the different functions Figures 4 & 5. Master lighting plans, Paris. of lighting, plans the different parts of the city, and schedules the expenditures. For example, the City of Paris has developed a master urban lighting plan that is based on the safety of the roads, beautification, and security for goods and people (figures 4 and 5). Lighting is employed to change the image of the environment, re-link different parts of the city, and indicate the nature of the site. Essentially, planners consider urban lighting to be one component of managing the city.
Figures 4 & 5. Master lighting plans, Paris.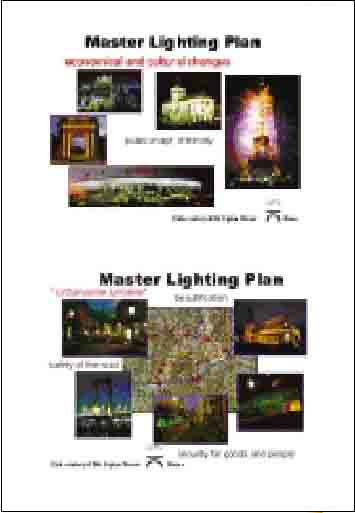 Energy-Absorbing Poles
CEN has developed a new standard for breakaway and energy-absorbing poles, number EN12767, "Passive safety of support structures for road equipment." New types of poles meeting the standard and suitable for wind speeds of up to 23 m/ s (approx. 50 mi/h) have been installed. Figure 6 shows an example of how the energy-absorbing pole works. The panel thought that this item would have applicability in areas where it is not currently advisable to use breakaway poles.
Figure 6. Results of crash test of energy-absorbing pole.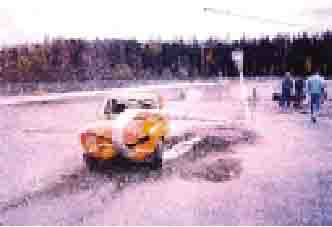 Additionally, the panel was shown several bored-center-hole methods used in Finland to make wooden poles break away when impacted by a vehicle.
Crash testing of roadside devices is based on CEN standard procedures. The CEN procedures are directly modeled after the U.S. crash-test criteria specified in National Cooperative Highway Research Program (NCHRP) Report 350, with modifications; for example, pickup trucks are not included in European tests.r
Litigation
Litigation about lighting did not appear to be an issue in Europe, as it is in the United States, which may be explained, in part, by differences in the legal systems. The European approach also is different. For example, the Dutch have developed a national lighting policy that includes dimming. It was pointed out to the team: "If you follow the policy, no one can sue when you turn the lights out."
Light Pollution
The team was not made aware of any formal sky glow restrictions in Europe. There is certainly, however, an awareness of the problem as well as a technical report, Guidelines for Minimizing Skyglow, CIE 126, 1997. Results of several studies by R-Tech in Belgium on the amount of uplight generated by various types of luminaires were presented to the panel in both France and Belgium and are shown in figures 7 and 8. In later feedback the panel was told that, in Belgium, the upward light ratio of the luminaires is limited. We also were informed that the light pollution
The team was not made aware of any formal sky glow restrictions in Europe. There is certainly, however, an awareness of the problem as well as a technical report, Guidelines for Minimizing Skyglow, CIE 126, 1997. Results of several studies by R-Tech in Belgium on the amount of uplight generated by various types of luminaires were presented to the panel in both France and Belgium and are shown in figures 7 and 8. In later feedback the panel was told that, in Belgium, the upward light ratio of the luminaires is limited. We also were informed that the light pollution figures are being updated and that this information will be available in the fall of 2001. To reduce the total amount of upward flux, the following guidelines have to be followed:
Reduce upward light output ratio (ULOR) as much as possible.
Maximize the utilization factor (K) in such a way that it should approach the downward light output ratio (DLOR) as much as possible.
In the case of a roadway lighting designed in luminance, maximize the luminance efficiency expressed in cd/m2/lux.
In the case of an outdoor installation
Figures 7 & 8. Results of R-Tech's study on light pollution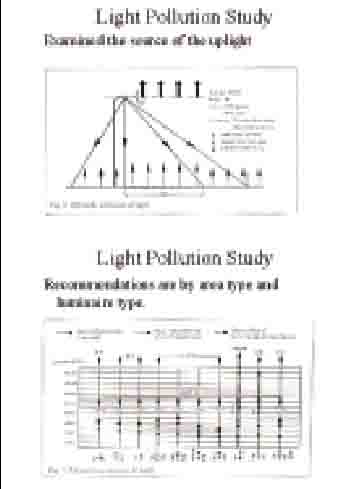 Warrants
Each country visited had different warrants, as noted below.
Belgium
A large proportion of paved roadways in Belgium are lighted. The continuous lighting of the motorways between interchanges has a luminance level of 1 cd/m2 in the Flemish region and 1.5 cd/mm2 in the Wallonia region; the interchanges are lit to a luminance level of 1.5 cd/m2.
Switzerland
The official practice on Swiss federal highways (motorways) is to light only junctions (intersections). Highways in urban areas are lighted in the neighborhood of lighted urban roads or in areas with higher risks. The normal roads (mixed traffic) are mainly lighted in urban areas.
Finland
In Finland, warrants are very detailed, and safety is used as a justification for the installation of lighting. One of the special reasons cited for lighting two-lane roadways was the existence of an adjacent, lighted pedestrian way or lighted bike path. Approximately 20 percent of the roads in Finland are lit.
France
In France, responsibilities for lighting and its maintenance vary according to the "owner" of the roadway. The national government is responsible for national roads and motorways, counties are responsible for county roads, and cities for city roads. Individual towns are responsible for the lighting of national and county roads within an urban area. National roads must be lighted as follows:
| | |
| --- | --- |
| > 50,000 Average Daily Traffic (ADT) | General lighting |
| 25,000 to 50,000 ADT with interchanges < 5 km apart | General lighting |
| 25,000 to 50,000 ADT with interchanges > 5 km apart | Interchange only |
| < 25,000 ADT | Interchange only |
The Netherlands
As in France, individual towns in the Netherlands establish their own lighting policies. At the national level, specific warrants were written in 1990, referred to as the "1990 Warrants." The warrants to install lighting are as follows:
Always Light:
Four or more lanes
Dual carriageway with 1,500 vehicles/hour/lane peak
Single carriageway with 2,000 vehicles/hour/lane peak
Single carriageway with 1,800 vehicles/hour/lane peak, if slow-moving vehicles are present
Since 1997, an additional assessment is required, as follows:
Does the road meet the 1990 Warrants?
Does the road go through or near a scenic area?

If no, then install lighting
If yes, then move to No. 3

Conduct a supplementary study to consider lighting alternatives.

Can glare screens be used?
Is guidance lighting possible?
Can the lighting be switched or dimmed?
Is lighting acceptable, in view of cost/benefit?

Reach a conclusion. If the decision is to install lighting, install extra measures such as the ability to dim or turn off during late night.
As of the team's visit, a new lighting policy for highways was being written. It contains the following elements:
Traffic Safety: only enough light for traffic safety.
Energy Efficiency: goal of 10 percent improvement by 2010; not trading lives for energy consumption.
Environmental Consequences: (see above additional 1997 assessment).
Effects on Road Capacity: based on research at the Technical University of Delft, addition of standard lighting shows a 4 percent improvement. (Currently, the Dutch studies do not include the effects of dynamic lighting on road capacity.)
Administration and Maintenance of the Roadway.
Environmentalists in the Netherlands have raised consciousness about potential impacts of lighting on animal behavior. Humans, too, are included in the debates - some people want to live where it is dark at night. The efforts of environmentalists are changing the lighting policy.
Panel Recommendations
Develop master lighting design plans to improve the coordination of roadway and urban lighting in such matters as lighting levels, styles, and themes for safety, security, and beautification.
Investigate the use of energy-absorbing poles as an option for selected applications. Careful investigation should be made into the adequacy of these devices, considering the wide range of vehicle mass and speed on U.S. highways.
When possible, consider quality lighting materials to benefit maintenance and durability for the life of the lighting systems.
Thoroughly train maintenance personnel to maintain the integrity of the lighting systems.