Chapter One
Introduction
Background and Purpose
Construction management is a critical element for the successful completion of any highway construction project. Construction management procedures are rapidly changing in the United States. Alternative procurement systems and contracting procedures for project delivery have become part of the U.S. highway construction program. These delivery methods include the use of nonconventional procedures such as design-build contracts, public-private arrangements, maintenance and warranty requirements, and use of third-party consultants to perform contract management.
New project delivery methods will require changes in conventional construction management practices.
These new project delivery methods will require changes in the conventional construction management practices that public agencies use to ensure appropriate project delivery, contract compliance, and quality assurance. The Federal government and State transportation agencies are developing policies and procedures to address these evolving delivery methods. Critical components of these new methods include the changing relationships among public agencies, contractors, and private engineering firms, including risk allocation processes, quality control/quality assurance, and general contract administration procedures.
The international highway community has developed construction management procedures in an environment of what the United States would consider alternative procurement and contracting procedures. Recognizing the similarities and benefits that could result from an examination of international construction management procedures, a diverse team of experts was assembled to research, document, and promote the implementation of international best practices that might benefit U.S. industry.
In May 2004, a U.S. team traveled to Canada and Europe to learn from their significant experience by conducting a scan of construction management practices for effective project delivery, contract compliance, and quality assurance. The purpose of the scan was to review and document international policies, practices, and technologies for potential application in the United States. The team conducted meetings with government agencies, academia, and private sector organizations involved in construction management efforts, and visited sites where alternative technologies and practices were being applied. The Federal Highway Administration (FHWA) and the American Association of State and Highway Transportation Officials (AASHTO) jointly sponsored this study with the National Cooperative Highway Research Program (NCHRP).
Methodology
The construction management scan was selected by the Transportation Research Board's NCHRP Panel 20-36 from a number of competing proposals for the 2004 funding cycle. Upon acceptance of the proposal, two scanning study cochairs were named representing the funding agencies: Steven DeWitt, director of construction for the North Carolina Department of Transportation (DOT), and Gerald Yakowenko, contract administration engineer for FHWA's Office of Program Administration. They joined public and private sector representatives from a cross-section of the industry. Team members are shown in figure 1 and their affiliations are listed below. Complete contact information and biographical sketches for the scan team members are in Appendix A.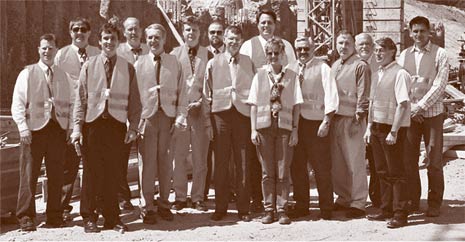 Figure 1. U.S. scanning team.
Steven D. DeWitt, P.E. (cochair)
Director of Construction
North Carolina Department of Transportation
Gerald Yakowenko, P.E. (cochair)
Contract Administration Engineer
Office of Program Administration
Federal Highway Administration
Keith R. Molenaar, Ph.D. (report facilitator)
Assistant Professor
University of Colorado at Boulder
Thomas R. Bohuslav, P.E.
Director, Construction Division
Texas Department of Transportation

John M. Smythe, P.E.
Construction Engineer
Iowa Department of Transportation

Tucker Ferguson, P.E.
Chief, Contract Management Division
Pennsylvania Department of Transportation

James E. Triplett, P.E.
President United Contractors
Presenting Associated General Contractors of America

Eugene Hoelker, P.E.
Construction and Contract Administration
Federal Highway Administration Resource Center

Richard Wagman
Chairman and CEO
G.A. & F.C. Wagman, Inc.
Representing American Road and Transportation Builders Association

Greg L. Schiess, P.E.
Pavement Management and Materials Engineer
Federal Highway Administration Florida Division
The next step was to conduct a desk scan to select the most appropriate countries for the scan team to study. The objective of the study was to maximize the time spent by the panel reviewing its topics of interest. This desk scan employed a three-tiered methodology of 1) literature review, 2) e-mail surveys, and 3) synthesis. This methodology provided for data collection from government agencies, professional organizations, and experts abroad who are most advanced in the scan topic. The desk scan was very revealing. A number of countries have unique transportation agency roles and responsibilities that could provide insight into the future roles of stakeholders in the U.S. highway industry. A number of countries also are breaking new ground in the area of contract administration and quality compliance. The desk scan also revealed numerous U.S., Canadian, and European contacts who provided interviews to help select the final countries to visit. For a copy of the 2003 Construction Management Desk Scan, contact the FHWA Office of International Programs at international@fhwa.dot.gov or http://www.international.fhwa.dot.gov.
The results of the desk scan were presented to the U.S. scanning team at a meeting in Washington, DC, to select the host countries. In addition, the team used the meeting to finalize a panel overview document, which was sent to the host countries to prepare them for the U.S. delegation. The panel overview explained the background and scope of the study, sponsorship, team composition, topics of interest, and tentative itinerary.
Before conducting the scanning study, the team prepared a comprehensive list of amplifying questions to further define the panel overview and sent it to the host countries. Some of the host countries responded to these questions in writing before the scanning study, while others used the questions to organize their presentations. The team attempted to craft the questions precisely enough to not miss any information that it anticipated, yet open-ended enough that new ideas the team had not envisioned could be brought to light by the host countries. The team was successful in its assembly of the questions, as documented throughout this report. Appendix B contains the amplifying questions sent to the host countries.
The delegation traveled to Canada and Europe from May 13 to 30, 2004. The team's study consisted of a combination of meetings with highway agencies and practitioners, and site visits. The scan team visited or conducted meeting with international organizations from the following:
Toronto, Canada
Munich, Germany
Cologne, Germany
Manchester, England
Edinburgh, Scotland
Glasgow, Scotland
The Hague, Netherlands
Helsinki, Finland
Reader's Guide to the Report
The report combines definitions and case study examples of construction management techniques in Europe with critical analysis of the applicability of these techniques to U.S. contracting. When possible, parallel examples from the United States are provided to amplify those techniques that are directly applicable. The report is organized into preconstruction, construction, and postconstruction aspects of construction management.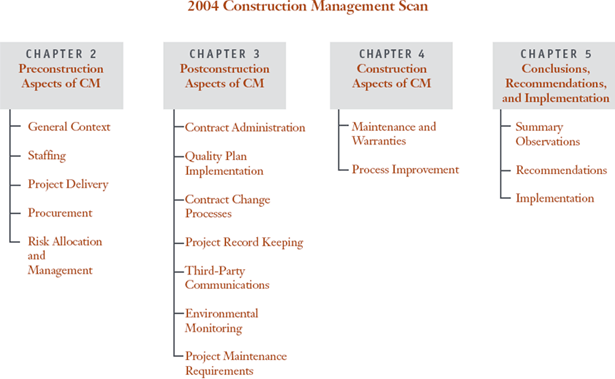 Figure 2. Reader's guide to the report.